Genre
Shooter
Platform

Release date
Consoles:
May 15, 2012 (US)
May 18, 2012 (EU)
Windows:
Jun 1, 2012
This game was released on May 15, 2012 and is no longer available to pre-order. Any incentives that were offered are listed below.
Max Payne 3 is the first game in the series to be developed by Rockstar. It takes place 8 years after the second one, with the titular protagonist working for a wealthy family in São Paulo, Brazil. According to game producer Sam Houser, Max is "more world-weary and cynical than ever", and has apparently developed a drinking problem. It seems he has also lost his trademark black coat, and now sports a bald head and a rugged beard. (Scroll down to the trailer for Max's new look).
Despite the new developer, Max Payne 3 retains some of the classic gameplay features seen in the previous installments, such as bullet time mode, shoot-dodging, and dual-wielding. The graphic novel storytelling sequences are changed, however, and now use in-game footage. Max Payne 3 also includes a multiplayer mode for the first time in the franchise.
Pre-order bonuses
Preorder Max Payne 3 at the following retailers to receive an exclusive bonus:
United States
BestBuy: the first paid multiplayer DLC pack for free, and a $20 gift card for Reward Zone Gamers Club members.
Walmart: a free copy of the original Max Payne 1 game.
Amazon: Deadly Force Burst, which provides higher damage bullets in multiplayer, as well as $10 store credit.
Gamestop: early access to the Cemetery Multiplayer Map. PowerUp Rewards members also get the Silent Killer Multiplayer Pack.
GamersGate (PC version): Classic Multiplayer Character Pack with 8 playable characters, Disorderly Conduct Multiplayer Weapons Pack (Hammerhead Auto Shotgun, G9 Grenade Launcher and Molotov cocktail), and Pill Bottle item which lets you carry extra painkillers. The same bonuses are also available at other digital distributors like Steam and Impulse.
United Kingdom
GAME: Cemetery Multiplayer Map.
Zavvi: exclusive Max Payne 3 Bullet Pen.
Tesco: Silent Killer Multiplayer Loadout Pack which includes a Light Anti-Tank Weapon, Slippery Character Burst, and Listening Device Item.
Play: the first paid multiplayer DLC pack for free.
ShopTo: an exclusive Rockstar T-shirt with Max Payne 3 art.
Special Edition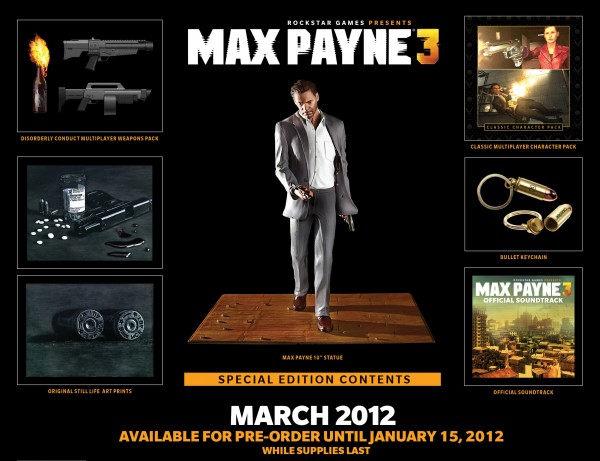 Max Payne 3 is available in a Special Edition which contains some exclusive multiplayer content as well as physical collectibles:
10″ tall collectible Max Payne statue created in a collaboration between TriForce and Rockstar Games.
Game-inspired original still life art print series that depict some of Max Payne's inner demons and vices.
Copper and brass-plated iron, bullet-shaped bullet keychain featuring a screw-off back.
Classic Multiplayer Character Pack of eight playable multiplayer characters for Max Payne 3 Multiplayer, including fan favorites from the previous games like Max Payne from Max Payne 2, Mona Sax, and Vladimir Lem.
Disorderly Conduct Multiplayer Weapons Pack for Max Payne 3 Multiplayer that includes the Hammerhead Auto Shotgun, G9 Grenade Launcher and Molotov cocktail.
Official Soundtrack featuring the instrumental score of Max Payne 3.
This premium edition of MP3 will set you back $99.99 (or £99.99 in the UK and €109.99 in Europe) and will only be available for pre-order while supplies last. The following stores still had the Special Edition listed last time we checked:
United States
United Kingdom
Zavvi
Play.com
ShopTo.net
Game trailer
Max Payne 3 uses an updated GTA IV engine and features brighter visuals as well as a changed protagonist. In this interview with Gamespot, Rockstar assured the fans that despite these changes, the game will still have the same noir feel as the previous Max Payne titles.
After being delayed from its March release, Max Payne 3 will be released for consoles on May 15th in the US and May 18th in Europe. PC version release date is set for June 1st worldwide.
Check out our other upcoming shooter games and upcoming pc games.