This game was released on August 12, 2021 and is no longer available to pre-order. Any incentives that were offered are listed below.
Naraka Bladepoint is a game that combines Battle Royale with fighting games. Chinese studio 24 Entertainment produces the game, and it's published by NetEase Games Montréal. The game will be available on PC only.
Do you like games like Mortal Kombat or Injustice? If so, then this battle royale is for you. Set in a medieval Chinese world, you'll be fighting against 60 other players to be the last man standing. But instead of rifles and rockets, you'll be battling with swords and crossbows.
While there are ranged weapons in-game, most battles will be won by clashing katanas with your enemies. The combat is simple but fun. Each type of attack has its own counters, so to be the winning player, you must change up your attacks in order to be unpredictable.
24 Entertainment has added a parkour system and grappling hooks to the game to make the game more fun and close combat more rewarding. This way, you'll move quickly towards a rival firing his bow from afar to get close enough for the killing blow.
Naraka Bladepoint comes with seven heroes. Each one has their own unique special abilities. For example, Viper Ning can poison her enemies, and Temulch can create a wind barrier that slows enemies down and protects himself from incoming projectiles.
Naraka Bladepoint also comes with a massive range of customizability options, unlike any other battle royale. With its deep face customization, you'll be able to create one of a kind characters unique to you. Thanks to the customization options, some players have been able to replicate iconic character faces like Yoda from Star Wars and Neytiri from Avatar. 
Pre-order Bonuses
If you make a purchase through these links, we may get a share of the sale.
STANDARD EDITION ($19,99)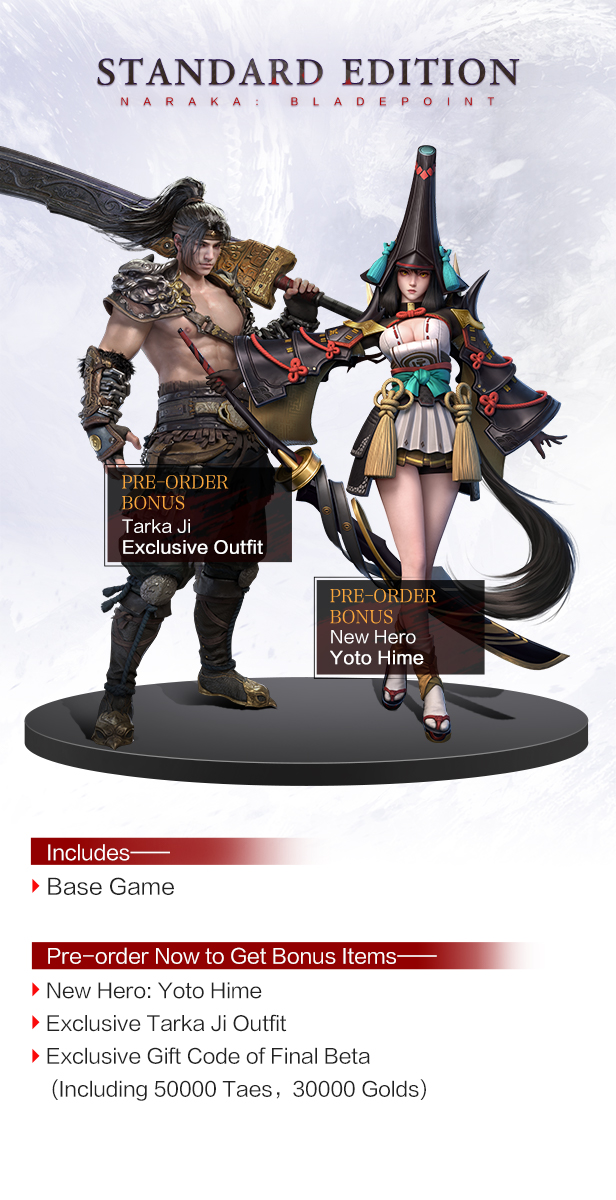 With the standard edition, you'll get pre-order bonuses like:
A new hero: Yoto Hime
An Exclusive Outfit for Tarka Ji
DELUXE EDITION ($34,99)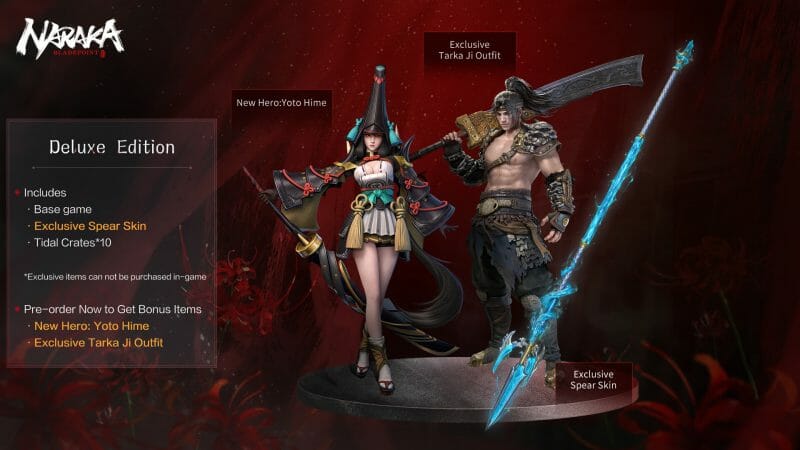 With the deluxe edition, you will get additional content:
A new hero: Yoto Hime
An Exclusive Outfit for Tarka Ji
Exclusive Spear Skin
10x Tidal Crates
ULTIMATE EDITION ($50,99)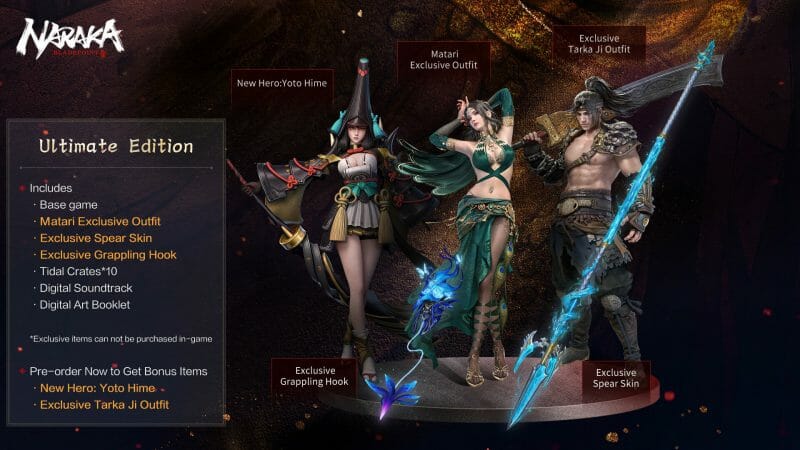 The Ultimate Edition includes exclusive content such as:
A new hero: Yoto Hime
An Exclusive Outfit for Tarka Ji
An Exclusive Outfit for Matari
Exclusive Spear Skin
Exclusive Grappling Hook Skin
10x Tidal Crates
Digital Soundtrack
Digital Art Booklist
PC:
Naraka Bladepoint will be released on August 12th and will be available on PC.
Check out our other upcoming action games and upcoming pc games.