This game was released on August 31, 2018 and is no longer available to pre-order. Any incentives that were offered are listed below.
Naruto to Boruto: Shinobi Striker is a team-based 4v4 brawler with acrobatic action and high-speed battles across varied arenas based on the ninja villages. Some of the modes included are the classic capture the flag, Base Battle where you have to maintain control over capture points, and the usual team deathmatch.
The upcoming game features a number of fan-favorite characters from the anime series, and the player may also create a custom avatar, picking from over 200 customization items and skills to personalize it. The characters are grouped based on their fighting style: Attack, Defense, Shoot, or Heal.
Pre-order Bonuses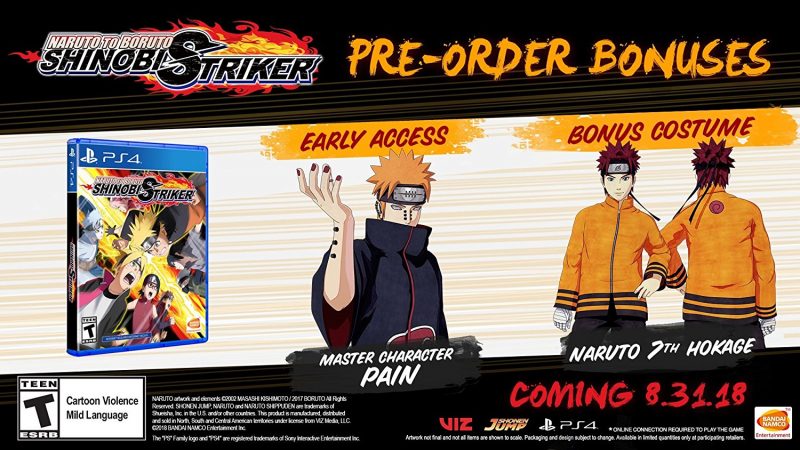 Pre-order Naruto to Boruto: Shinobi Striker anywhere to receive:
Naruto 7th Hokage costume to equip your created shinobi with.
Early access to master character Pain, who will teach your created shinobi his moves.
Shinobi Striker Coats – Black and White – that fit both male and female avatars.
There also are some exclusive retailer bonuses:
GameStop is giving a way a collectible enamel Boruto mini-FiGPin to members of their PowerUp Rewards program, while supplies last: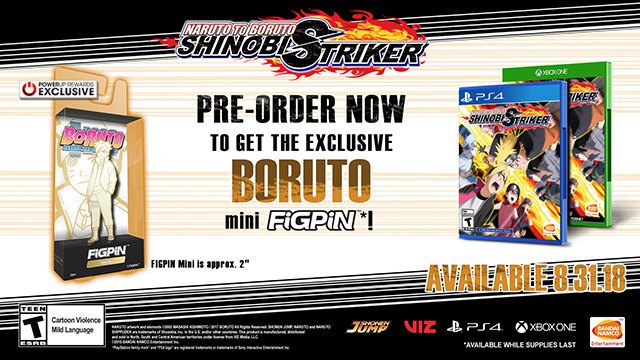 Best Buy, on the other hand, is trying to convince gamers to pre-order from them with a pair of snazzy Naruto socks: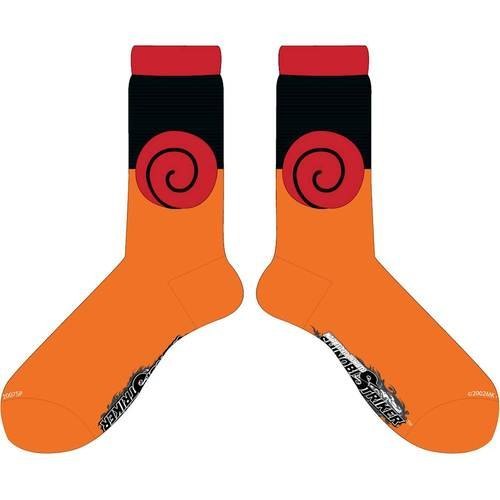 Lastly, reserving digitally via PSN grants a "My Ninja Way" PS4 theme.
Season Pass ($29.99)
According to the publisher Bandai Namco, no less than 9 DLC packs for Shinobi Striker will be released gradually post launch. All of these can be hand by purchasing the Season Pass, which will also throw in a Great Sages of the Mount Myouboku accessory.
Deluxe Edition ($89.99)
Rather straightforwardly, the digital Deluxe Edition simply bundles the base Naruto to Boruto: Shinobi Striker game with the aforementioned Season Pass.
There is also the premium Uzumaki Edition which includes the Season Pass as well as Naruto and Boruto figurines, although it is only available in Europe and Australia.
Naruto to Boruto: Shinobi Striker is scheduled to be released on August 31, 2018.
Check out our other upcoming action games and upcoming pc games.