This game was released on March 26, 2019 and is no longer available to pre-order. Any incentives that were offered are listed below.
Nelke & the Legendary Alchemists: Ateliers of the New World is the latest installment in the Atelier franchise developed by Gust and published in the West by Koei Tecmo. In a departure from the past titles, it focused on town building rather than alchemy, although it still retains the familiar elements of resource gathering, battles, and synthesis.
The player takes on the role of Nelke, a young noblewoman who longs to become an alchemist, but lacks the talent. After she is appointed the governor of a frontier village, it falls to her to develop it into a thriving city. Legendary alchemists from the previous Atelier games come together to help her along the way.
Pre-order Bonuses
As an early purchase bonus, the Town Building 5-Item Set will be available as a free download via PlayStation Store, Nintendo eShop, and Steam for two weeks after launch. In other words, pre-ordering isn't necessary, but purchasing the game within the two-week window is. The five items contained in the pack are:

Gust 25th Anniversary BGM Pack 1
Gust 25th Anniversary BGM Pack 2
Gust-chan
Atelier 20th Anniversary Appreciation House
Mysterious Alchemist Statue
Limited Edition ($99.99)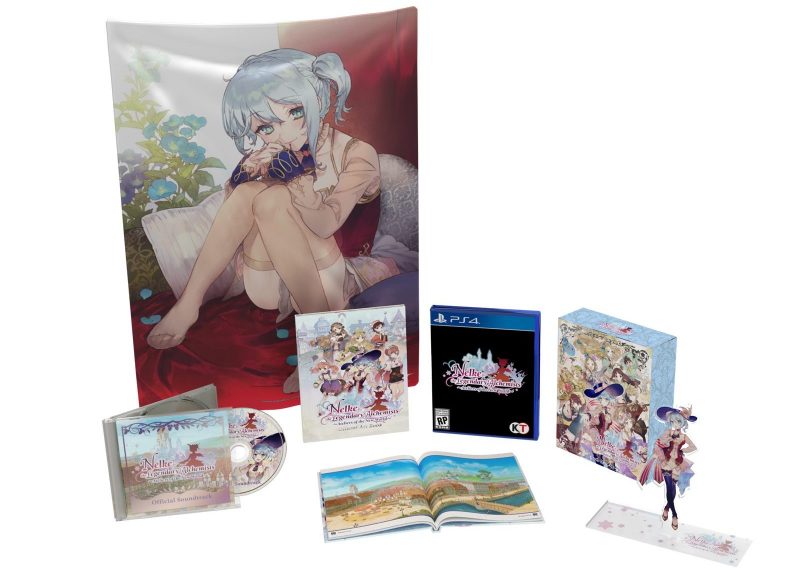 A Limited Edition of Nelke & the Legendary Alchemists is available exclusively via NISA Online Store for Nintendo Switch and PlayStation 4. Apart from the game itself, it includes the following:
Collector's Box
Official Hardcover Art Book
"Sound Archives" Official Soundtrack
Cloth Poster
Nelke Acrylic Stand
Nelke & the Legendary Alchemists: Ateliers of the New World will be released for PlayStation 4, PS Vita, Nintendo Switch, and PC via Steam on March 26, 2019.
Check out our other upcoming rpg games and upcoming nintendo switch games.