This game was released on September 13, 2012 and is no longer available to pre-order. Any incentives that were offered are listed below.
Hockey fans are eagerly awaiting the release of NHL 13, the next installment in the popular sports simulator series developed by EA Canada. EA states that NHL 13 features revamped gameplay and "the biggest innovation for the franchise in six years". The game includes two new modes: GM Connected (a redone GM Mode) and NHL Moments Live, which lets you replay some historic NHL matches. Other improvements include a smarter AI and a new skating system – "True Performance Skating" – based on real-world physics.
Pre-order bonuses
If you plan on pre-ordering NHL 13, choose one of the following U.S. retailers and earn an exclusive bonus.
GameStop: 1 Gold Pack for Hockey Ultimate Team (HUT) a week from September to December 2012 (sixteen weeks total).
Best Buy: Reebok 20K Boost Pack to give your Be a Pro and EASHL character an edge.
Amazon: BAUER Boost Pack for enhancing your Be a Pro and EASHL character.
Origin: Goalie Boost Pack for improving your EASHL and Be a Pro character.
Amazon and Best Buy bonuses include gloves, stick, and skates, plus player boost attributes. Origin pack includes goalie boost attributes.
Collector's Edition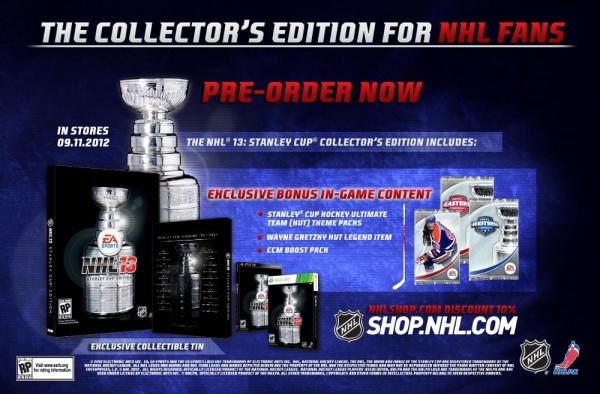 NHL 13 is also available in a Stanley Cup Collector's Edition for $79.99. The game's CE features the following additional content:
Physical tin case with an embossed image of the Stanley Cup
Three Stanley Cup Theme Hockey Ultimate Team (HUT) packs
One CCM Boost Pack
Wayne Gretzky HUT Legend Item
One-use 10% discount at shop.nhl.com
"Road to NHL 13" trailer
This official trailer previews the new True Performance Skating system with its realistic physics and improved animations:
NHL 13 will be released on September 11, 2012 in North America, and September 13 in PAL regions. The Stanley Cup version is only available in North America.
Check out our other upcoming sports games and upcoming playstation 3 games.