This game was released on January 22, 2013 and is no longer available to pre-order. Any incentives that were offered are listed below.
Ni no Kuni: Wrath of the White Witch is an upcoming RPG developed by Level-5 in collaboration with the famous anime company, Studio Ghibli. The game follows a 13-year-old boy, Oliver, who enters the magical world of Ni no Kuni to bring his mother back from the dead. Oliver is accompanied by a fairy named Drippy, and possesses a book which allows him to use magic.
As expected of Studio Ghibli, the game has amazing visuals which fit perfectly with the fantastic world created by Level-5. The beautiful lands of Ni no Kuni are far from safe, however: Oliver will have to face many dangerous enemies. Luckily, there also are characters who will join him on his quest – up to a maximum party size of three. The battle mode is largely turn-based as is typical for JRPGs, but it is possible to move to avoid attacks and collect health orbs in real time.
Pre-order bonuses
The PS3 version of the game is coming to the US on January 22nd, 2013. You can pre-order Ni no Kuni at the following retailers to get a bonus:
Amazon: exclusive Griffy Familiar which has abilities like "Phantom Fangs" and "Petrifying Puff", and evolves into either Griffurnace or Griffrigerator.
GameStop: exclusive SteelBook with alternate Oliver and Drippy art.
If these small bonuses just don't cut it for you, consider the collector's edition.
Wizard's edition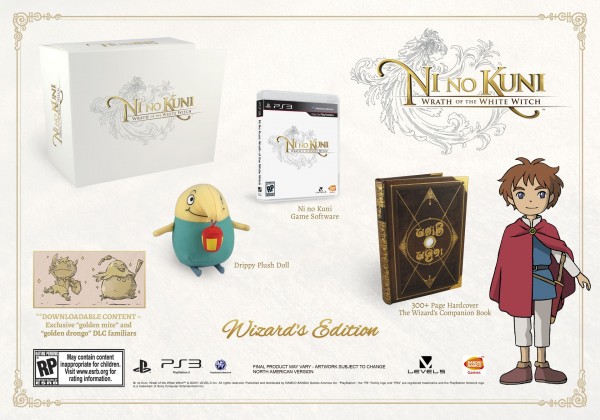 The $99.99 Wizard's Edition of Ni no Kuni includes a 300-page hardbound book with a bestiary, detailed item descriptions, spells, and history of the parallel world. It also comes with a Drippy plush and two DLC familiars. This edition is exclusive to Namco Bandai store.
E3 2012 trailer
The official trailer released by NAMCO Bandai Games reveals the main characters of the game.
More information about this title can be found at NiNoKuniGame.com.
Check out our other upcoming rpg games and upcoming playstation 3 games.