This game was released on October 24, 2017 and is no longer available to pre-order. Any incentives that were offered are listed below.
Nights of Azure 2: Bride of the New Moon is a fantasy action RPG developed by Gust and published by Koei Tecmo. The game's storyline has been described as a "gothic fairy tale". Alushe Anatoria, the protagonist of the first title, makes a return as a resurrected half-demon, and strives to rescue her childhood friend Liliana who was chosen to become the Bride of Time, a sacrifice to save the world from the evil Moon Queen. Aiding Alushe in her battles are "Lilies", partners with whom she can build deeper bonds and awaken their latent abilities, as well as "Servans", tamed demons with diverse and useful powers.
Pre-order Bonuses
Pre-order Nights of Azure 2 via participating retailers to receive three Servans (among them a Puni Servan from the Atelier series) and a swimsuit costume for Aluche. Additionally, pre-ordering the game digitally via PlayStation Store, or buying it within a month of launch, will get you an exclusive PS4 Theme.
There is also a cross-promotion with Gust's other upcoming JRPG, Blue Reflection. Pre-order both games on PS4 to receive Hinako's outfit from Blue Reflection for Aluche, as well as Aluche's outfit from Nights of Azure 2 for Hinako (see the two rightmost thumbnails below).
Lastly, PlayStation 4 and Nintendo Switch versions will receive an exclusive costume each, available as a free DLC for up to three months after the game's launch. PS4 will get a Deception Timenoid Restrains outfit, whereas Switch will receive a Fatal Frame: Maiden of Black Water Yuri Kozuata outfit.
Limited Edition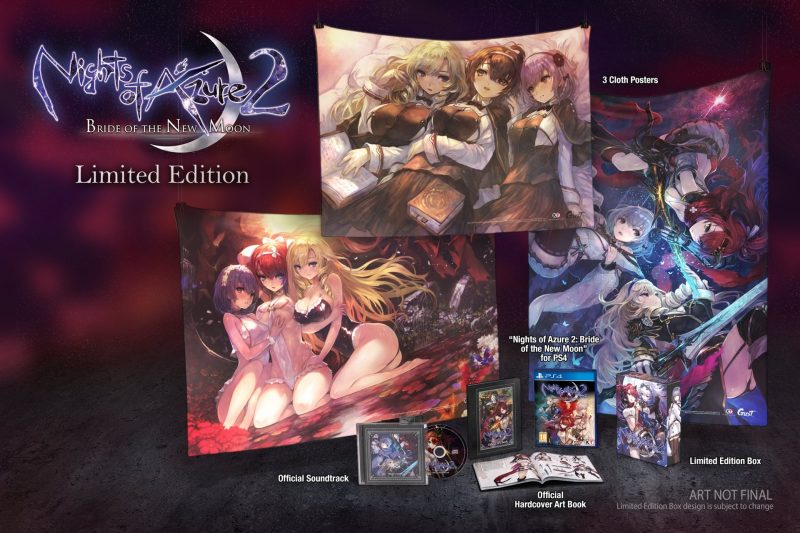 Available exclusively from NIS America Store, the Limited Edition costs $99.99 and includes the following extras:
Collector's Box
Hardcover Art Book
Official Soundtrack
Cloth Poster Design A: 24″ x 37″
Cloth Poster Design B: 26″ x 18″
Cloth Poster Design C: 34″ x 24″
The North American release of Nights of Azure 2: Bride of the New Moon is scheduled for October 24, 2017.
Check out our other upcoming action games and upcoming nintendo switch games.