This game was released on February 28, 2020 and is no longer available to pre-order. Any incentives that were offered are listed below.
One Punch Man: A Hero Nobody Knows is a 3v3 fighter based on a hit manga and anime series. Players form teams of their favorite heroes and villains to take on missions in the story mode or compete against each other in battle.
The list of playable characters confirmed by publisher Bandai Namco thus far includes Genos, Hellish Blizzard, Mumen Rider, Speed-o'-Sound Sonic, Metal Knight, Stinger, and of course Saitama himself. The latter also has a pajama-wearing alter ego: Dream Saitama, who is able to fight without vaporizing his opponents with a single punch. Getting him early is one of the pre-order bonuses, as detailed after the jump.
Pre-order Bonuses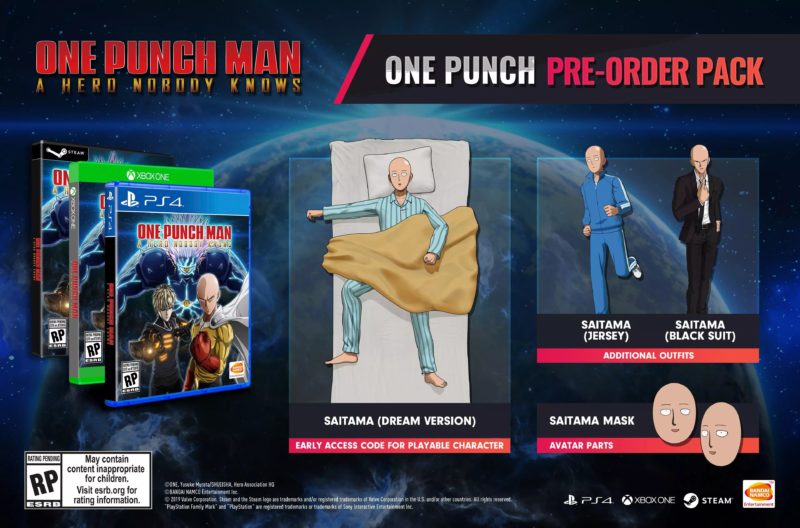 All One Punch Man: A Hero Nobody Knows pre-orders come with a pre-order pack containing the following in-game items:
Early Access Code for Playable Character: Saitama (Dream Version)
Additional Outfits: Saitama (Jersey) and Saitama (Black Suit)
Avatar Parts: Saitama Mask
Deluxe Edition ($79.99)
The $80 Deluxe Edition includes the following content on top of the base game:
Character Pass (Season Pass)
Terrible Tornado (Pajamas)
Genos (Arms Mode) Outfit
Speed-o'-Sound Sonic Outfit
Hellish Blizzard (Fur Coat)
The character items are said to require progress through the game's Main Mode to be unlocked.
One Punch Man: A Hero Nobody Knows is heading for PS4, Xbox One, and PC on February 28, 2020. The Western release comes with a full English dub.
Check out our other upcoming action games and upcoming pc games.