This game was released on April 04, 2017 and is no longer available to pre-order. Any incentives that were offered are listed below.
Persona 5 is a role-playing game developed by Atlus for PlayStation 3 & 4. It follows a 16-year-old protagonist who is transferred to a high school in Tokyo after being put on probation for assaulting a stalker. He and several other students awaken their Persona powers and form a group called the Phantom Thieves of Hearts, the goal of which is to steal ill intent from the hearts of corrupt adults and reform them.
Just like its predecessors, Persona 5 takes place over the course of one year, with lots of events and side activities. The game's main themes are freedom and justice in the modern society.
Pre-order bonus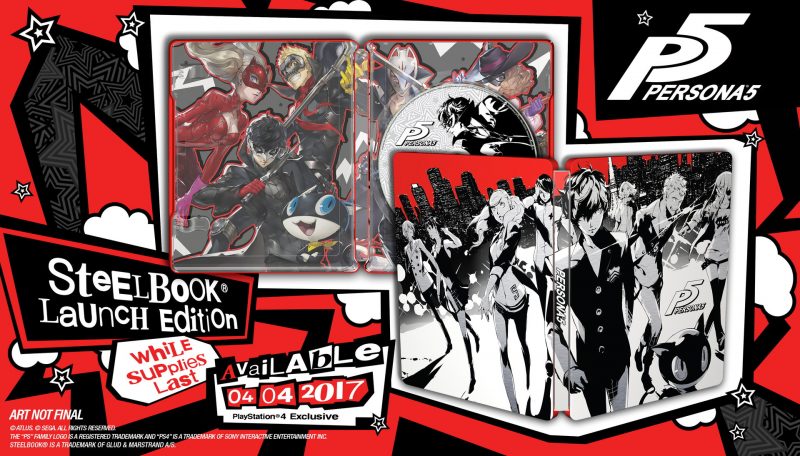 The PS4-only Steelbook Launch Edition of Persona 5 is available for pre-order at participating retailers while supplies last. Like the name suggests, this edition comes in a Steelbook case with a stylish design, featuring a group portrait of the P5 cast (see the image above).
Alternatively, the first-run copies of the regular PS4 edition come with a bonus controller skin depicting some members of the Phantom Thieves.
While neither of these bonuses are available for the PS3, owners of the last-gen console do get the game at a slightly lower price of $49.99.
"Take Your Heart" Premium Edition
Persona 5 is also available in a collector's edition which, again, is exclusive to the PS4. "Take Your Heart" Edition costs $89.99 and includes the following:
School bag: designed after the traditional school bags in Japan, the exclusive replica bag comes complete with the Shujin Academy crest.
4" Morgana plush: Morgana the Phantom Thieves' cat is not just the mascot of the Phantom Thieves, but also a member – and also not just a cat!
64-page hardcover art book: the book is full of concept sketches, character art, and more by character designer Shigenori Soejima.
SteelBook: As strong as a vault, the game disc for the PS4 will come specially packaged in a SteelBook collectible case, emblazoned with Persona 5 designs.
Soundtrack CD: a selection of music from Persona 5 by Shoji Meguro in a CD sleeve featuring special P5 artwork.
Atlus is scheduled to release P5 in North America on April 4, 2017. The publisher is making up for the delay by providing the original Japanese audio as free DLC.
Check out our other upcoming rpg games and upcoming playstation 3 games.