This game was released on December 30, 2021 and is no longer available to pre-order. Any incentives that were offered are listed below.
Ubisoft is working on a remake of their award-winning Prince of Persia: The Sands of Time action-adventure title from 2003. The game follows a Prince with the power to freeze or reverse time, who embarks on a journey to save his kingdom from a treacherous Vizier.
As a ground-up remake, the upcoming game features new character models and animations, modernized controls and camera, re-recorded dialogues, and new cinematic sequences. Ubisoft also promises fun bonuses, the first of which is Prince of Persia, the original 2D platformer from 1989, that can be played from the main menu of Prince of Persia: The Sands of Time Remake after unlocking it.
Pre-order Bonuses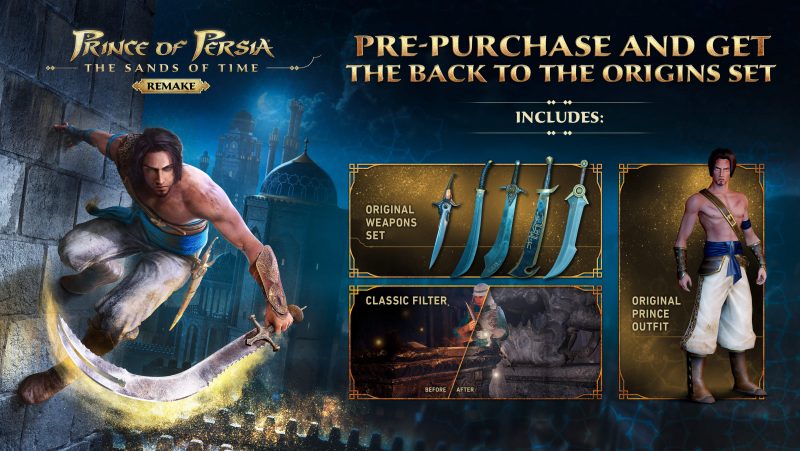 Pre-order Prince of Persia: The Sands of Time Remake to receive the Back to the Origins Set:
Original Weapons Set
Classic Filter
Original Prince Outfit
The standard edition of the game costs $40 and no special editions have been announced as of yet.
Originally scheduled to launch in March 2021, Prince of Persia: The Sands of Time Remake has been delayed indefinitely by Ubisoft. The game is planned to be released on Xbox One, PlayStation 4, and PC via Epic Games Store and Ubisoft Store. It will be playable on the upcoming PS5 and Xbox Series X consoles via backwards compatibility but will not have native next-gen versions. A Nintendo Switch version has been rumored but was not confirmed at the time of writing.
Check out our other upcoming action games and upcoming pc games.