This game was released on May 14, 2019 and is no longer available to pre-order. Any incentives that were offered are listed below.
RAGE 2 is an open-world shooter set in a post-apocalyptic wasteland brought on by an asteroid collision which annihilated 80% of Earth's population. Co-developed by id Software and Avalanche Studios, the game utilizes the latter's proprietary Avalanche engine to bring its dystopian world to life.
According to the publisher Bethesda, RAGE 2 features brutal vehicular combat (allowing the player to pilot anything from monster trucks to gyrocopters), extensive range of upgradeable weapons, devastating Nanotrite powers, and Overdrive mechanic which rewards aggressive gameplay. There is a plethora of environments to explore, including treacherous swamps and overgrown jungles, as well as numerous factions which wage war for control of the wasteland.
Pre-order Bonuses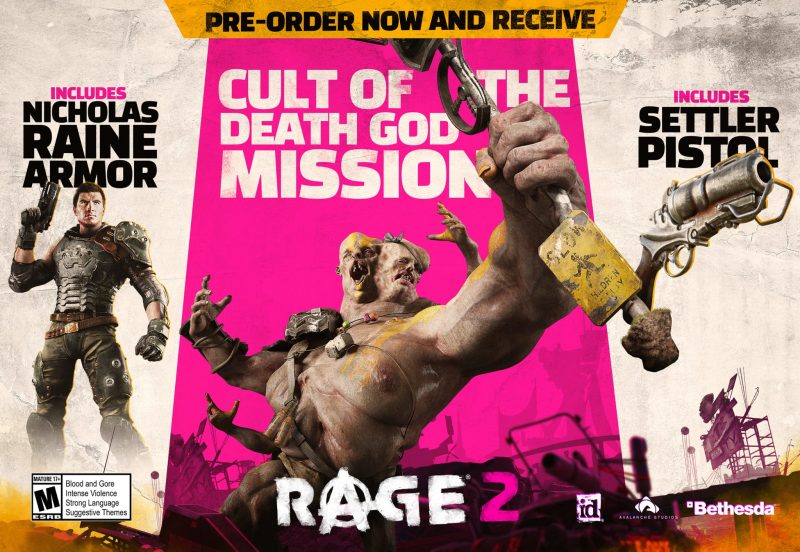 Pre-order RAGE 2 to receive the following in-game items:
Exclusive "Cult of the Death God" mission
Settlers Pistol
Nicholas Raine Armor
Monster Truck
The mission will have to be completed in order to receive the bonus items, as per the official quote:
The exclusive mission sends protagonist Walker after a cult of crazed mutants who have taken to worshiping the image of Nicholas Raine, the hero of the original RAGE. Survive the sewers and fight through hordes of mutants – including the monstrous Abadon Warlock – to receive Raine's legendary armor along with the fan-favorite Settler Pistol and the new Mutant Monster Truck.
Secondly, all pre-orders also get the recently-announced "He's on Fire" cheat code, which when enabled adds in-game commentary by Tim Kitzrow of NBA Jam fame. Watch the trailer below:
Lastly, there also are some retailer-exclusive bonuses on top of everything listed so far:
GameStop: a RAGE 2-inspired wingstick, while supplies last.
Amazon: exclusive RAGE 2 controller skin with physical copies of Standard or Deluxe edition. Prime subscribers also get $10 in promotional credit.
Best Buy: $10 in reward certificates for My Best Buy members.
The premium editions of the game are detailed below.
Deluxe Edition ($79.99)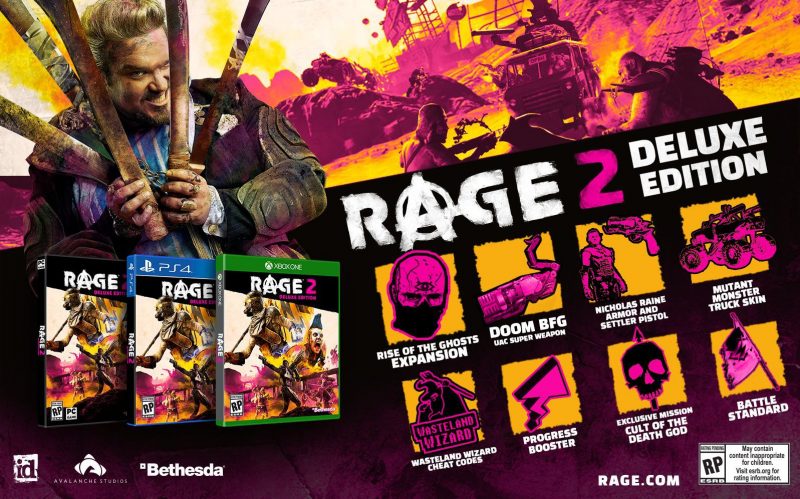 The Deluxe Edition is available both physically and digitally, and contains in-game items to "add a little luxury to your action-packed tour through the wasteland":
Rise of the Ghosts Expansion: an exciting campaign expansion to RAGE 2.
BFG: get your hands on DOOM's big, friendly superweapon and eviscerate everything in your way in a flash of energy. Marine-tested, Ranger-approved!
Cult of the Death God Mission: a wild ride that sends Walker after a cult of crazed mutants who worship the image of Nicholas Raine, the hero of the original RAGE.
Mutant Monster Truck Skin: run over enemies in style with this exclusive vehicle skin. The truck is self-cleaning, so don't worry about those pesky blood stains messing up the pearl coating.
Wasteland Wizard Cheat Codes: you've been granted mighty new powers by the reclusive wasteland wizard! Utilize this collection of exclusive "cheat codes" to rule the wasteland.
Progress Booster: kick into Overdrive and get more bang for your bang with this wasteland Progress Booster.
Nicholas Raine Armor and Settler Pistol: slip into Raine's legendary Arkist armor and relive the classics with his powerful Settler Pistol.
Battle Standard: strike fear into the hearts of your enemies as you race into combat with this imposing banner streaming from your vehicle.
Collector's Edition ($119.99)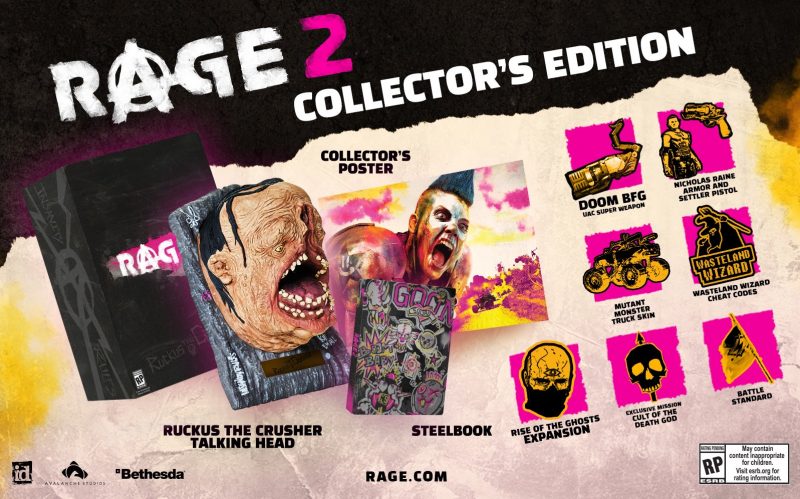 The Collector's Edition includes all the aforementioned Deluxe digital bonuses, plus a Steelbook, a poster, and most notably a talking, singing mutant head you can mount on your wall:
Ruckus the Crusher Talking Head: everyone's favorite mutant is ready to become the new conversation piece in your household. This extremely limited edition mountable head features a motion sensor that lets it talk and sing for hours!
Collector's Poster: adorn your underground bunker, criminal hideout or dorm room.
Steelbook: a snazzy steel case featuring the Goon Squad's finest artwork.
The launch date of RAGE 2 is set for May 14, 2019.
Check out our other upcoming shooter games and upcoming pc games.