This game was released on September 13, 2016 and is no longer available to pre-order. Any incentives that were offered are listed below.
ReCore is an action-adventure game with some with puzzle and platform elements developed by Comcept and Armature Studio. The game's protagonist is Joule Adams, one of the last remaining humans in a post-apocalyptic world inhabited by mechanical enemies of all shapes. Joule is aided by her own robotic companions called Corebots, each of which has unique abilities to aid their fearless leader in her journey.
The game is a part of Microsoft's new Xbox Play Anywhere initiative, which essentially means that you can play it on both Xbox One and Windows 10 (UWP) at no additional cost. Cross-save is also supported between the two platforms. According to the official website, ReCore promises more than 12 hours of gameplay at a price tag of $40.
Pre-order bonuses
Pre-ordering ReCore will get you a free copy of Banjo-Kazooie: Nuts & Bolts playable on Xbox One via Backward Compatibility.
Additional pre-order incentives are available from the following retailers:
Best Buy: ReCore-branded controller skin. ReCore hat for Gamers Club Unlocked members.
Microsoft Store: $10 gift code.
Collector's Edition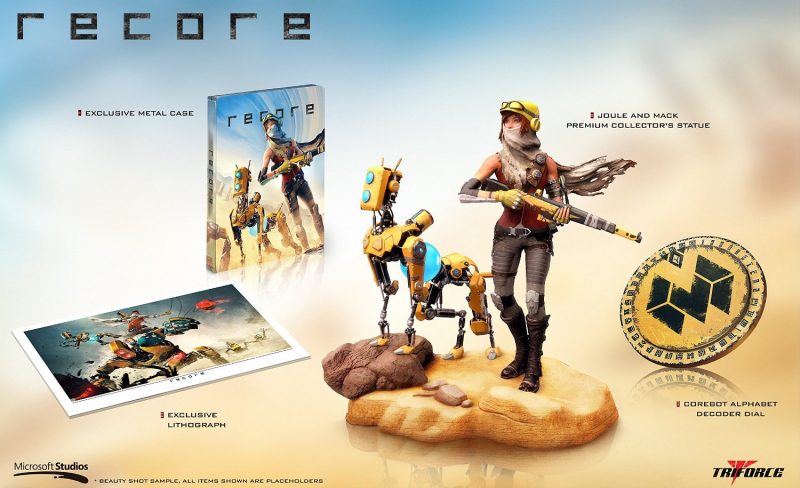 ReCore is also available in a rather hefty Collector's Edition which includes the following:
Exclusive metal case
Exclusive lithograph
Corebot alphabet decoder dial
Hand-painted Joule and Mack statue by TriForce
This edition retails for $180 and can be found on Amazon and GameStop in the States.
Recore will be out for Xbox One and Windows 10 on September 13, 2016.
Check out our other upcoming action games and upcoming pc games.