This game was released on November 05, 2019 and is no longer available to pre-order. Any incentives that were offered are listed below.
Red Dead Redemption 2 is an award-winning action-adventure game from Rockstar Games. Taking place in 1899 – a decade before the events in the first game – it follows outlaw Arthur Morgan, a member of the Van der Linde gang, as he flees federal agents across the Wild West.
As the game has already been out for consoles since last year, this article concerns specifically the upcoming release for Windows PCs. This version of RDR2 comes with some graphical and technical improvements, new bounty hunting missions and weapons, as well as free access to Red Dead Online. There is also a plethora of bonuses on offer when pre-purchasing from participating retailers or Rockstar directly, as outlined after the jump.
Pre-Production and Creative Direction.
Red Dead Redemption 2 is an exceptional example of the level of detail required to create stunning gaming experiences. The pre-production process drew attention to all aspects of game-making, from art direction and design to skeleton mechanics and mission scripting. Developers were charged with making the world immersive and realistic, all while ensuring that every small detail contributes to overall story cohesion. With such a huge task ahead of them, Rockstar Games' team worked diligently to create a compelling narrative while fostering an exquisite virtual environment.
Environment Design and Art Direction.
Among the many parts of Red Dead Redemption 2's development, environment design and art direction were essential. To make the game's cities, forests, towns and other areas look even more realistic, the developers spent a great deal of time creating detailed textures and features. Team members used digital painting techniques to bring out elements in nature such as beautiful foliage and subtle sunsets. Additionally, they incorporated interactive objects like clothes on coat hangers in store windows to intensify the game's atmosphere. From scrupulous light sources to sunsets viewed through a cowboy hat brim, this attention to detail brought the world of Red Dead Redemption 2 to life.
Character Animation and Facial Capture.
Red Dead Redemption 2 features the most realistic and detailed character models the Rockstar Games team have ever created. Every flinch and eye movement was meticulously captured to create a deeply immersive experience for players. This level of detail is thanks to the hundreds of hours of facial capture from actors, facial animation rigs and recorded dialogue used to ensure every character gesture looked natural and felt realistic. Motion capture acted as another important element in portraying believable characters, ensuring none of Red Dead Redemption 2's human occupants walk too unnaturally across its digital landscapes.
Sound Design, Cinematic Cutscenes and Realism.
Red Dead Redemption 2 also features a highly detailed sound design, featuring over a thousand lines of dialogue and voiced by real actors. The team made sure to create sound elements that not only add atmosphere, but immersively transport the player into the game's world. To ensure it tied the cinematic cutscenes in with the core gameplay, they recorded additional motion capture animation from actors on set used to give authenticity to the moment-to-moment life onscreen. Furthermore, context-sensitive music was added to make players feel more connected. Every note of said music was composed to reflect both the protagonist's inner thoughts and feelings alongside external events. This audio barrage makes for an engrossing experience that truly allows players to live out their Wild West fantasies.
Pre-order Bonuses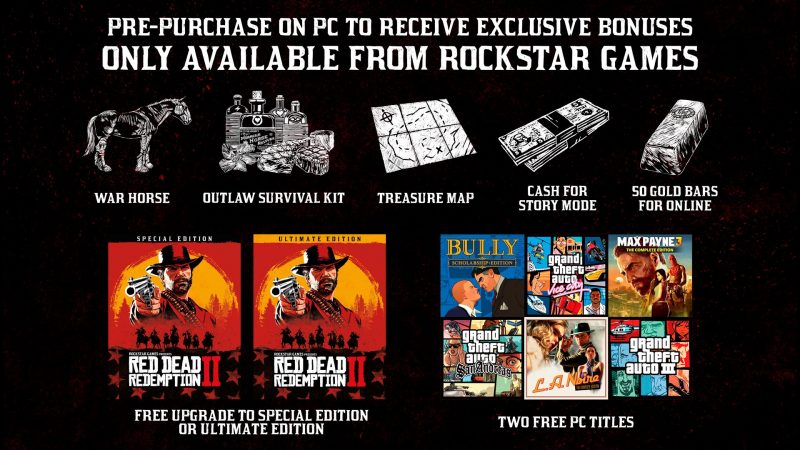 By far the most perks can be had by pre-purchasing Red Dead Redemption 2 directly through the Rockstar Games Launcher. First-off, as a limited-time offer until October 22, you'll receive two free games of your choice from the following list:
Grand Theft Auto III
Grand Theft Auto: Vice City
Grand Theft Auto: San Andreas
Bully: Scholarship Edition
L.A. Noire: The Complete Edition
Max Payne 3: The Complete Edition
Second, you'll receive these in-game items, which are reminiscent of those offered as pre-order bonuses for consoles last year:
Outlaw Survival Kit for Story Mode
War Horse for Story Mode
Treasure Map for Story Mode
Cash Bonus for Story Mode
50 Gold Bars for Red Dead Online
Lastly, all pre-purchases will be upgraded to the Special Edition free of charge, and the more expensive Ultimate Edition will be discounted by $20 until launch.
After the exclusivity period ends on October 23, the game will become available for pre-purchase on digital storefronts such as Epic Games, The Humble Store, GameStop, and others. The bonus offered in this case is a bit underwhelming, however, for you'll only receive 25 Gold Bars for Red Dead Online.
The exception to this is GreenManGaming, which provides a spin on their "Wheel of Credit" resulting in anywhere from $4 to $50 store credit for future purchases.
Red Dead Redemption 2 launches for PC on November 5, 2019. The game will also be available on Steam starting in December this year.
Order here in your favorite console Red Dead Redemption 2
No products found.
Check out our other upcoming action games and upcoming pc games.