This game was released on February 26, 2019 and is no longer available to pre-order. Any incentives that were offered are listed below.
RemiLore: Lost Girl in the Lands of Lore is a roguelite hack-and-slash game with colorful anime-style visuals. It is developed by Pixellore along with REMIMORY, both South Korean indie companies, with physical release handled by Nicalis.
The game follows the adventures of an ordinary schoolgirl, Remi, who finds herself transported to a fantastical world of Ragnoah alongside a talking magic book Lore. Together, Remi and Lore journey through procedurally-generated levels, utilizing over 200 weapons to battle fearsome monsters and bosses, and seeking a way home. In addition to the solo Story Mode, the game also offers a Co-Op Mode for two players.
Pre-order Bonuses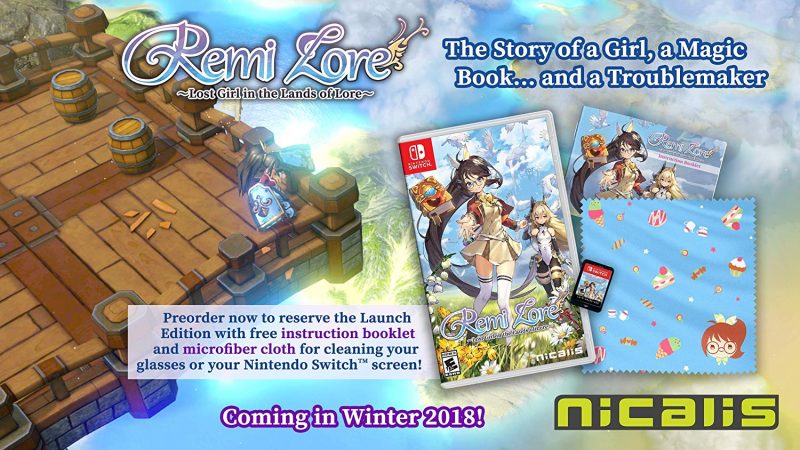 Pre-order the boxed version of RemiLore published by Nicalis for Nintendo Switch and PlayStation 4 to get a free upgrade to the Launch Edition depicted above. It contains a full-color instruction booklet, as well as a cute microfiber cloth for cleaning your glasses or computer screen. Available while first-run copies last.
RemiLore: Lost Girl in the Lands of Lore is scheduled to launch on February 26, 2019. It will be out digitally for Nintendo Switch, PlayStation 4, Xbox One, and PC, as well as physically for Switch & PS4.
Check out our other upcoming action games and upcoming nintendo switch games.