This game was released on January 25, 2019 and is no longer available to pre-order. Any incentives that were offered are listed below.
Resident Evil 2 is a remake of the 1998 horror classic, rebuilt by Capcom in their proprietary RE Engine previously used for Resident Evil 7 and Devil May Cry V. The company promises a fresh take on the original cult-classic, bringing it up to date with photorealistic visuals, immersive audio, a new over-the-shoulder camera, and a modernized control scheme.
The game stars rookie police officer Leon Kennedy and college student Claire Redfield, who find themselves in the middle of a zombie outbreak in Raccoon City. Both of these fan-favorite characters have their own playable campaigns, allowing the players to experience the story from different perspectives.
Pre-order Bonuses
Pre-order the Resident Evil 2 remake to receive S.T.A.R.S. members Chris Redfield and Jill Valentine's signature handguns as an in-game bonus:
Deluxe Weapon: Samurai Edge – Chris Model
Deluxe Weapon: Samurai Edge – Jill Model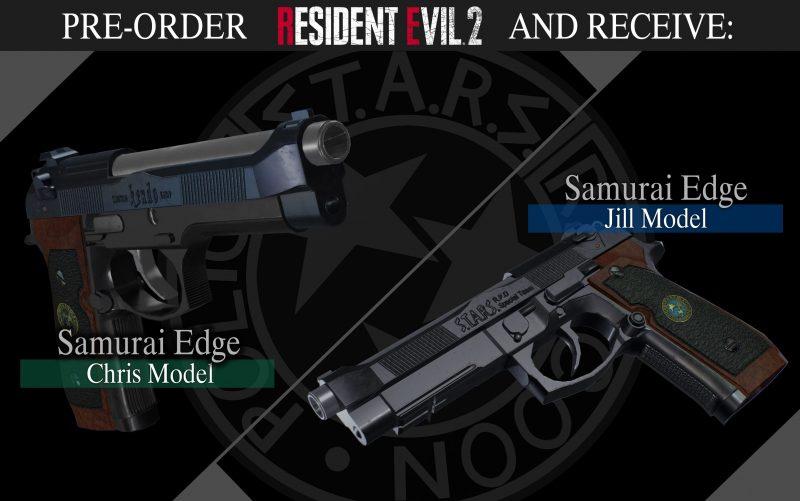 PlayStation Store will also throw in a Resident Evil 2 Special Theme for your PS4.
The only retailer-exclusive bonus in the US is the free Steelbook that you get when you pre-order at Best Buy: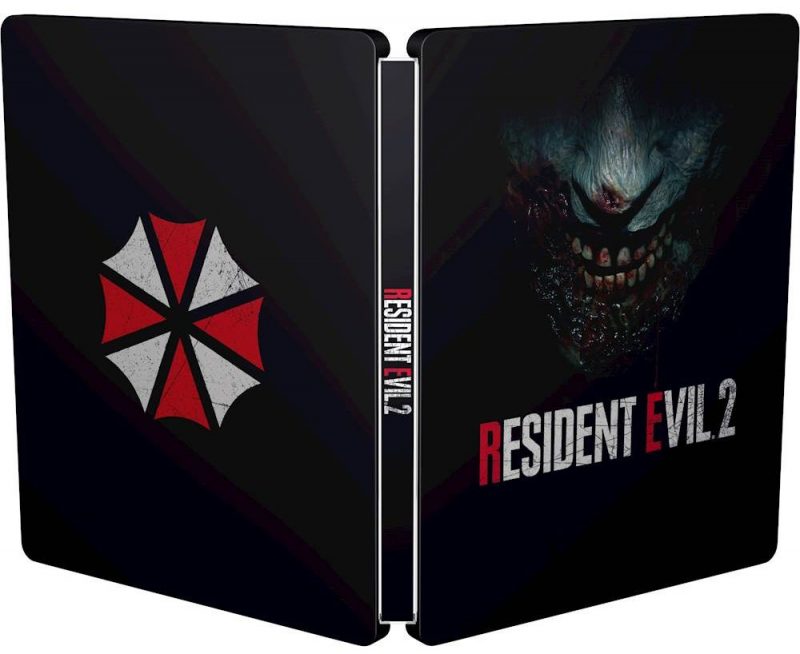 The case is available while supplies last with boxed Xbox One and PlayStation 4 copies.
Deluxe Edition ($69.99)
Available both digitally and at retail, the $69.99 Deluxe Edition adds an Extra DLC Pack to outfit Leon and Claire in classic gear, and lets you listen to the tracks of the original RE 2 while exploring Raccoon City:
Leon Costume: Arklay Sheriff
Leon Costume: Noir
Claire Costume: Military
Claire Costume: Noir
Claire Costume: Elza Walker
Deluxe Weapon: Samurai Edge – Albert Model
Original Version Soundtrack Swap
Collector's Edition ($199.99)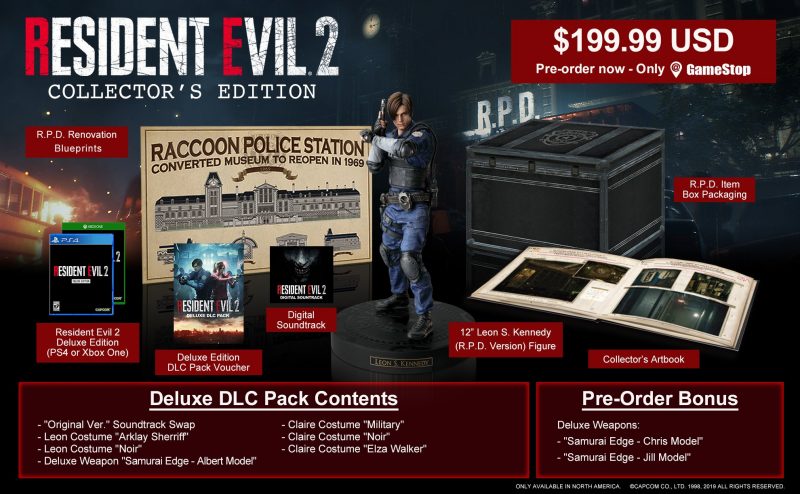 The GameStop-exclusive Collector's Edition comes with all of the aforementioned Deluxe Edition digital content, plus the following:
Special Deluxe Packaging
Leon S. Kennedy Figure: an expertly-crafted 12″ figure of Leon on his first day in his new RPD police uniform, recreated to mirror his in-game design down to the smallest details.
"Ben's File" Art Book: a 32-page book left behind by freelance journalist Ben Bertolucci, which contains photos and files documenting the events after the Raccoon City tragedy.
Digital Soundtrack: a voucher for a 25-track album featuring new songs from the remake of Resident Evil 2, as well as a selection of arrangements from the original game.
R.P.D. Renovation Design Poster: a diagram reminiscent of blueprints, this poster illustrates how the building was renovated and transformed from a museum to a police facility in 1969.
The remade Resident Evil 2 will be out for PlayStation 4, Xbox One, and PC on January 25, 2019. The game will be enhanced visually on the Xbox One X and PS4 Pro.
Check out our other upcoming horror games and upcoming pc games.