This game was released on October 11, 2016 and is no longer available to pre-order. Any incentives that were offered are listed below.
Rise of the Tomb Raider: 20 Year Celebration Edition is the long-awaited PlayStation port that will be out for the PS4 as well as the upcoming PS4 Pro. On the latter, additional graphical modes will be available: 4K at 30 FPS, 1080p at 60 FPS, or 1080p at 30 FPS with enriched visuals.
The game comes with all the previously released DLC such as Baba Yaga: The Temple of the Witch and Cold Darkness Awakened. Brand new content includes Blood Ties story chapter, which will also support PS VR; online co-op for the Endurance mode with leaderboards; and an Extreme Survivor difficulty setting for the most hardcore players.
Pre-order bonuses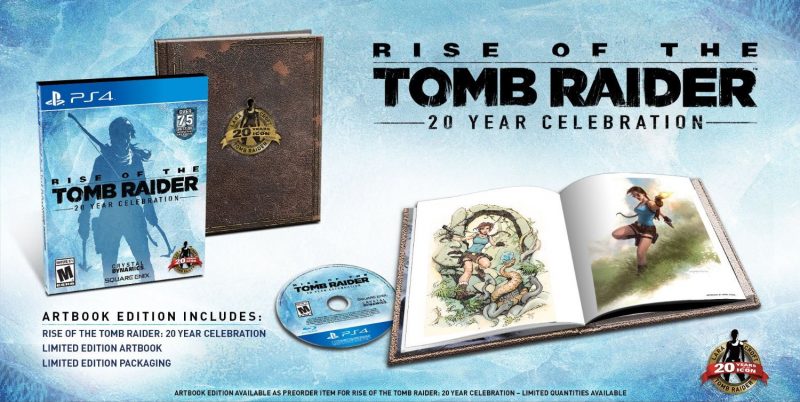 Pre-order RotTR: 20 Year Celebration at participating retailers and receive the Artbook Edition depicted above. Like the name suggests, it comes with limited edition art book and packaging. GameStop also has an additional bonus – Mobile Scavenger Hunt – which gives one a chance to unlock DLC and win prizes by completing weekly challenges.
On the other hand, pre-ordering digitally through PSN will net you a free copy of Tomb Raider: Definitive Edition.
Blood Ties trailer
The trailer shows a glimpse of the new Blood Ties and Lara's Nightmare content.
Rise of the Tomb Raider: 20 Year Celebration Edition will launch on October 11 this year.
Check out our other upcoming action games and upcoming playstation 4 games.