This game was released on January 20, 2015 and is no longer available to pre-order. Any incentives that were offered are listed below.
A remastered version of Saints Row IV is scheduled to launch for the new-gen Sony and Microsoft consoles in January 2015. Titled Saints Row IV: Re-Elected, the game features enhanced graphics, includes all the current DLC, and can be purchased either separately via digital download, or in a boxed version together with the upcoming standalone expansion, Gat out of Hell. The latter is also sold separately, and includes approximately 6-8 hours of gameplay; the story follows Johnny Gat and Kinzie Kensington as they attempt to invade Hell and save Boss's soul.
Pre-order bonuses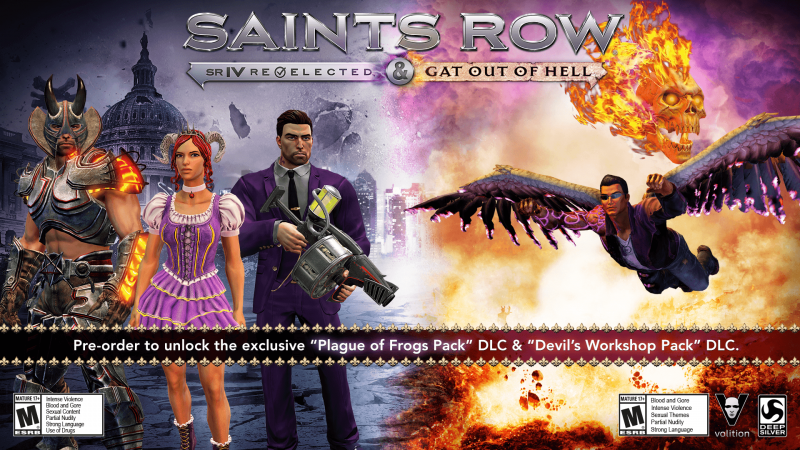 The deal is simple: pre-order Saints Row IV: Re-Elected, and you will get the Plague of Frogs Pack (includes Jezebel and Demon outfits, and the Lil' Croaker weapon). Do the same with the Gat out of Hell expansion, and the Devil's Workshop Pack (Shakespeare's Skull weapon and a Saints Wings skin) will be yours. Pre-order the retail bundle which includes both games, and you will acquire both bonus packs.
Seven Deadly Weapons trailer
Use powerful weapons inspired by the seven deadly sins to take on Satan himself in Saints Row: Gat out of Hell.
Both the remastered version of Saints Row IV and the standalone expansion are scheduled to launch on January 20, 2015. In addition to PS4 and Xbox One, Saints Row: Gat Out of Hell will also be available on the previous-gen consoles as well as PC.
Check out our other upcoming action games and upcoming playstation 4 games.