This game was released on October 13, 2016 and is no longer available to pre-order. Any incentives that were offered are listed below.
Shadow Warrior 2 is an upcoming sequel to the Flying Wild Hog's 2013 first-person shooter. It takes place five years after the events in the first game, and once again puts the players into the shoes of wisecracking ninja Lo Wang. The sequel is less linear and some level elements are procedurally-generated. Shadow Warrior 2 also boasts over 70 different weapons which can be augmented and leveled up by killing enemies. Enemies can now be dismembered and have various body parts blown off thanks to the new procedural damage system.
Like its predecessor, the game has a single-player story mode, the main difference being that it is now possible to revisit previous missions. New to the game is a 4-player co-op which allows four people to enjoy the campaign together. Each player will experience the story as Lo Wang, and see other participants as anonymous mercenaries.
Pre-order bonuses (PC)

Pre-purchase Shadow Warrior 2 for PC to receive "The Razorback" chainsaw katana depicted above, as well as 10% off the game (dropping the price from $39.99 to $35.99). The game is available at the usual digital outlets: Steam, GOG.com, and also at the publisher's Devolver Digital online store.
Owners of the first Shadow Warrior (2013) or Hard Reset Redux receive further discount for a total 20% off; just login to Steam, view the Shadow Warrior 2 store page, and you should see the additional discount applied.
Deluxe Edition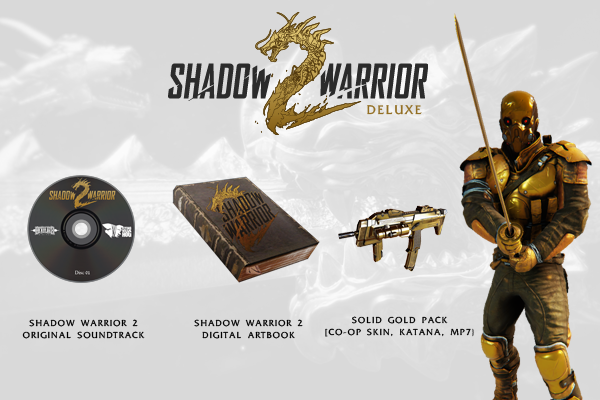 The Deluxe Edition bumps the price up to $49.99 and adds the soundtrack, digital art book, and the Solid Gold Pack containing an exclusive gold ninja outfit, gold katana, and gold MP7 gun.
"Who Wants Some Wang" trailer
Shadow Warrior 2 will be out on October 13, 2016 for Windows. PlayStation 4 and Xbox One releases will follow in early 2017.
Check out our other upcoming shooter games and upcoming pc games.