This game was released on November 19, 2019 and is no longer available to pre-order. Any incentives that were offered are listed below.
Shenmue III is an open-world action-adventure game developed by Ys Net – the company headed by the director, writer, and producer of the previous Shenmue installments Yu Suzuki – and published by Deep Silver. After years of development hell, it will finally see a release thanks to a successful crowdfunding campaign on Kickstarter.
Shenmue III continues the story of teenage martial artist Ryo Hazuki, whose search for his father's killer takes him to rural China. He is accompanied by Shenhua, a mysterious girl from the Bailu Village which is the game's starting location.
Those new to Shenmue will have the opportunity to catch up to the story thanks to a special "recap digest" movie by Yu Suzuki that is included with the upcoming game.
Pre-order Bonuses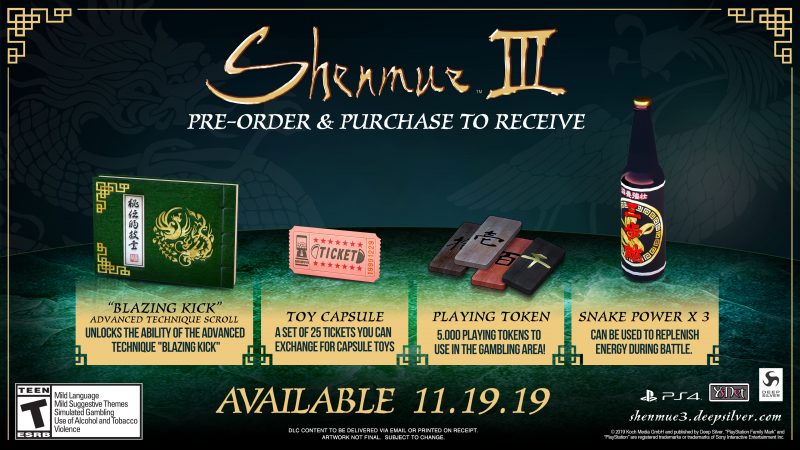 All Shenmue III pre-orders at participating retailers will receive the following generic bonuses:
"Blazing Kick" Advanced Training Scroll: unlocks the ability of the advanced technique  "Blazing Kick" to better challenge Ryo's foes.
Snake Power x 3: three bottles of the Snake Power elixir used to replenish energy during battle.
Playing Tokens: 5,000 playing tokens to use in the gambling area.
Toy Capsule: a set of 24 tickets to exchange for in-game capsule toys.
Additionally, the retailers listed below are offering exclusive pre-order bonuses – some physical, others digital – that are limited to the console version, as is often the case.
GameStop – a limited edition Dragon/Phoenix Mirror Medallion inspired by the one seen in the game: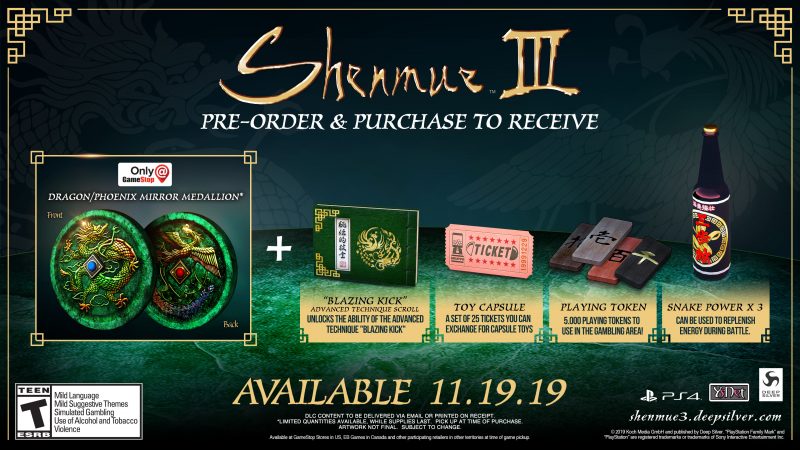 Best Buy – a limited edition SteelBook that portrays Ryo and Shenhua: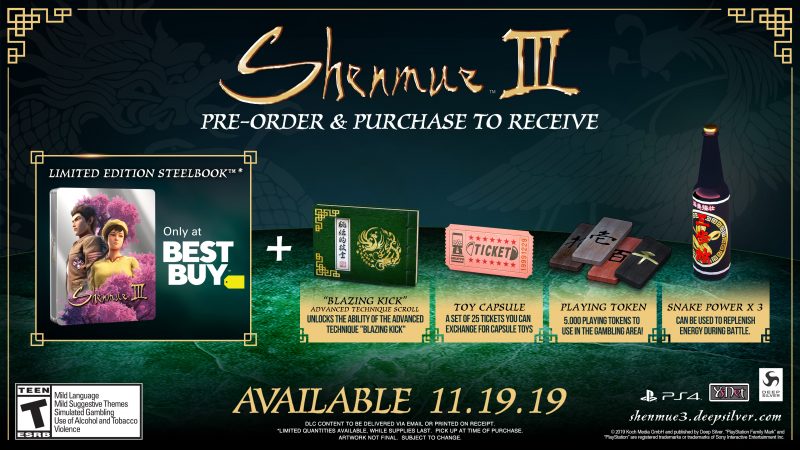 Amazon – a $10 discount and the Kenpogi Training Wear DLC modeled after historical Chinese kung fu outfits: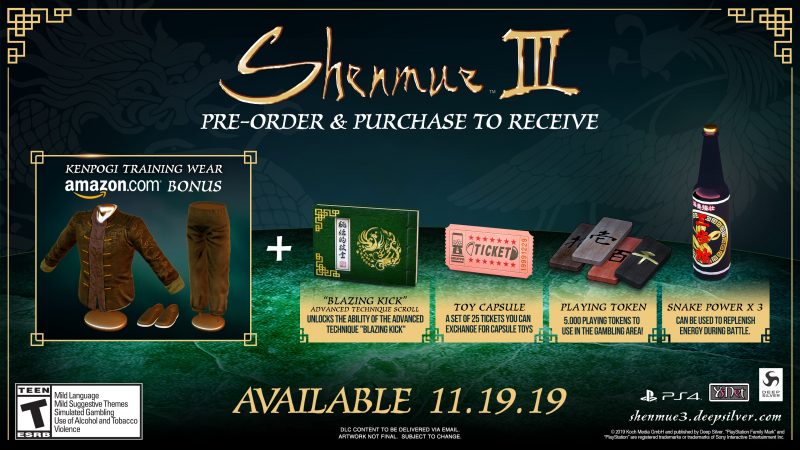 Walmart: $10 discount after adding game to cart, but no exclusive items beyond the generic pre-order bonuses.
Lastly, pre-order customers on PSN will receive a Character Concept Theme and 3 Avatars (Ryo, Shenhua, and the Shenmue III logo), as well as all the digital bonuses listed so far ("Blazing Kick" Technique Scroll, Kenpogi Training Outfit, and Peking Power Starter Pack).
The standard edition of the game is priced at $59.99 for PS4 ($49.99 for the PC), and there are two special editions as detailed below.
Digital Deluxe Edition ($74.99)
The digital Deluxe Edition is available for both PS4 ($74.99) and PC ($64.99), and includes the following:
DLC Pass for complete post-launch DLC content
The "Burning Sandstorm" Advanced Technique Scroll
The legendary Ryo's Flight Jacket.
Collector's Edition
The Collector's Edition is published through Limited Run Games, who will only be manufacturing 5,000 copies (4,000 for PS4, and 1,000 for the PC). The CE comes with the following extras:
Double-Sided Phoenix/Dragon Mirror
Iron-on Patches
Shoji Door-styled Desk Lamp
Set of Stickers
After a two-month delay for "more refinement", Shenmue 3 will be out for PlayStation 4 and PC (as an Epic Games Store exclusive) on November 19, 2019.
Check out our other upcoming action games and upcoming pc games.