This game was released on November 11, 2011 and is no longer available to pre-order. Any incentives that were offered are listed below.
Skyrim is the fifth installment in the highly successful Elder Scrolls series, and possibly the most anticipated game in 2011. As the name suggests, it will take you north of Cyrodiil, to the snowy land of Skyrim which is home to the proud Nord people.
The game will take place 200 years after the events of Oblivion. Like in TES IV, players will start out in a prison, sentenced to execution for crossing the border. After escaping, they will learn that the dragons are coming back, and that the only person they fear is Dovahkiin, the Dragonborn.
TES V: Skyrim is going to use a brand new Creation Engine that will offer unprecedented graphics, improved AI, and side quests that are dynamically generated based on your character's actions. The gameplay and combat system will also be improved. For example, you'll be able to equip a spell or a weapon in each hand, allowing you to dual wield weapons and magic. Another new feature is Dragon Shouts – extremely powerful spells that can be obtained by defeating dragons and absorbing their souls.
Elder Scrolls V: Skyrim pre-order bonuses
Gamers who pre-order Skyrim will receive a premium-quality map of the game world. According to Bethesda Blog, it's made from "a high-grade material that has a feel similar to burlap". Customers who buy the game after the release will get a regular paper map instead.
Here are some of the stores where you can preorder Skyrim and get the cloth map bonus. Skyrim fans will be happy to learn that there won't be retailer-specific DLCs for the game – although some stores are offering additional bonuses (see below):
US
Amazon: $10 promo credit (consoles only)
Gamestop
BestBuy
UK
Australia
EB Games: SteelBook package, 4 art cards, 100-page notebook
GAME: two Elder Scrolls novels
JB HiFi: strategy guide bundle
Skyrim will also be available in a limited Collector's Edition.
Collector's Edition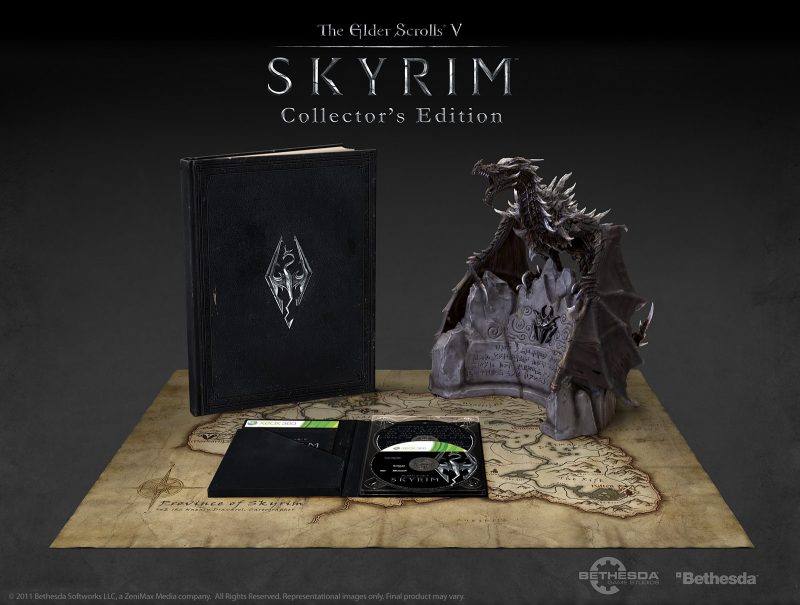 The Collector's Edition of Skyrim carries a rather hefty price tag of $150 and includes several physical collectibles. It offers no exclusive DLCs, which is probably for the best. The contents of Skyrim CE, as announced on BethBlog, are as follows:
A 12″ tall statue of dragon Alduin, the World Eater, created using the actual 3D models from the game. The statue is made from high-quality PVC material, and produced in conjunction with the IP Factory. Alduin stands perched on a dragon wall, an object that will teach you the language of dragons in the upcoming game.
A hardbound Art of Skyrim book with over 200 pages of full-color illustrations featuring the characters, creatures, weapons, and places from the game. This massive coffee table book measures 9 3/8″ x 12 1/8″ and includes commentary from Bethesda artists.
Making-of DVD which contains lots of behind-the-scenes footage from making of the game, various interviews with Bethesda Game Studios team, and extra insights into the story, gameplay and legacy of the Elder Scrolls franchise.
According to Bethesda, the Collector's Edition "will be available in extremely limited quantities". We don't know how many copies will be released, but it might be wise to preorder it in any case.
Gameplay demo
Most people have probably already watched the official trailer, so check out the preview of Skyrim gameplay from this year's E3 expo instead. You get to see the highly detailed environments, 3D inventory, dual wielding, Guardian Stones, and other interesting features from the upcoming game. Todd Howard, the game director of Skyrim, also answers a number of questions about TES5.
Skyrim will be released on the beautifully symmetric date of 11/11/11. You can get the latest news on the game by following @ElderScrolls on Twitter or visiting the official website.
Check out our other upcoming rpg games and upcoming pc games.