This game was released on March 04, 2014 and is no longer available to pre-order. Any incentives that were offered are listed below.
South Park: The Stick of Truth is a RPG based on the very crude, very popular TV show, South Park. The players take on the role of a new kid in town, picking one of the five classes (Fighter, Mage, Thief, Cleric, and Jew), and setting out on an epic adventure along with Stan, Kyle, Cartman, Kenny, and others. The game is developed by Obsidian Entertainment known for RPGs like Neverwinter Nights 2 and Fallout: New Vegas, and uses the trademark cutout animation visual style from the television series.
The Stick of Truth is similar to Paper Mario or Final Fantasy in that the players can explore South Park freely as a party, while the battle system is turn-based where each member of the group can attack, use an item, or perform a special move when it's their time to act. Some elements like blocking or dealing additional damage require a well-timed input.
Pre-order bonuses
Pre-order South Park: The Stick of Truth and get the Ultimate Fellowship Pack for free. Said pack gives you four bonus costumes with special perks: Necromancer Sorcerer boosts your fire damage, Rogue Assassin lets you earn extra gold, Ranger Elf increases weapon damage, and Holy Defender raises your defense.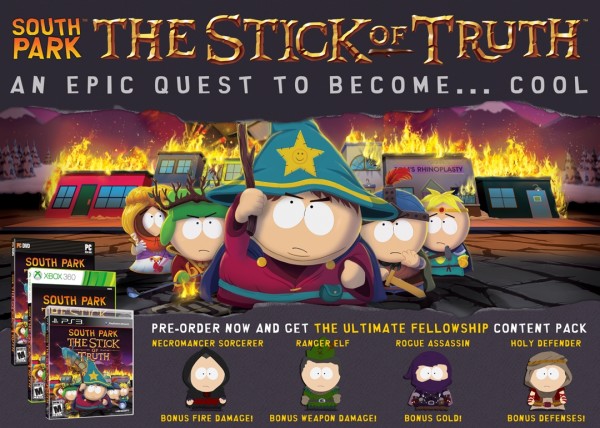 In addition to that, the following retailers are also offering some exclusive incentives:
GameStop: Super Spaceman Samurai Pack which includes three more costumes. Superhero buffs your character at the start of every fight, Samurai buffs you when you defeat an enemy, and Spaceman provides an emergency shield.
Walmart: no additional in-game content besides the aforementioned Ultimate Fellowship Pack, but they will throw in $4.99 worth of VUDU Movie Credits with your preorder.
Grand Wizard Edition
There's also a $79.99 Collector's Edition available which comes with a 6″ Cartman figure from Kidrobot and a map of the game world. The Ultimate Fellowship Pack is included as well.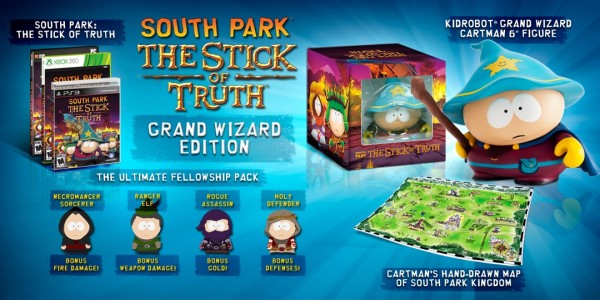 Giggling Donkey trailer
Check out the gameplay of South Park: The Stick of Truth in this official trailer.
The release date of The Stick of Truth is set for March 4th in North America, March 6th in mainland Europe and Australia, and March 7th in the United Kingdom.
Check out our other upcoming rpg games and upcoming pc games.