This game was released on August 20, 2013 and is no longer available to pre-order. Any incentives that were offered are listed below.
Splinter Cell: Blacklist is an upcoming action / stealth game which takes place 6 months after the events in Splinter Cell: Conviction. The word "Blacklist" refers to a series of terrorist attacks against the US, which Sam Fisher will have to stop as the leader of the newly formed 4th Echelon.
Much like its predecessors, the game allows for different play styles. Depending on your approach to the mission, you will earn points in three categories: ghost (silent & non-lethal), panther (stealthy kills), and assault (just shoot 'em up). This score will then translate into cash for buying, upgrading, and customizing your equipment.
Pre-order bonuses
Pre-order your copy of Splinter Cell: Blacklist to receive the following in-game content:
Upper Echelon Suit (5 armor pieces)
Gold Glowing Goggles
Dead Coast Co-op Map
There are some retailer-exclusive bonuses to be had as well:
Paladin Aircraft Edition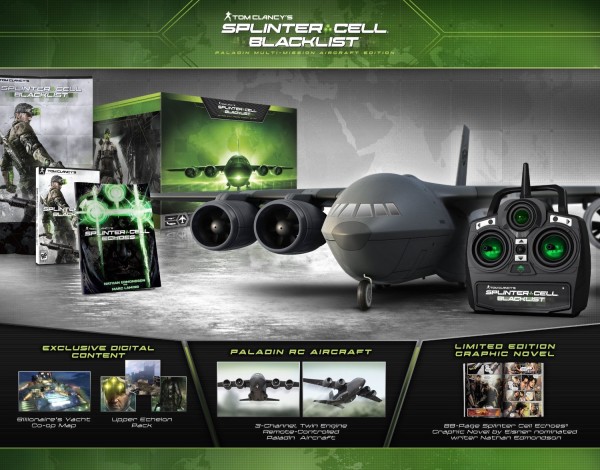 The "Paladin Multi-Mission Aircraft Edition" is pretty impressive as far as Collector's Editions go. You get the following items for the rather hefty price of $169.99:
RC Paladin Airplane capable of 35 mph flight speed and 250 feet flying radius
Splinter Cell: Echoes, an 88-page graphic novel set between Conviction and Blacklist
Billionaire's Yacht Co-Op Map
Limited Edition Sam Fisher poster
The whole Upper Echelon Pack is also included with this edition.
Fifth Freedom trailer
Sam Fisher is granted the fifth freedom by the president of the United States in this preview.
The release date of Tom Clancy's Splinter Cell: Blacklist is set for August 20, 2013.
Check out our other upcoming action games and upcoming pc games.