This game was released on November 15, 2019 and is no longer available to pre-order. Any incentives that were offered are listed below.
Star Wars Jedi: Fallen Order is a third-person action-adventure game developed by Respawn Entertainment and published by EA. Set after the events of Star Wars: Episode III – Revenge of the Sith, it follows Cal Kestis, a young Padawan who narrowly escaped the purge of Order 66 and is on a quest to rebuild the Jedi Order.
The game promises a story-driven single-player experience focusing on combat, exploration, and puzzle-solving. The lightsaber combat system is said to be innovative and intuitive to pick up, and involves striking, parrying, and dodging. No Star Wars game would be complete without Force abilities, and Jedi: Fallen Order is no exception – some powers aid in combat, while others provide new ways to traverse the game's diverse environments.
There are several planets to visit and explore in the game, which is done using a customizable spaceship called The Stinger Mantis. Flights happen in real time, during which players can engage in various activities onboard.
Pre-order Bonuses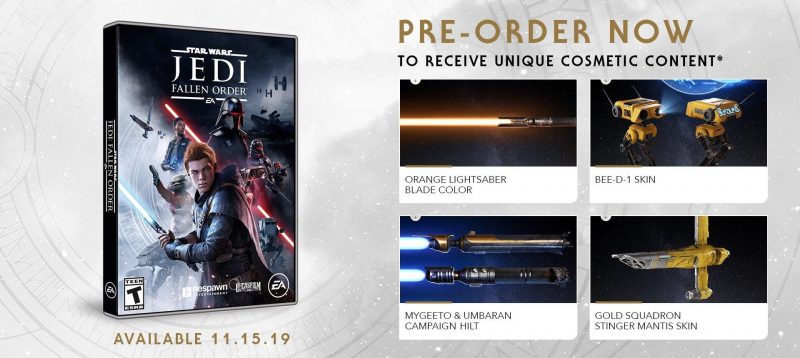 Pre-order Jedi: Fallen Order for any platform to receive unique cosmetic equipment for your lightsaber, droid companion, and ship:
Orange Lightsaber Blade Color
BEE-D-1 Skin for BD-1
Mygeeto Campaign Hilt
Umbraran Campaign Hilt
Further, retailer- or platform-exclusive bonuses are listed below:
Amazon: ~$10 discount for the Standard and Deluxe editions
Walmart: $10 discount after adding game to cart
Best Buy: $10 in rewards for My Best Buy members
GameStop: a $15 Fandango Promotional Code when pre-ordering the game at participating stores – must complete purchase by December 2nd
PlayStation Store: Star Wars Jedi: Fallen Order PS4 theme
This list will be updated as new information trickles in.
Deluxe Edition ($69.99)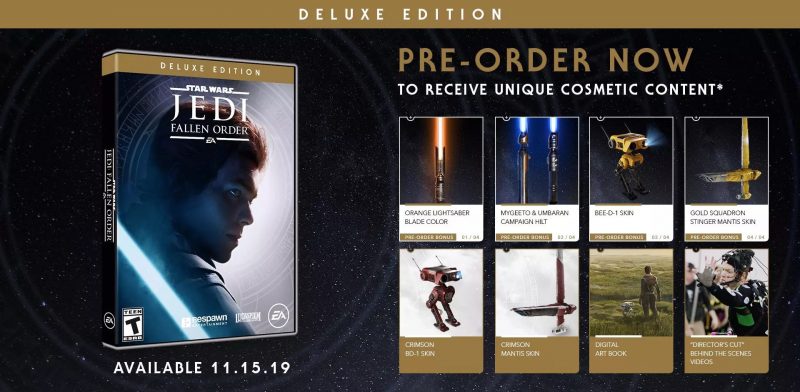 The Deluxe Edition of Jedi: Fallen Order gives you the story behind the game in a "Director's Cut" suite of behind-the-scenes features and content, as well as more cosmetic items:
Crimson BD-1 skin
Crimson Mantis skin
Digital art book
"Director's Cut" behind-the-scenes video
Black Series Figure Bundle ($82.98 / $92.98)
This GameStop-exclusive bundle combines the standard or Deluxe edition of Star Wars Jedi: Fallen Order for Xbox One or PS4 with a Star Wars: The Black Series 6″ action figure.
Star Wars Jedi: Fallen Order launches on November 15, 2019 for Xbox One, PlayStation 4, and PC via Origin and Steam.
Check out our other upcoming action games and upcoming pc games.