This game was released on October 02, 2020 and is no longer available to pre-order. Any incentives that were offered are listed below.
As one might guess from its title, EA's latest Star Wars game focuses on ship combat. Set after Return of the Jedi, it allows the player to side with either the Empire of the New Republic, strap into iconic X-wings and TIE fighters, and take part in frenetic dogfights, both in single-player campaign and 5v5 multiplayer. Star Wars: Squadrons can be played traditionally or in VR on PC and PS4 with cross-play support.
The starfighters can be customized with components such as weapons, hull, engines, and cosmetic items as the player rises through the ranks. Pre-ordering the game nets some of these items as a free bonus.
Pre-order Bonuses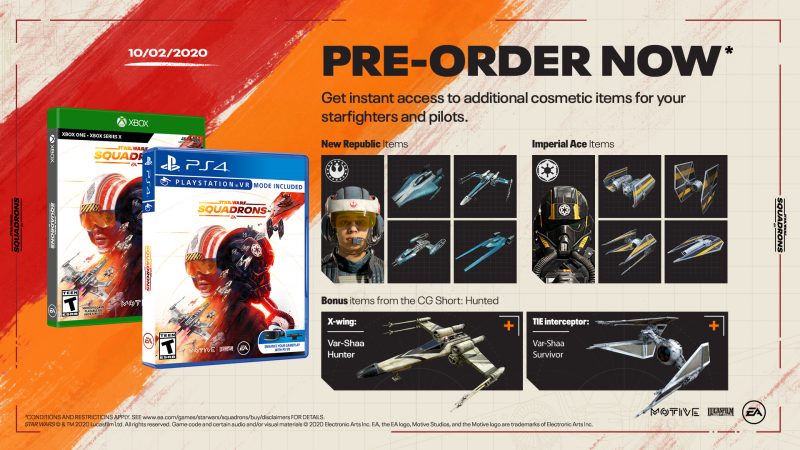 Pre-order Star Wars: Squadrons anywhere to receive two bonus cosmetic packs, one for each side of the conflict:
New Republic Pack:

New Republic Recruit Flight Suit (Epic)
New Republic Recruit Starfighter Skins (1 skin for each ship, 4 in total; Rare)
New Republic Recruit Starfighter Decal (Common)

Empire Pack:

Academy Ace Flight Suit (Epic)
Academy Ace Starfighter Skins (1 skin for each ship, 4 in total; Rare)
Imperial Ace Starfighter Decal (Common)

Bonus items from the CG short film Hunted:

New Republic Var-Shaa Hunter X-wing Skin (Epic)
Imperial Var-Shaa Survivor TIE Interceptor Skin (Epic)
On top of that, Epic Games Store is offering a bonus Vanguard Squadrons X-wing Glider skin for use in Fortnite: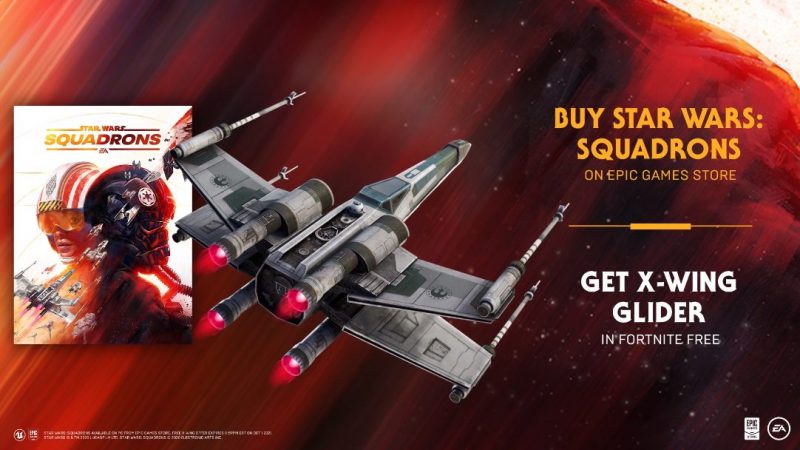 The pre-orders are currently priced at $39.99 (or $35.99 with EA Access).
Battle Helmet Bundle ($129.99)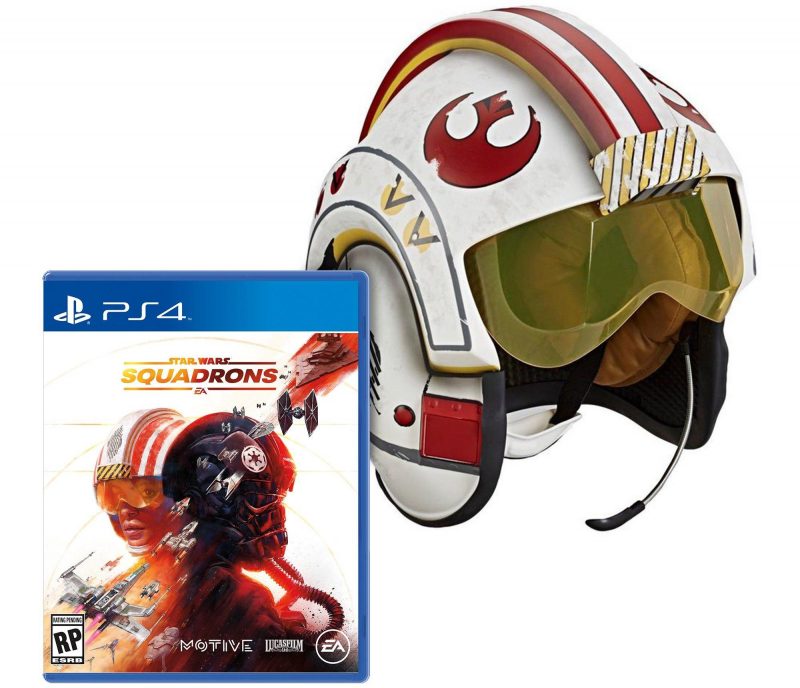 GameStop is selling a bundle that includes a copy of Star Wars: Squadrons and a Black Series Battle Simulation Helmet pictured above. The helmet features synchronized LED lights and 3 speakers for "an immersive battle simulation experience".
Star Wars: Squadrons is scheduled to launch on October 2, 2020. It will be released digitally on PC and digitally as well as at retail on Xbox One and PlayStation 4.
Check out our other upcoming action games and upcoming pc games.