This game was released on December 02, 2016 and is no longer available to pre-order. Any incentives that were offered are listed below.
Steep is a winter sports game developed and published by Ubisoft for Windows and current-gen consoles. Set in the Alps, it includes skiing, wingsuit flying, snowboarding, and paragliding as the main activities. The players can participate in races, perform tricks, explore and unlock new challenges, and record and share their performances.
Steep features an open world with a variety of environments as well as dynamic weather and day / night cycle. The game does require an internet connection to play as the social features are integral to the gameplay. It supports up to four players in a co-op.
Pre-order bonuses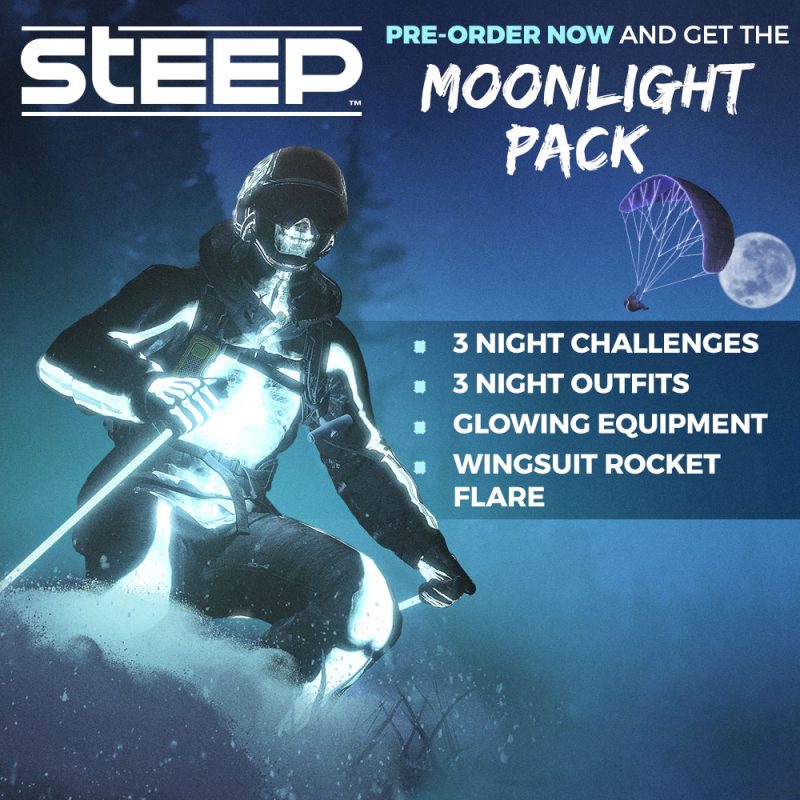 Pre-order Steep to get upgraded to the Day One Edition and receive the Moonlight Pack with three night challenges, three night outfits (X-Ray, White Glow, Red Neon), glowing equipment for each activity, and a wingsuit rocket flare.
In addition, Microsoft Store is offering its customary gift card worth $10. We are not aware of retailer-exclusive content at this time.
Gold Edition
The $89.99 Gold Edition comes with a Season Pass, granting access to three DLC packs featuring additional sports, challenges and outfits, 10,000 credits, bonus Helicopter tickets, and additional digital content. Gold Edition riders can also suit up in style with an exclusive Snowman costume.
Steep will be out for Windows PCs, Xbox One, and PlayStation 4 on December 2, 2016. Players can already register for a chance to participate in the beta through the game's official website.
Check out our other upcoming sports games and upcoming pc games.