This game was released on March 09, 2012 and is no longer available to pre-order. Any incentives that were offered are listed below.
Street Fighter X Tekken is a new installment in Capcom's crossover series, bringing together the universes of two popular fighting games. SFxT features characters from both Capcom's Street Fighter and Namco's Tekken franchises, as well as additional Playstation-exclusive fighters, like Cole from inFamous.
Street Fighter X Tekken is essentially a 2 vs. 2 tag-team fighter that plays similarly to other SF games. It features elements from the previous Street Fighter titles, such as Super Combos and EX Attacks, and uses the familiar 6-button control scheme. Tekken characters, however, can perform combos using Tekken's 4 button layout.
SFxT introduces a new "Gem System" which lets you equip up to 5 Gems and use them in battles. Activating a Gem grants you various power-ups, such as increased attack, speed, defense, and so on. Preorder the game at participating retailers to get bonus Gem Packs.
Street Fighter X Tekken pre-order bonuses
The following retailers are offering different Gem Packs for SFxT pre-orders:
Amazon: Iron Curtain Gem Pack which boosts you Defense abilities (9 yellow Gems).
Gamestop: World Warrior Gem Pack for increasing your Attack (9 red Gems).
BestBuy: Lightning Legs Gem Pack which boosts your Speed (9 green Gems).
Scroll down to the trailer for a more detailed explanation on how Gems work in SFxT.
Special Edition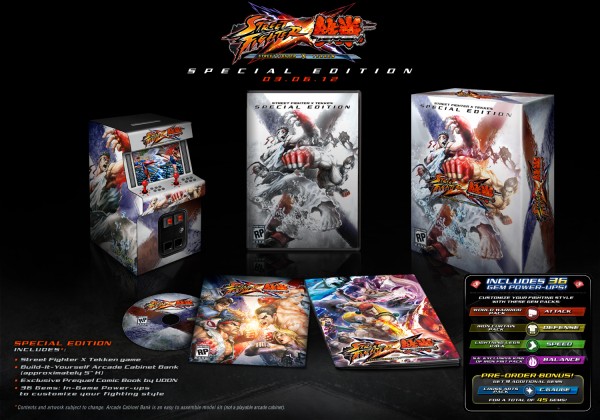 Street Fighter X Tekken is also available in a Special Edition which retails for $69.99 and includes the following content:
Special Edition artwork
Prequel comic book from UDON Comics
Build-it-Yourself Arcade Bank (5″H): an easy-to-assemble model that represents old-school arcade cabinets. Store your quarters (and more) for your next challenger.
36 Gem power-ups:

All three Gem Packs listed as Standard Edition pre-order bonuses (Iron Curtain, World Warrior, Lightning Legs).
Special Edition-exclusive King of Iron Fist Gem Pack which boosts your Balance.

Pre-order bonus: Cross Arts Gem Pack that helps you fill your C. Gauge faster.
That's right, pre-ordering the Special Edition gets you yet another Gem Pack. SFxT SE with the additional Cross Gauge Gems can be found at Amazon, Gamestop, and BestBuy.
Game trailer
This 8-minute-long video explains the new Gem System as well as game concepts like Launchers, Cross Counters, Switch Cancel, Super Arts, and so on.
https://youtu.be/rElWkALdwgs
Street Fighter X Tekken launches on March 6, 2012 in the United States, and March 9 in Europe. It will be available on Xbox 360 and Playstation 3 consoles, Windows, and the upcoming PS Vita handheld.
Check out our other upcoming fighting games and upcoming pc games.