This game was released on October 13, 2017 and is no longer available to pre-order. Any incentives that were offered are listed below.
The Evil Within 2 is a survival horror game developed by Japanese studio Tango Gameworks and published by Bethesda. It picks up three years after the events in the first instalmment, with the protagonist Sebastian Castellanos forced to partner with Mobius and re-enter the nightmarish world of STEM to save his believed-to-be-dead daughter, Lily.
According to Bethesda, the sequel offers a more flexible pacing, allowing the players to explore as much – or as little – as they like before delving back into the main storyline. Besides the usual assortment of creepy enemies, Sebastian will also have to contend with his own personal demons, as well as sadistic humans who would use STEM to satisfy their depraved urges.
Pre-order Bonuses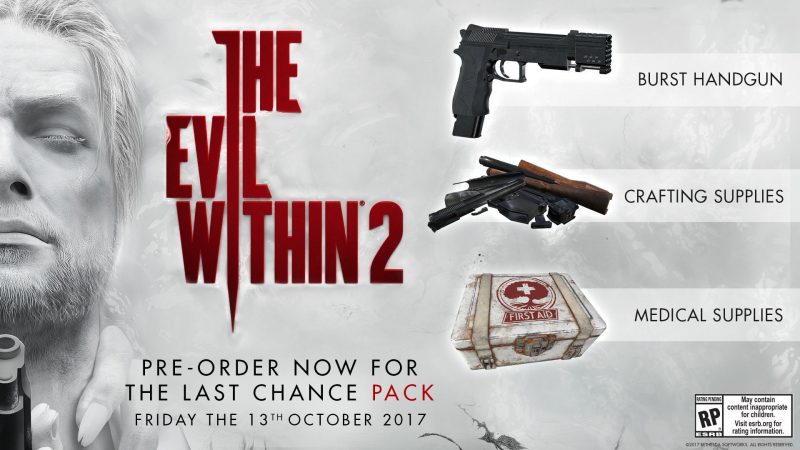 Pre-order The Evil Within 2 to receive The Last Chance Pack displayed above, which includes gear to help you survive the nightmare:
Burst Handgun: exclusive weapon only available through The Last Chance Pack, which uses handgun bullets that can be found or crafted.
Crafting Supplies: upgrade your go-to weapon, craft ammo, or make traps to incapacitate enemies with these supplies, available at the start of your descent into Union.
Medical Supplies: you'll need to stay alive if you want to save Lily, and these supplies will give you the aid you need to venture deeper into the madness.
As usual, pre-purchasing digitally via PlayStation Store will also net you a Dynamic Theme.
The Evil Within 2 is expected to launch on October 13, 2017.
Check out our other upcoming horror games and upcoming pc games.