This game was released on November 25, 2011 and is no longer available to pre-order. Any incentives that were offered are listed below.
King of Fighters XIII is an upcoming fighting game to be released for Playstation 3 and Xbox 360 consoles on October 25th. The game features Arcade, Story, Versus, and a few other modes, as well as online battles and rankings on Xbox Live or PSN. It has a roster of over playable 30 fighters, including some console-exclusive ones. KoF XIII is published in the US by Atlus.
There are some changes in gameplay compared to KoF12: mechanics like Critical Counter and Guard Attack have been removed altogether, and new EX Special Moves and Drive Cancel systems have been added. The first allows the player to execute more powerful moves by using their power gauge, while the second lets you cancel your special moves into different ones.
King of Fighters XIII pre-order bonus
Preordering the game in the US will get you a 4-CD soundtrack compilation from the entire 15 year history of KoF franchise: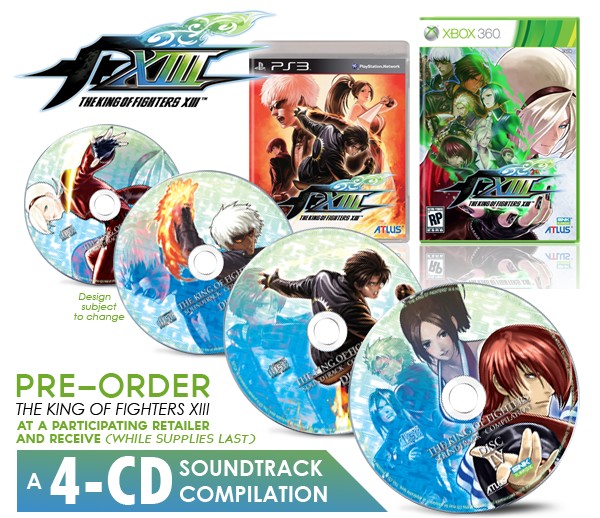 Participating US retailers include Amazon, Gamestop, and others. According to Rising Star Games (the publisher of KoF13 in Europe), all UK retailers should have this pre-order offer. At the very least, we've seen it listed on the websites of ShopTo, Gameplay, and GAME.
Promo trailer
Try this video if you want to see more King of Fighters 13 gameplay.
The game was delayed one month and is scheduled be released on November 22nd in North America, and November 25th in Europe.
Check out our other upcoming fighting games and upcoming playstation 3 games.