This game was released on April 17, 2012 and is no longer available to pre-order. Any incentives that were offered are listed below.
The Witcher 2: Assassins Of Kings, one of the best RPGs in the last few years, is getting an Xbox 360 release in April. Titled "The Witcher 2: Assassins Of Kings Enhanced Edition", the game includes lots of extra content: new areas, quests, characters, voice acting, and cinematic cutscenes.
The game was a hit among PC gamers due to its captivating storyline and great graphics, although there were some complaints about the combat system and the learning curve. CD Projekt RED has addressed these concerns, making certain parts of the game easier than in the PC version.
The Witcher 2 Enhanced Edition pre-order bonuses
The Witcher 2: Assassins Of Kings for Xbox 360 and Windows is treated as a separate release in terms of exclusive preorder content. Reserving a copy of the game at one of the following US retailers will get you a single bonus item:
That is not all – like with the PC version's release last year, CD Projekt is pretty generous when it comes to additional content. Read on to find out what's included in the standard and premium editions of the game.
Enhanced Edition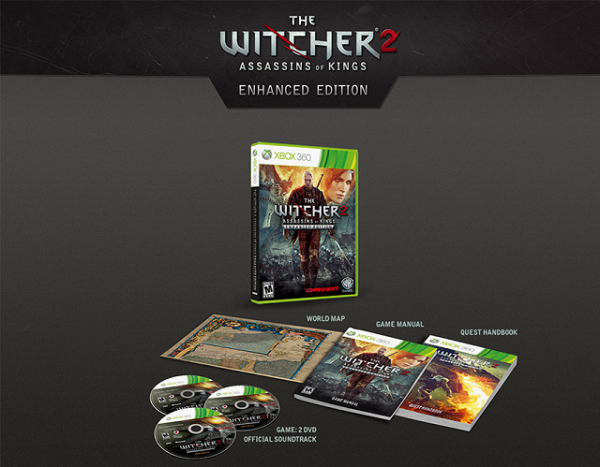 Enhanced Edition is the "regular" edition of the game and comes with some nice extra items for the standard $60 price:
Audio CD
Quest Handbook
World Map
Game Manual
Dark Edition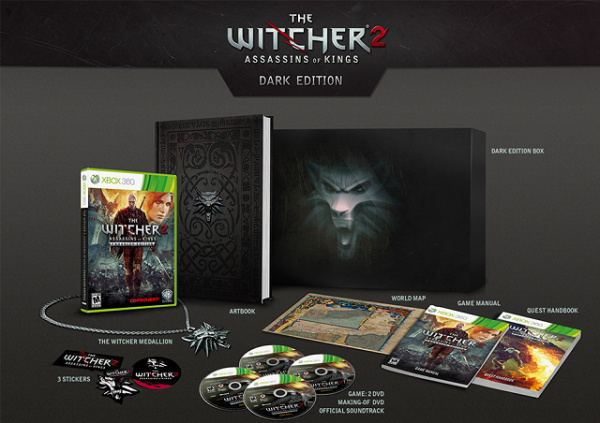 The collector's edition of The Witcher 2 for Xbox 360 carries a price tag of $100 and includes the following:
Audio CD
Making-of DVD
Quest Handbook
Game Manual
World Map
Three Witcher 2 Stickers
Witcher's Medallion
Artbook
Dark Edition Box
Game intro
An impressive 4-minute CG video gives Xbox gamers a taste of what's to come:
The Enhanced Edition of The Witcher 2: Assassins Of Kings will be released on April 17, 2012 for Xbox 360 and PC platforms. Existing owners of the original PC version of the game need not despair – they will get upgraded to TW2: EE completely free of charge.
Check out our other upcoming rpg games and upcoming xbox 360 games.