This game was released on September 03, 2013 and is no longer available to pre-order. Any incentives that were offered are listed below.
Total War: Rome 2 is an upcoming title from the popular strategy series by The Creative Assembly. The game boasts a new graphics engine, a larger campaign map with new territories, new gameplay mechanics, and other improvements over its predecessors. Among them are more intelligent diplomacy AI, more factions (117 in total) with unique playstyles, and the addition of defensive, aggressive, and ambush stances for armies.
Pre-order bonuses
Total War: Rome 2 is available for pre-purchase digitally (Steam, GreenManGaming, etc.) and pre-order on DVD (GameStop, Amazon). Reserving the game in advance grants you the Greek States Culture Pack, a DLC containing three additional playable factions: Athens, Epirus, and Sparta. You can see a preview of these in the video below:
Collector's Edition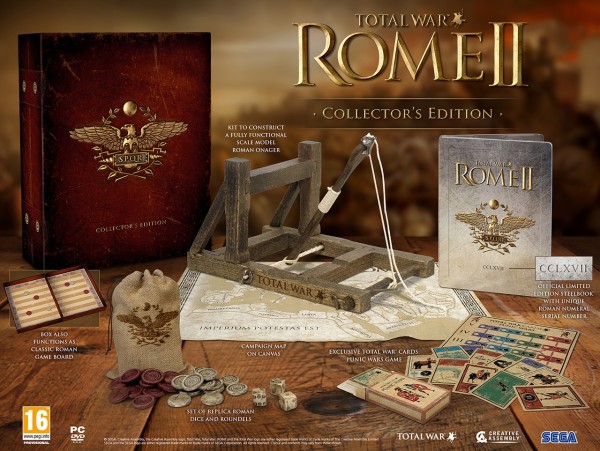 The game can also be purchased in a Collector's Edition, of which only 22,000 copies will be made. According to SEGA, it costs $154.99 and comes with the following items:
Numbered copy of TW: Rome II in a Steelbook case
Tabula set (Roman board game)
Tesserae dice
Total War "Punic Wars" card game
Canvas campaign map
Roman Onager (a functional 26 x 12 x12 centimeter siege catapult)
So far the only place to get this bundle in North America is via SEGA store.
Gameplay trailer
The first trailer based on gameplay footage released by the developers:
Total War: Rome II will launch on September 3rd, 2013 worldwide.
Check out our other upcoming strategy games and upcoming pc games.