This game was released on April 02, 2019 and is no longer available to pre-order. Any incentives that were offered are listed below.
Tropico 6 is a construction and management simulator that puts the player into the role of a dictator of an island nation, and tasks them with building up the economy, keeping the citizens happy, and staying in power. It is the first entry in the Tropico series to be developed by German studio Limbic Entertainment.
New in Tropico 6 is the ability to manage an entire archipelago of islands, and connect them with bridges starting in later eras. The citizens are now fully simulated, each having their own life and expectations, resulting in a more realistic simulation.
Pre-order Bonuses (Windows, Mac, Linux)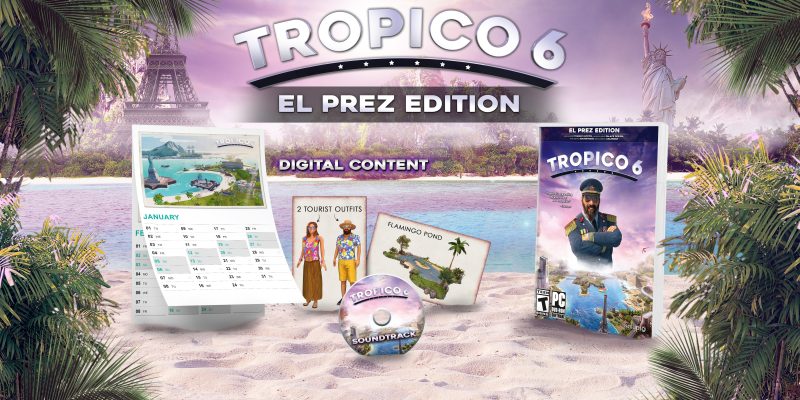 As per the official @kalypsomediausa Twitter account, a special boxed "El Prez" Edition of Tropico 6 is available from Amazon and GameStop (and, presumably, other retailers). The El Prez Edition comes with the following bonus digital content:
Two tourist outfits for your Presidente
An exclusive flamingo pond palace design
A digital soundtrack of foot-tapping Tropican beats
A digital calendar to mark off the days until election day
European versions of the game also come with four spiffy physical postcards, but alas, these are not included with the North American copies.
Pre-purchasing digitally also grants the same in-game bonuses, plus instant access to the beta (Windows only). Perhaps more importantly, it might save you money; at the time of writing, Steam, the publisher's Kalypso Shop, and authorized resellers have Tropico 6 discounted by 10% or more.
Tropico 6 launches March 29 on Steam, and April 2 at retail. PlayStation 4 and Xbox One versions are scheduled for Summer 2019.
Check out our other upcoming simulation games and upcoming pc games.