This game was released on October 27, 2017 and is no longer available to pre-order. Any incentives that were offered are listed below.
Wolfenstein II: The New Colossus is a first-person shooter developed by MachineGames and published by Bethesda. The game picks up right after the events in The New Order, and centers around returning protagonist BJ Blazkowicz igniting a revolution in the Nazi-ruled America with help from some new allies. The Freedom Chronicles DLC, the introductory part of which is included as a pre-order bonus, also allows you to play as other American freedom fighters. According to Bethesda, there's new high-tech weaponry, improved dual wielding, and more brutal ways to take down your enemies.
Pre-order Bonuses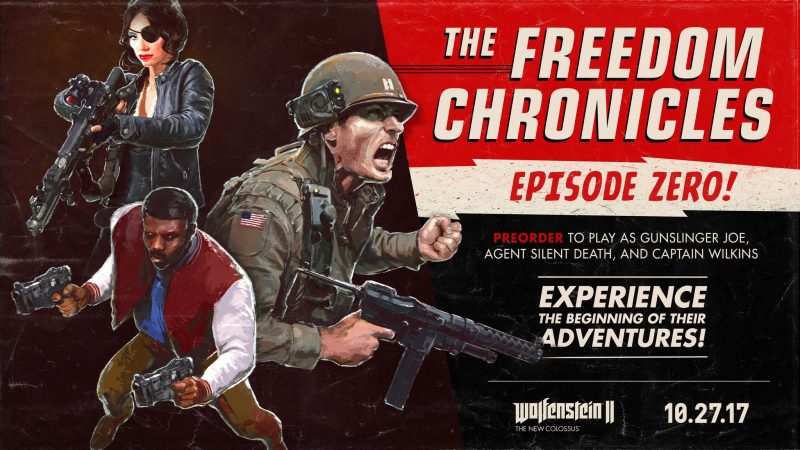 BJ Blazkowicz is not the only freedom fighter out there. Pre-order Wolfenstein II: The New Colossus to receive The Freedom Chronicles: Episode Zero, the opening mission from The Freedom Chronicles story DLC that introduces Joseph Stallion, Jessica Valiant and Gerald Wilkins as they fight for liberty in the American Territories. These heroes' full story can be explored by purchasing the Season Pass or the Deluxe Edition, as detailed below.
Bonuses and discounts in addition to that are listed below:
GreenManGaming: 15% discount
PlayStation Store: "Mercury – Trail of the Dead" Theme
Digital Deluxe Edition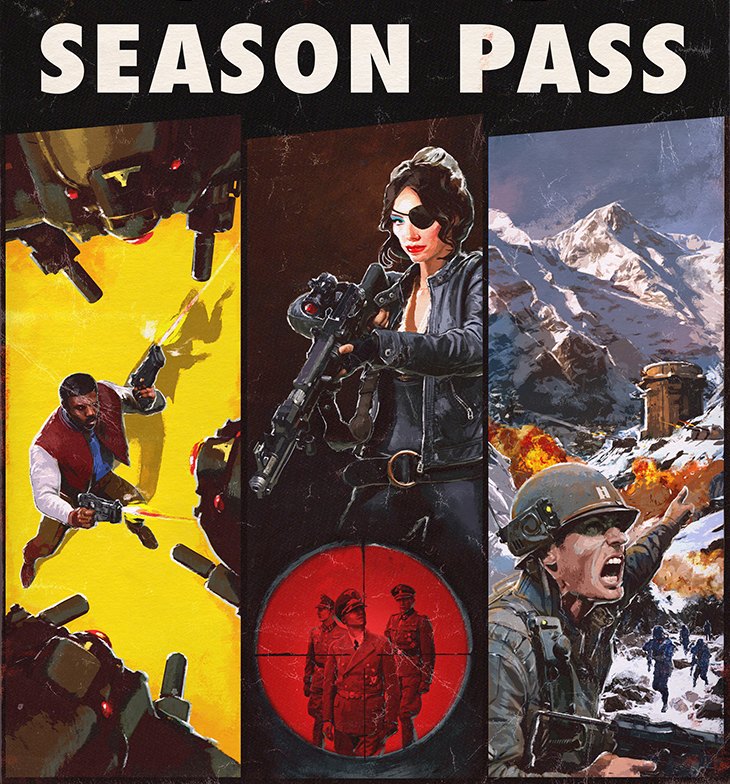 The Digital Deluxe Edition ($79.99) pairs the base game with the Season Pass ($24.99 if purchased separately), which grants access to The Freedom Chronicles and its three DLC missions with a different hero each:
The Adventures of Gunslinger Joe: as former professional quarterback Joseph Stallion, smash through Nazi hordes from the ruins of Chicago to the vastness of space.
The Diaries of Agent Silent Death: as ex-OSS agent and assassin Jessica Valiant, infiltrate Nazi bunkers in California and discover the secrets of Operation San Andreas.
The Amazing Deeds of Captain Wilkins: as the US Army's renowned hero Captain Gerald Wilkins, embark on a mission to Nazi-controlled Alaska to dismantle Operation Black Sun.
Collector's Edition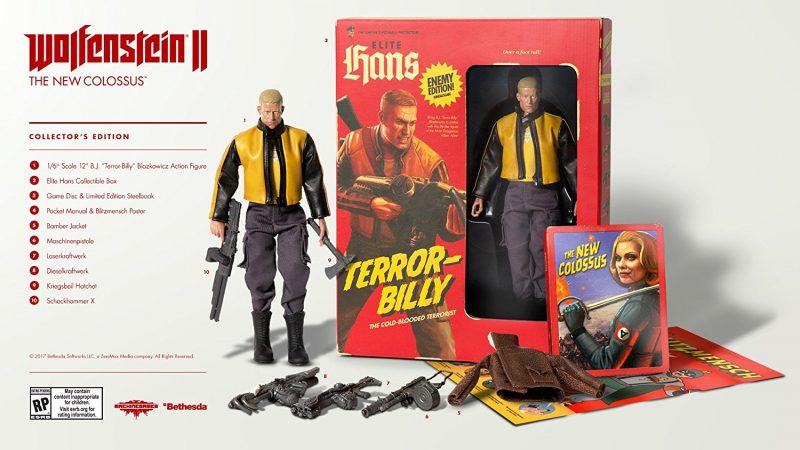 Lastly, there's the Collector's Edition, which is priced at $99.99 and comes with the following extras:
12-inch-tall BJ "Terror-Billy" Blazkowicz action figure with a set of five weapons and a bomber jacket, packaged in a 1960s-style collectible box.
Pocket Manual
9″ x 14″ Blitzmensch poster
Limited Edition Steelbook case
Wolfenstein II: The New Colossus is scheduled to be released on October 27, 2017. Nintendo Switch version will be out in 2018.
Check out our other upcoming action games and upcoming nintendo switch games.