This game was released on October 08, 2019 and is no longer available to pre-order. Any incentives that were offered are listed below.
Yooka-Laylee and the Impossible Lair is a spin-off platformer from Playtonic Games and Team17 that stars the chameleon Yooka and the bat Laylee. When their arch-nemesis Capital B concocts an evil plan to enslave a kingdom of bees, it is up to the buddy duo to save the day.
Unlike its 3D predecessor Yooka-Laylee, the spin-off is a side-scrolling 2.5D platformer in the style of Donkey Kong Country. It does however have a 3D Overworld that acts as a hub and contains secrets and puzzles.
Tonics that modify the gameplay or the visuals are making a return in Yooka-Laylee and the Impossible Lair, and there's a total of 62 to collect. Four of them are offered as an exclusive pre-order bonus – details after the jump.
Pre-order Bonuses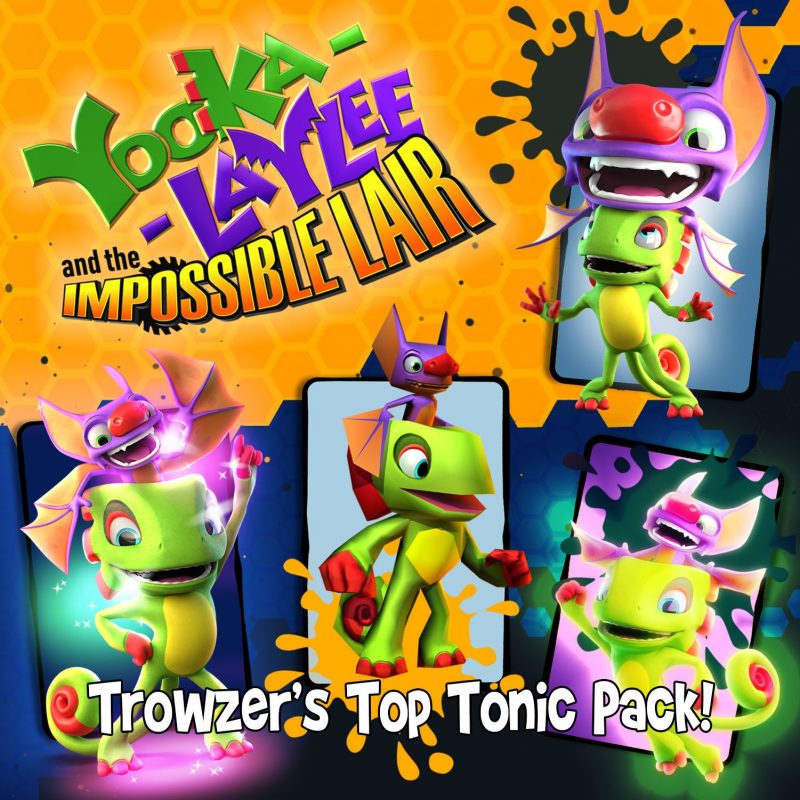 Pre-order Yooka-Laylee and the Impossible Lair ($29.99) to receive the Trowzer's Top Tonic Pack containing four cosmetic tonics:
Largee Head: gives Laylee a comically oversized head.
Glow Worm: Yooka and Laylee aren't worms, but hey, look at them glow!
D.I.S.C.O.: turn every level into a platforming party of Playtonic proportions.
Yooka 64: for fans of all things retro, this tonic will be a blast from the past.
At the time of writing, pre-orders are discounted by 10% on PSN and Steam.
Yooka-Laylee and the Impossible Lair is scheduled to launch on Xbox One, PlayStation 4, Nintendo Switch, and Windows PC (via Steam) on October 8, 2019.
Check out our other upcoming adventure games and upcoming nintendo switch games.