This game was released on October 18, 2022 and is no longer available to pre-order. Any incentives that were offered are listed below.
Journey forth into a world of mystery and magic, plagued by forces unknown in the game, A Plague Tale Requiem. Developed by Asobo Studio and published by Focus Entertainment, A Plague Tale Requiem follows the story of Amicia and Hugo and is a sequel to the first game, A Plague Tale Innocence.
After moving south and Hugo's powers being suppressed, the duo start a new life but little do they know that the worst is yet to come.
Embark on this odyssey this Autumn on PlayStation 5, Xbox Series X and Series S, Nintendo Switch, and Microsoft Windows.
Hugo's power awaken again leaving behind the lingering smell of death everywhere they go forcing them to flee to an island prophesied to have a cure for him.
Engage in close and ranged combat throughout your journey as the game gives you the freedom to overcome foes in a variety of ways, from a traditional bow and arrow to being able to unleash a plague of rats upon them.
Pre-order Bonuses
If you make a purchase through these links, we may get a share of the sale.
A Plague Tale Requiem Standard Edition ($59.99)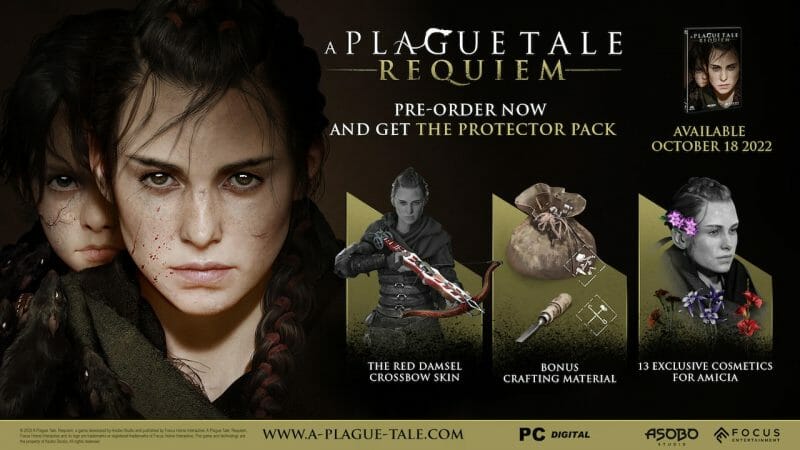 The Standard preorder for A Plague Tale Requiem comes with a preorder bundle that bags you some cool items such as:
The Protector Pack DLC
Red Damsel Crossbow Skin
Crafting materials
13 Cosmetic items for Amicia
PlayStation
Xbox
A Plague Tale Requiem will be released on October 18th, 2022, and will be playable on PlayStation 5, Xbox Series X|S, Nintendo Switch, and Windows PC.
Check out our other upcoming action games and upcoming playstation 5 games.