This game was released on August 06, 2019 and is no longer available to pre-order. Any incentives that were offered are listed below.
Age of Wonders: Planetfall is a 4X turn-based strategy game developed by Triumph Studios and published by Paradox Interactive. In a departure from its fantasy roots, Planetfall is sci-fi themed and involves up to six factions with unique units and technologies vying for control over alien worlds.
Planetfall offers several diverse game modes: the single-player story campaign, randomly-generated maps, and multiplayer (online, hotseat, and asynchronous). The matches have multiple paths to victory by employing conquest, diplomacy, or doomsday technologies.
Pre-order Bonuses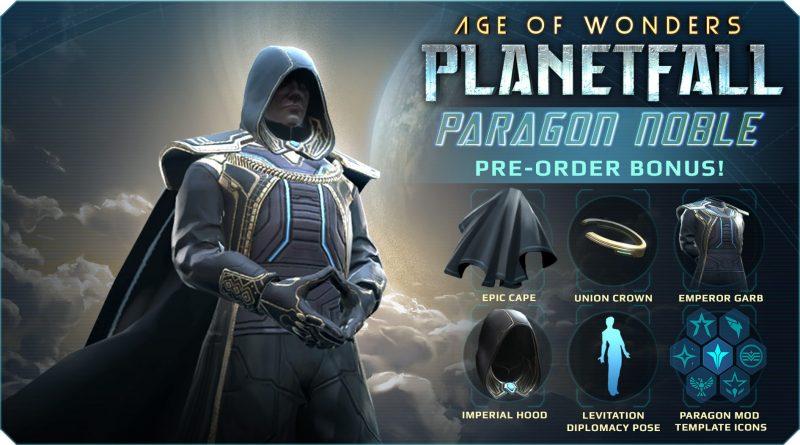 Pre-order Age of Wonders: Planetfall for any platform to receive the Paragon Noble Cosmetic Pack and bring fashion and flair to the final frontier. Additional bonuses are available with digital pre-purchases depending on the platform:
PlayStation Store: Planetfall Pre-Order Theme
Xbox Store: exclusive Avatar T-Shirt
Lastly, at the time of writing authorized reseller Green Man Gaming is offering a 12% discount on the Steam key, bringing the price from $49.99 down to $43.99.
Deluxe Edition ($59.99)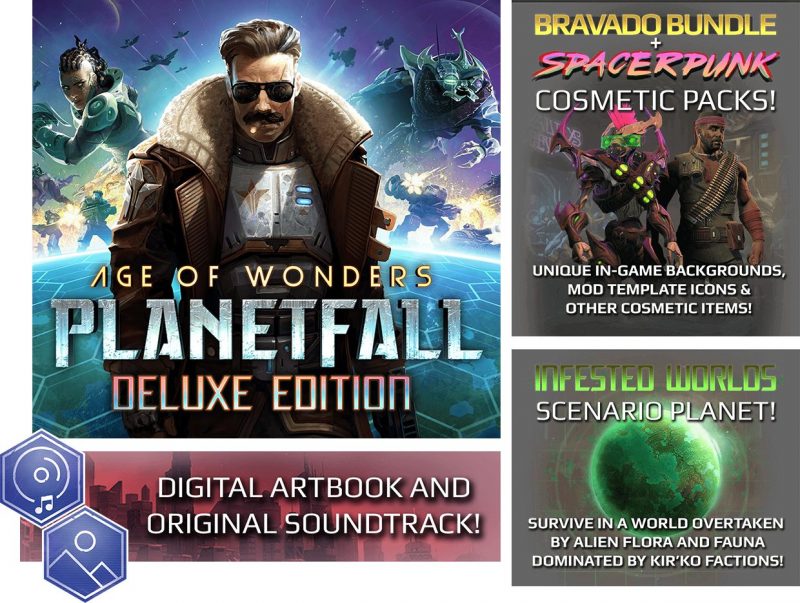 As opposed to the base version which costs $49.99, the Deluxe Edition raises the price to $59.99 and adds the following extras:
Digital Artbook
Original Soundtrack
Bravado Bundle Cosmetic Pack: nothing says "we're here to rebuild society in our image" like a really boss bandana
Spacerpunk Cosmetic Pack: your style won't conform to the rules of a fallen galactic society
Infested Worlds Scenario Planet: survive in a world overtaken by alien flora and fauna dominated by Kir'ko factions
Depending on the platform you get additional content too:
PlayStation Store: Planetfall Deluxe Theme
Xbox Store: exclusive Jack Gelder Avatar Costume
Premium Edition ($89.99 $80.99)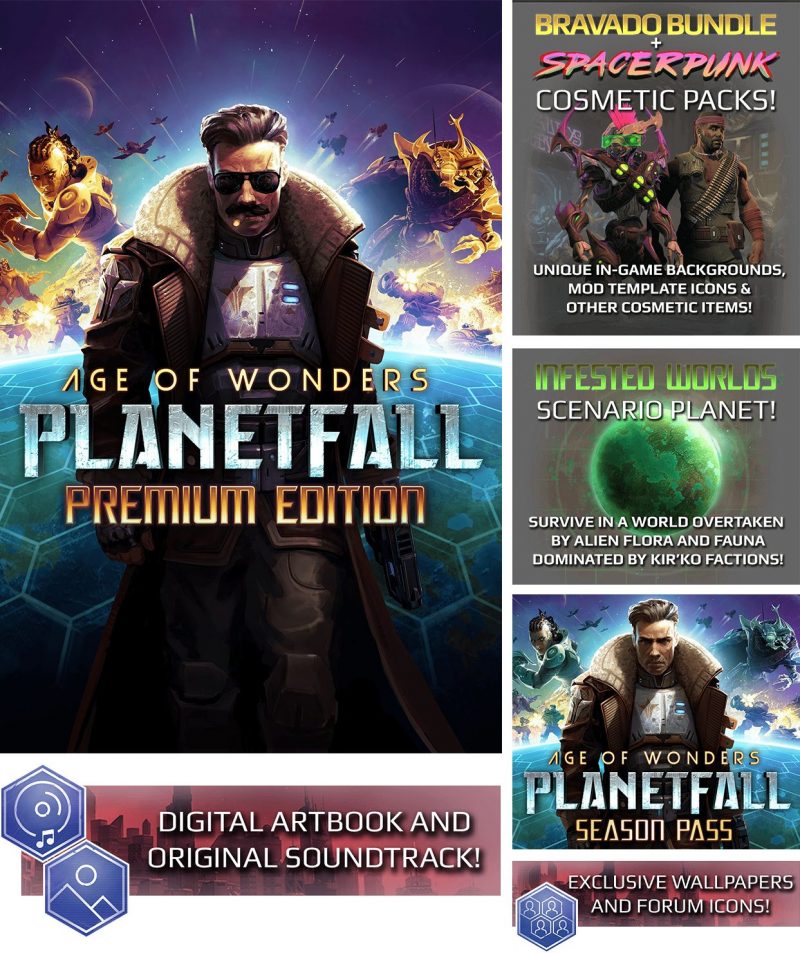 At the time of writing, the Premium Edition was discounted by 10% from its MSRP of $89.99 to $80.99. It comes with all the Deluxe Edition content plus the Season Pass:
Digital Artbook
Original Soundtrack
Bravado Bundle Cosmetic Pack
Spacerpunk Cosmetic Pack
Infested Worlds Scenario Planet
Age of Wonders Planetfall Season Pass
Forum Icons
Wallpapers
Once again, both consoles get some exclusive bonuses:
PlayStation Store: Planetfall Season Pass Theme
Xbox Store: exclusive Aviator Avatar Sunglasses
AoW: Planetfall launches August 6, 2019 for Xbox One, PlayStation 4, and Windows PC.
Check out our other upcoming strategy games and upcoming pc games.