This game was released on August 15, 2017 and is no longer available to pre-order. Any incentives that were offered are listed below.
Agents of Mayhem is an open-world third-person shooter developed by Volition, the makers of Saints Row games. While Agents of Mayhem is not a direct sequel, it is set in the same universe and retains the series' signature brand of irreverent humor.
Starring twelve agents with unique personalities and abilities, the game sends the players on a mission to thwart the schemes of supervillain organization LEGION in the futuristic city of Seoul. After picking three agents for their squad, players may switch between them on the fly; the squad can be further customized by equipping them with powerful gadgets.
Pre-order bonuses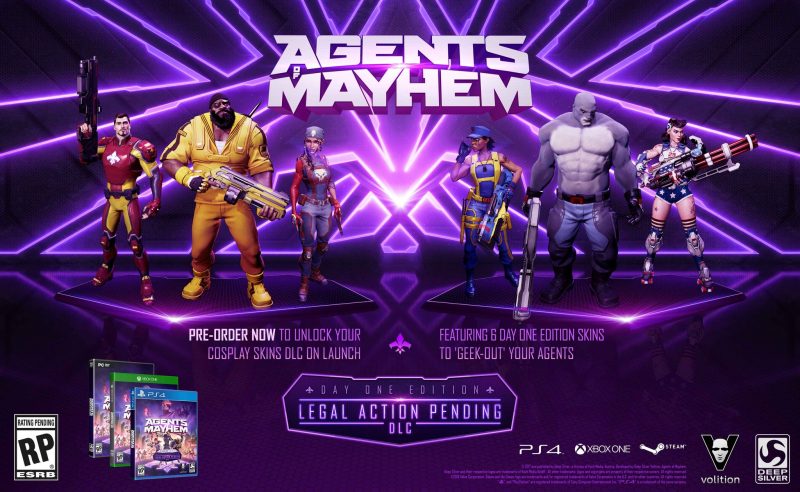 Pre-order Agents of Mayhem to secure a copy of the Day One Edition which grants "Legal Action Pending" DLC with six cosplay skins to geek-out agents Hollywood, Hardtack, Fortune, Braddock, Yeti, and Daisy. All digital pre-orders get three additional skins (Red Card, Rama, and Joule) for a total of nine.
Additional system and retailer bonuses are listed below:
GameStop or Steam: unlock Saints Row legend Johnny Gat as a playable character, along with his personal mission as well as character, weapon, and vehicle skins. Timed exclusive.
PSN and Xbox Store: unlock Lazarus, a deadly blend of woman and machine, as an additional agent when she becomes available 30 days after launch. PlayStation Store will also throw in an Agents of Mayhem PS4 theme.
Amazon: three Amazon-exclusive skins on top of the six included in the "Legal Action Pending" DLC.
Best Buy: $10 gift card
Bad vs Evil trailer
Agents of Mayhem is scheduled to launch on August 15, 2017 for Xbox One, PlayStation 4, and PC via Steam.
Check out our other upcoming action games and upcoming pc games.