This game was released on February 22, 2019 and is no longer available to pre-order. Any incentives that were offered are listed below.
Anthem is a sci-fi themed cooperative action RPG developed by BioWare and published by EA. It is set in a world left unfinished by gods, and thus teeming with colossal beasts, otherworldly artifacts, vast ruins, and monsters corrupted by the titular Anthem – the source of all creation.
Mankind's hopes of survival in this savage place hinge on Freelancers: pilots of powerful and highly-customizable Javelin exosuits, which enable humans to explore the frontier and engage fearsome enemies as equals.
Storyline aside, Anthem functions as an always-online multiplayer game where up to four players can play together in a contiguous open world. The Javelins may be upgraded and customized visually to reflect the player's achievements. EA has confirmed that Anthem only features coop and not PvP – at least at launch.
Pre-order Bonuses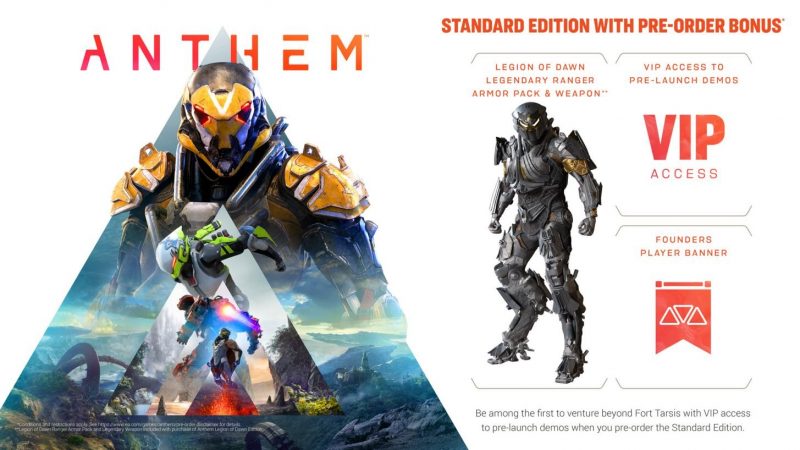 Pre-order the Standard Edition ($59.99) of Anthem and you'll start out with a customized Ranger exosuit and weapon in the theme of the Legion of Dawn, the pre-cursor faction of the Freelancers, plus additional bonuses:
VIP Access to Public Pre-Launch Play Demos (ended)
Legion of Dawn Ranger Armor Pack
Legendary Weapon
Founders Player Banner: a banner marking you as one of the founding players of Anthem.
As usual with major releases, some retailers are offering exclusive DLC or discounts on pre-order:
GameStop: exclusive Edge of Resolve vinyl for the player's Javelin, plus $5 off the purchase for PowerUp Rewards members.
Best Buy: free Steelbook case plus $10 in reward certificates for My Best Buy members.
Newegg: $10 discount upon adding item to cart.
PlayStation Store: an Anthem PS4 Theme.
Legion of Dawn Edition ($79.99)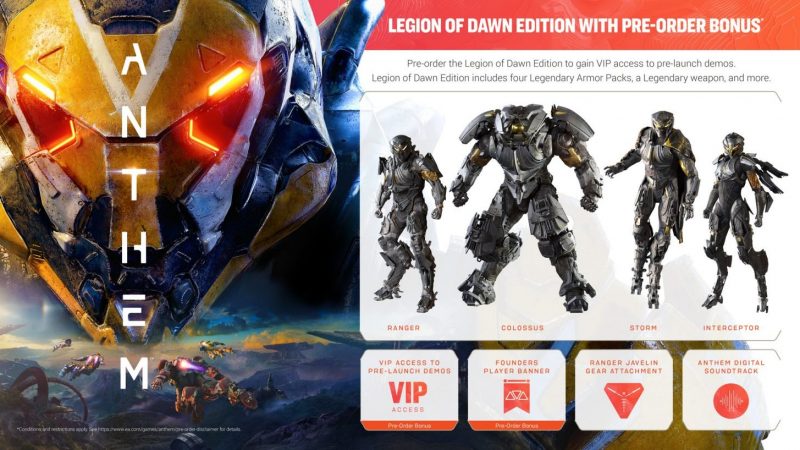 Led by General Helena Tarsis, the Legion of Dawn were the first Javelin pilots, legends in the world of Anthem. Purchasing this edition will allow you to customize your own exosuit in the likeness of their legendary Javelins.
VIP Access to Public Pre-Launch Play Demos (ended)
Complete Set of Legendary Armor Packs (Ranger, Colossus, Interceptor, and Storm)
Legendary Weapon
Legendary Gear Attachment for Ranger Javelin
Digital Soundtrack
Founders Player Banner
Anthem is scheduled to release for Xbox One, PlayStation 4, and PC (via Origin) on February 22, 2019. Origin Access and EA Access members get to start playing on February 15.
Check out our other upcoming action games and upcoming pc games.