This game was released on October 27, 2017 and is no longer available to pre-order. Any incentives that were offered are listed below.
Assassin's Creed Origins is an open-world action RPG set in Ancient Egypt. Like its name suggests, the game depicts the beginnings of the Assassin Brotherhood. Its protagonist is Bayek, the last warrior of the Medjay order, who have served as agents of the pharaoh and protected Egypt from threats for centuries until the Greek dynasty of Ptolemies took over. His wife Aya is also playable in certain missions.
Unlike the previous Assassin's Creed installments, Origins features a RPG-like skill tree divided into Warrior, Hunter, and Seer categories. Bayek can wield weapons like sickle swords, dual daggers, iron spears, maces and scepters, bows, and, naturally, the signature Hidden Blade. A crafting and customization system allows Bayek to improve his gear, and the Hidden Blade in particular receives many upgrades as he progresses through the story.
Pre-order Bonuses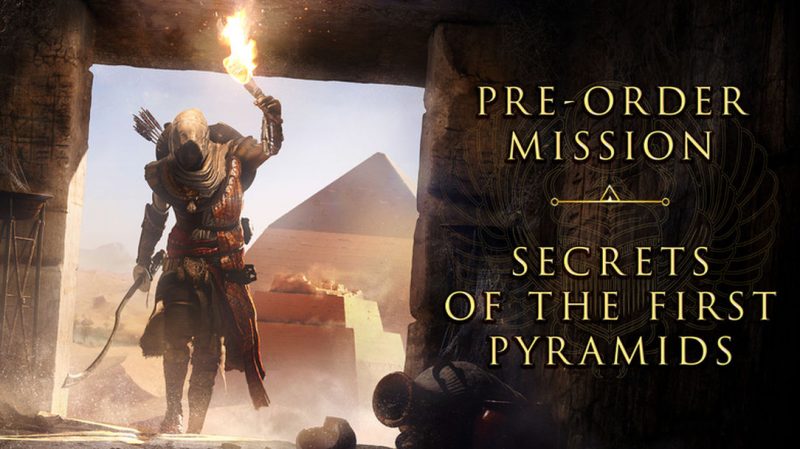 Pre-order any version of Assassin's Creed Origins to receive the "Secrets of the First Pyramids" bonus mission, in which you will discover the secrets behind the construction of the first pyramids, and what mysteries lie within.
As expected of an AAA title, there also are retailer- and system-exclusive bonuses to be had. Here's what we found so far:
GameStop: a collectible 3″ FiGPiN of Bayek (while supplies last).
Best Buy: $10 in reward certificates.
PlayStation Store: Anubis, Bayek, Pyramid, Hieroglyphics, Crest, and Sphinx Avatars.
There also are no less than five special editions of the game, as listed below.
Deluxe Edition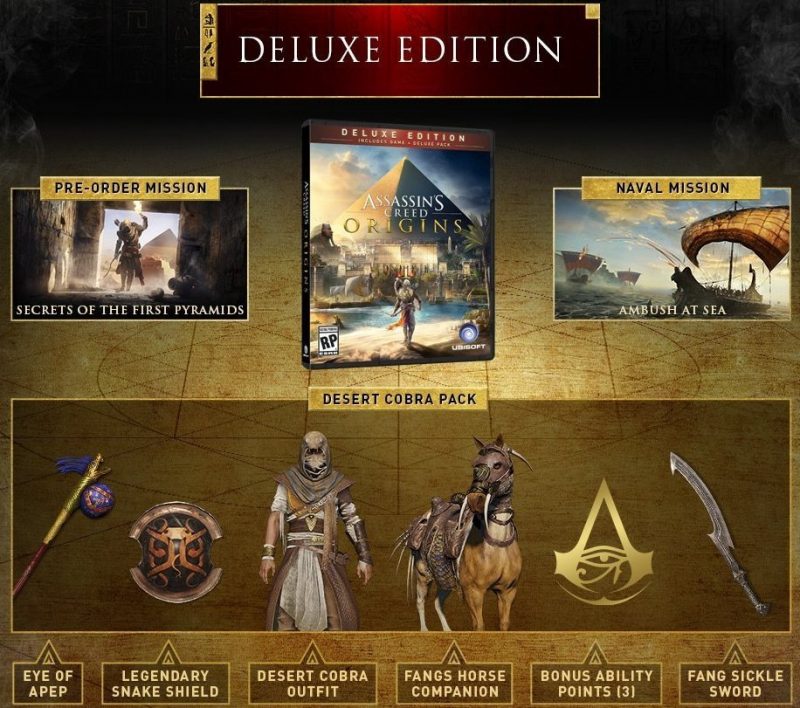 The Deluxe Edition brings the price up to $69.99, and comes with the following in-game content:
Ambush at Sea Mission
Desert Cobra Pack:

Desert Cobra Outfit
Bonus Ability Points (3)
Legendary Snake Shield
Fangs Horse Companion
Eye of Apep
Fang Sickle Sword
Gold Edition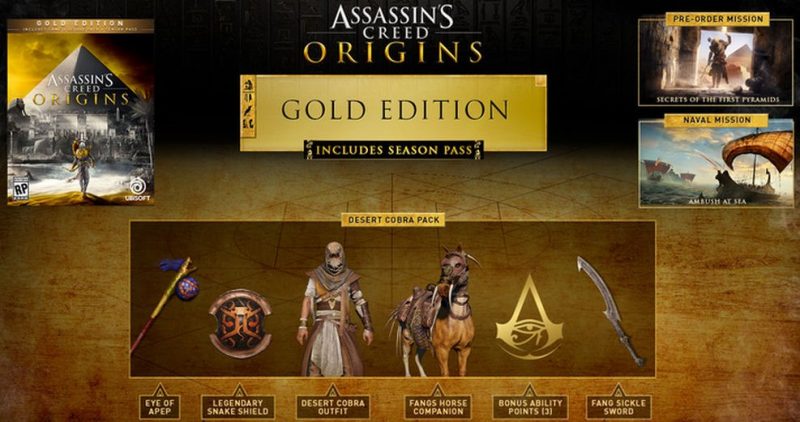 The Gold Edition ($99.99) is digital-only, and adds a Season Pass on top of Deluxe Edition content. It also includes the Season Pass-exclusive Calamity Blade, which is said to be able to cut through anything.
Steelbook Gold Edition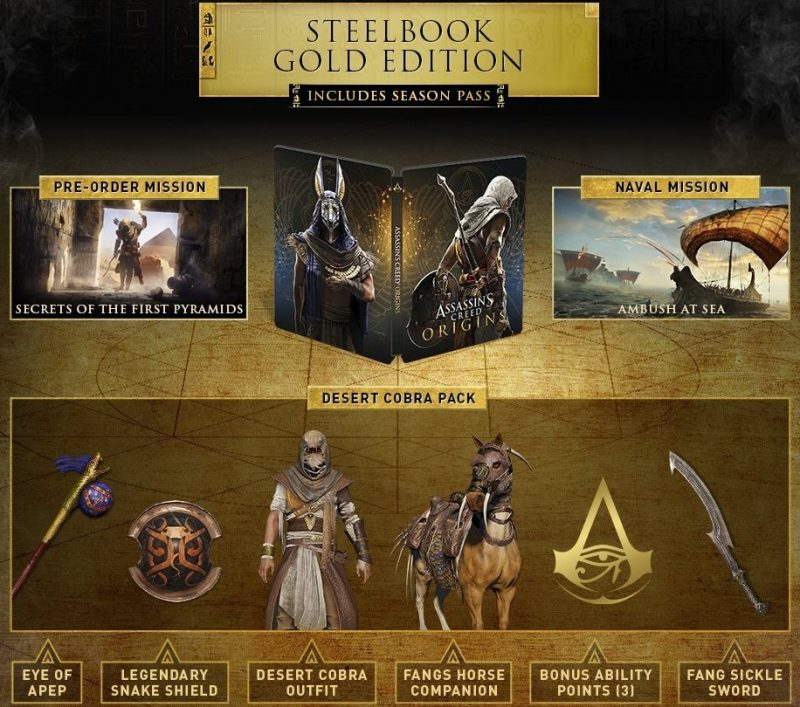 The Steelbook Gold edition adds a collectible Steelbook case on top of all digital Gold Edition content, and will set you back $109.99.
Gods Edition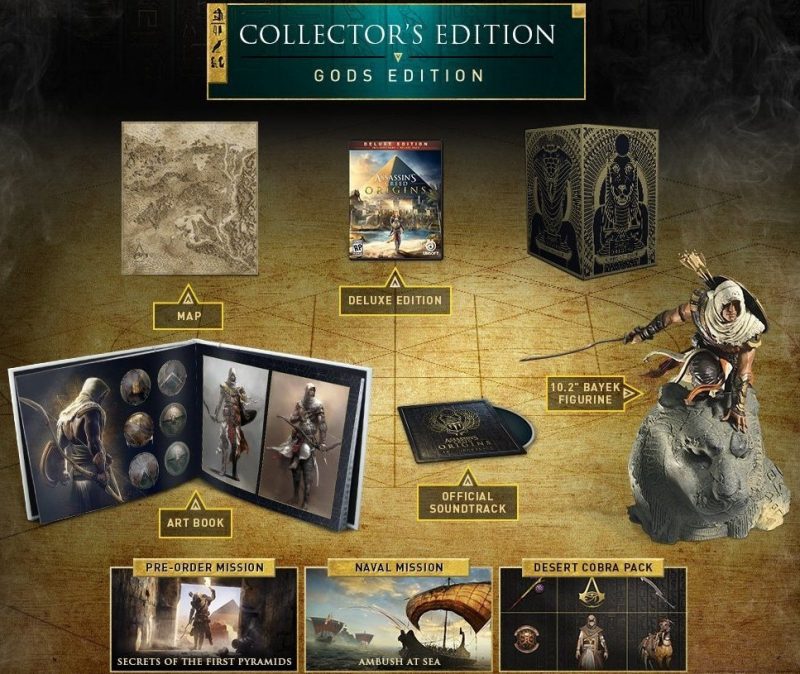 The first of the two Collector's Editions is called the Gods Edition. It carries a somewhat typical price tag of $119.99, and consists of the following:
Egyptian gods themed

collector's case
10.2″ figurine of Bayek standing atop

the statue of lioness goddess Sekhmet

Official soundtrack
World map
Art book

featuring artwork from Ubisoft Montreal artists

Deluxe Edition
Dawn Of The Creed Legendary Edition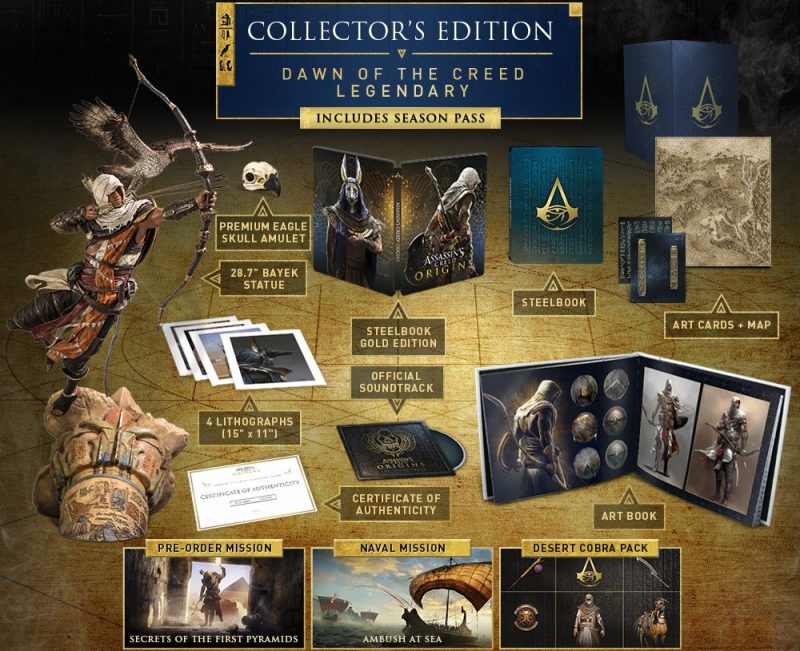 The second CE, known as the Dawn Of The Creed Legendary Edition, is priced at a staggering $799.99, with only 200 units sold in North America exclusively through the official Ubisoft store. Here's what you get:
Gold Steelbook Edition of the game, including the Season Pass
28.7″ resin statue of Bayek and his eagle, Senu
Bayek's eagle skull amulet
Four 15″ x 11″ lithographs
Art cards
Official soundtrack
World map
Art book
Collector's case
Certificate of Authenticity (numbered 1 to 999)
Ubisoft also states that the figurine, the amulet, the Steelbook, the lithographs, and the certificate will be shipped out as early as July for outstanding orders, whereas the rest of the goodies will be shipped at the game's release.
Assassin's Creed: Origins is scheduled to launch on October 27, 2017.
Check out our other upcoming action games and upcoming pc games.