This game was released on May 03, 2016 and is no longer available to pre-order. Any incentives that were offered are listed below.
Battleborn is a team-based first-person hero shooter developed by Gearbox Software. The game features many elements from the MOBA (multiplayer online battle arena) genre, such as a diverse set of characters with different abilities and roles, an in-match leveling system, and competitive, objective-based play modes. There is a total of 25 playable heroes and three distinct multiplayer modes which pit two teams of five against each other.
While the main appeal of Battleborn is in its multiplayer, a campaign for solo or four-player co-op play is also included.
Pre-order bonuses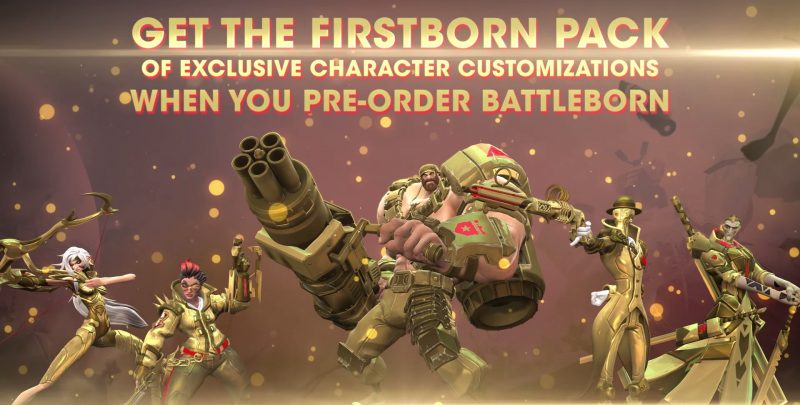 Pre-order the game anywhere to get the Firstborn Pack which includes an exclusive in-game title and golden character skins for Thorn, Reyna, Montana, Marquis, and Rath.
GameStop has a more tangible bonus: pre-order Battleborn with them to get a fully-painted, 3″ tall figurine of either Thorn, Rath, Orendi, Montana, or Miko. The figures are selected randomly so you won't know which one you got until you unpack it. This offer is available while supplies last.
Finally, BestBuy is offering $10 in reward certificates with this title.
Digital Deluxe
The game is also available on Xbox and PlayStation stores in a Digital Deluxe Edition priced at $75. The following extras are included:
Season Pass with all five DLC packs and instant access to heroes 26-30 upon their release
Taunts for Oscar Mike, Miko, Caldarius, Phoebe, and Orendi
"Cyber" character skin for Oscar Mike, Miko, Caldarius, Phoebe, and Orendi
3 Legendary Gear packs
Golden pedestal during character select
Golden logo on title screen
Of course, the Season Pass can also be purchased separately.
Multiplayer trailer
The video previews the different multiplayer modes in Battleborn: Capture, Meltdown, and Incursion.
Battleborn is scheduled to be released on May 3, 2016. It will be available on PlayStation 4, Xbox One, and PC (Steam) platforms.
Check out our other upcoming shooter games and upcoming pc games.