This game was released on March 26, 2013 and is no longer available to pre-order. Any incentives that were offered are listed below.
BioShock Infinite is an upcoming installment in the popular Bioshock video game series. Plot-wise, it is not directly related to its predecessors, but the game does retain similar gameplay mechanics and themes. Infinite begins in 1912, when the game's protagonist – a detective named Booker DeWitt – is sent to a floating city of Columbia to rescue a young woman, Elizabeth, who is imprisoned there.
In addition to various weapons in the game, players can use Vigors and Nostrums to augment their character. Vigors are active powers that require charges to use. Nostrums are passive enhancements, similar to Gene Tonics in the previous BioShock games. Using either of these items has a permanent effect on your character, so you should think carefully before choosing a power, seeing how only a limited number of Vigors can be equipped.
Pre-order bonuses
The main bonus that you get for preordering is BioShock Infinite: Industrial Revolution, a mini-game with over 50 puzzles that will teach you more about the city of Columbia. In addition, completing the puzzles will net you rewards for BioShick Infinite, namely 3 Gear items (Handyman Nemesis, Sugar Rush, and Fleet Feet) and in-game cash.
Participating retailers with exclusive bonuses are listed below:
GameStop: Comstock's China Broom shotgun
Amazon: Mind in Revolt prequel e-book for Amazon Kindle
Best Buy: Comstock Bird's Eye sniper rifle
Walmart: $4.99 VUDU movie credits
Pre-purchase bonuses from digital distributors (PC):

Steam: a copy of BioShock, seven Bioshock Infinite TF2 items, and a copy of XCOM: Enemy Unknown. The rewards are unlocked as more people pre-purchase.
Green Man Gaming: the original BioShock plus one more game of your choice (Spec Ops: The Line, Civilization V, BioShock 2, Mafia II, or The Darkness II).
Amazon: a free copy of XCOM: Enemy Unknown and $30 credit towards 2K Games. You also get the previously mentioned Mind in Revolt for Kindle.
GameFly: BioShock, BioShock 2, and $5 coupon for any 2K Games digital game.
Visit the official forum thread for more information about the Industrial Revolution game.
Premium Edition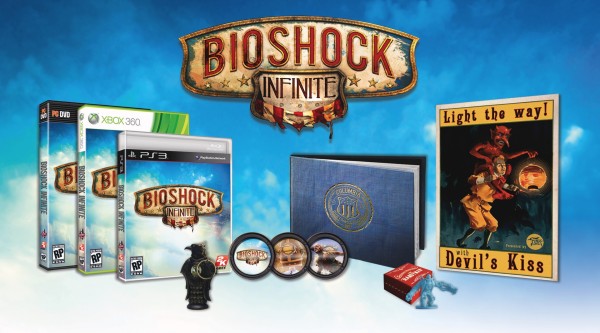 The $79.99 BioShock Infinite Premium Edition includes all of the following:
25 mm resin-cast Handyman figurine from the upcoming BioShock Infinite: The Siege of Columbia table-top game
3″ Murder of Crows vigor keychain
5″ x 7″ Devil's Kiss vigor lithograph print
A 64-page BioShock Infinite mini art book
Digital soundtrack
Three exclusive Gear power-ups:

Bull Rush: melee strikes from a sprint have a chance to knock the enemy down.
Extra! Extra!: audio logs also grant a bounty of Silver Eagles (in-game currency).
Betrayer: killing your possessed enemies causes them to explode in a fireball.

Platform-exclusive content:

Xbox 360: Booker and Elizabeth Avatar costumes
Playstation3 & PC: BioShock Infinite Themes
Ultimate Songbird Edition
The only difference between the contents of the Premium Edition ($79.99) and the Ultimate Songbird Edition ($149.99) is the titular Songbird Statue. Designed by Irrational Games concept artist Robb Waters, this resin-cast collectible figurine is hand-painted in high detail, and stands 9.75″ tall. The Songbird is a massive, fearsome creature from BioShock Infinite, tasked with guarding Elizabeth.
Sky Hook Replica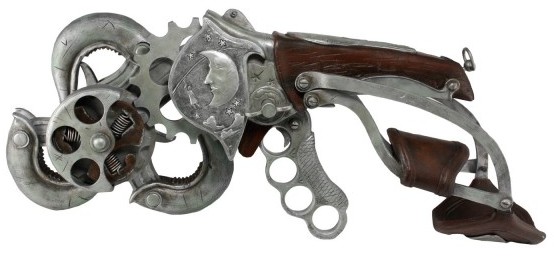 Speaking of collectibles, a detailed Sky-Hook replica is available for purchase at GameStop. It measures 22″ in length and nearly 11″ in height, and features a motor which spins the gears and the hooks when the trigger is squeezed. It is a 1:1 prop of the in-game item, which serves as both a melee weapon and a means of transportation via Sky-Lines.
Beast of America trailer
You can see the Sky-Hook in action in the trailer below. The soundtrack is Beast by Nico Vega.
The release date of BioShock Infinite is set for March 26th, 2013, so there's still plenty of time to reserve a copy and unlock your rewards in the Industrial Revolution puzzle game.
Check out our other upcoming shooter games and upcoming pc games.