This game was released on March 24, 2020 and is no longer available to pre-order. Any incentives that were offered are listed below.
Bleeding Edge is a third-person 4v4 arena brawler from Ninja Theory, the makers of Hellblade: Senua's Sacrifice and DmC: Devil May Cry. Players pick one of the many colorful characters with unique abilities and engage the enemy team inside arenas chock-full of environmental hazards. The combat is fast-paced and focused mainly on melee, although there are shooting and healing mechanics too.
As an Xbox Play Anywhere title, Bleeding Edge allows the players to purchase only one digital copy and play it on both their Xbox One console and Windows 10 PC. The game also supports cross-platform multiplayer.
Pre-order Bonuses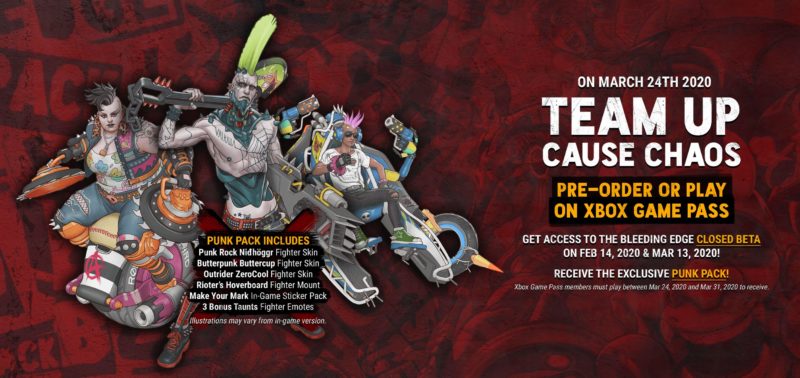 Pre-order Bleeding Edge or play it for the first week after release on Xbox Game Pass to receive the exclusive Punk Pack containing the following in-game bonuses:
Punk Rock Niđhöggr (Fighter Skin)
Butterpunk Buttercup (Fighter Skin)
Outrider ZeroCool (Fighter Skin)
Rioter's Hoverboard (Fighter Mount)
Make Your Mark (In-Game Sticker Pack)
3 Bonus Taunts (Fighter Emotes)
Furthermore, those who pre-order the game prior to the following dates get to participate in closed beta tests:
Closed Beta 1 on February 14th
Closed Beta 2 on March 13th
Bleeding Edge launches March 24, 2020 via Xbox One, Windows 10 Store, and Steam.
Check out our other upcoming action games and upcoming pc games.