This game was released on March 24, 2015 and is no longer available to pre-order. Any incentives that were offered are listed below.
Bloodborne is an upcoming action RPG developed by the famous Japanese studio From Software, the creators of Demon's Souls and its successors. This Gothic-themed game begins in the sprawling city of Yharnam, and is set during the Victorian period. As a result, the medieval armor is gone, replaced by cloth, and various guns fitting the period are available for use.
Interestingly, the lack of heavy armor is also reflected in the protagonist's mobility, which is increased significantly as compared to Dark Souls. Not only the players are more agile, they are also rewarded for playing aggressively with the new health regeneration mechanic, which grants a short period of time to regain lost health by counterattacking.
Pre-order bonus
Bloodborne has nightmarish critters called Messengers, which follow your Hunter around and facilitate asynchronous online gameplay features. To put it simply, you can use them to leave messages to other players. Pre-ordering the game at participating retailers (PlayStation Store, Amazon, etc.) will grant you an alternate "Top Hat" skin for your Messenger. In addition to that, GameStop is offering an exclusive "Bandage" Messenger skin.
Collector's edition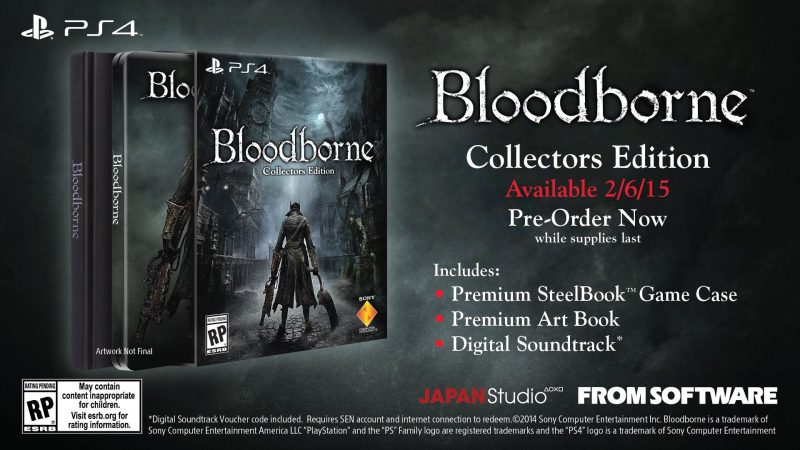 The $80 Collector's Edition of Bloodborne includes a SteelBook case, an art book, and the full downloadable soundtrack by Michael Wandmacher.
Announce trailer
This video does have a few clips of gameplay, but they are very short. Watch this official demo from this year's Gamescom if you want to see more.
Bloodborne is scheduled to launch on March 24, 2015 exclusively for the PS4.
Check out our other upcoming action games and upcoming playstation 4 games.