This game was released on September 13, 2019 and is no longer available to pre-order. Any incentives that were offered are listed below.
Borderlands 3 is a first-person shooter with RPG elements, which like its predecessors is developed by Gearbox Software and published by 2K Games. It stars four new Vault Hunters – Moze the gunner, Amara the siren, FL4K the beastmaster, and Zane the operative – who seek to stop the fanatical Calypso Twins from claiming the galaxy's ultimate power.
For the first time, the game features new worlds beyond the planet of Pandora, each with their own unique environments and enemies. As usual, there are endless guns to loot – including ones which grow legs and chase down enemies while hurling insults – and with alternate firing modes at that. Borderlands 3 supports both online and offline (split-screen) co-op.
Pre-order Bonuses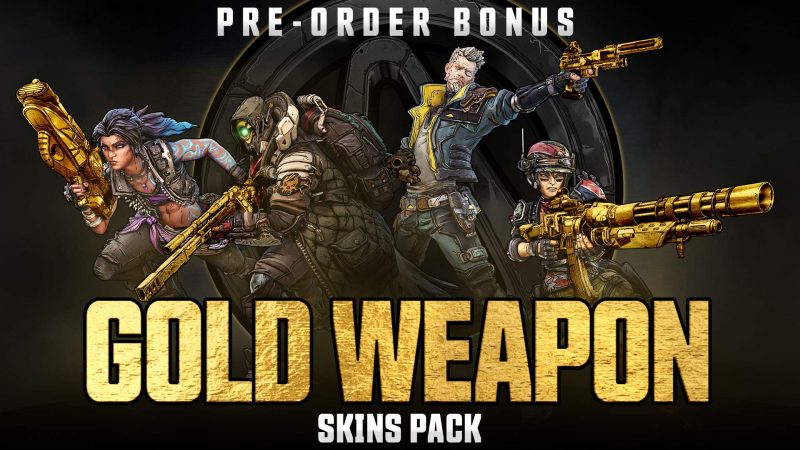 Pre-order Borderlands 3 to receive the Gold Weapon Skins Pack containing a gold weapon trinket and gold weapon skins applicable to all guns in the game.
Further bonuses are available from the following retailers and digital storefronts:
Best Buy: $10 in reward certificates for My Best Buy members
Walmart: $10 eGift card
PlayStation Store: a Borderlands 3 theme
The premium editions of the game are detailed below.
Deluxe Edition ($79.99)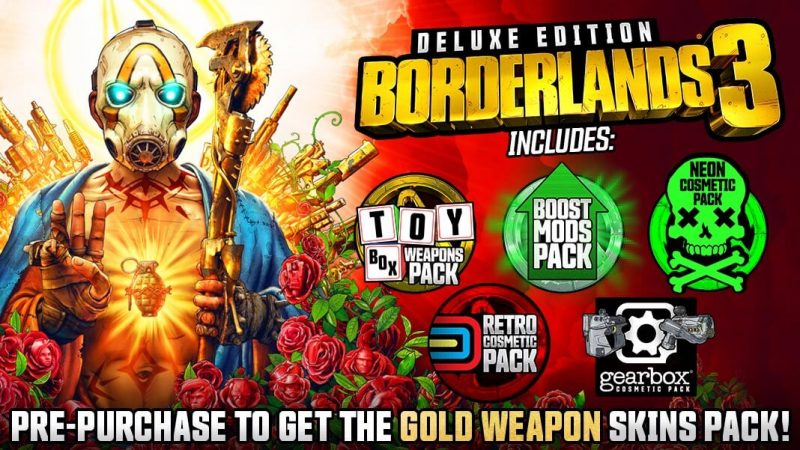 The Deluxe Edition adds four cosmetic packs and two mods on top of the base game:
Retro Cosmetic Pack: Vault Hunter skin, Echo Device skin, weapon skin
Neon Cosmetic Pack: Vault Hunter skin, Echo Device skin, trinket
Gearbox Cosmetic Pack: weapon skin, trinket
Toy Box Weapon Pack: 2 Toy guns, Toy grenade mod, trinket
Equippable XP & Loot Drop Boost Mods
Naturally, you also get the Gold Weapon Skins Pack (as well as any other applicable bonuses) if you pre-order.
Super Deluxe Edition ($99.99)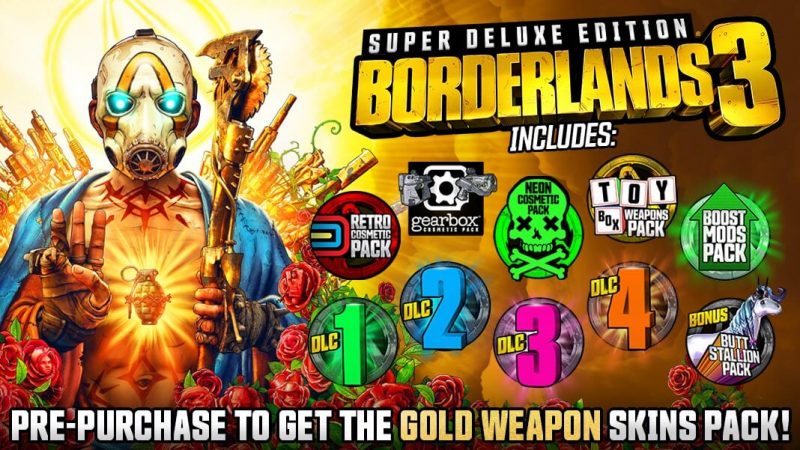 As befitting its name, the $100 Super Deluxe Edition includes everything listed under Deluxe Edition, plus a Season Pass:
Season Pass:

4 campaign DLC packs with new stories, missions and challenges
Butt Stallion weapon skin, weapon trinket, and grenade mod

Retro Cosmetic Pack
Neon Cosmetic Pack
Gearbox Cosmetic Pack
Toy Box Weapons Pack
Equippable XP & Loot Drop Boost Mods
Diamond Loot Chest Collector's Edition ($249.99)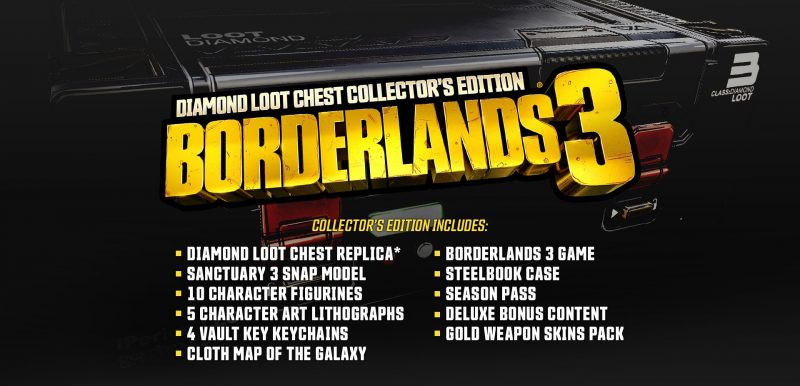 Last but certainly not least is the Diamond Loot Chest Collector's Edition, which carries a hefty price tag of $250 and is exclusive to GameStop. Those who purchase this behemoth will receive all the digital content listed thus far, plus a number of physical collectibles stashed inside a Diamond Loot Chest replica from the game:
Super Deluxe Edition of Borderlands 3
Diamond Loot Chest Replica: featuring a functional retractable lid, this chest is perfect for storing your real-world loot.
Character Figurines (x10): make room on your shelf for the whole crew, including the four new Vault Hunters, the fanatical Calypso Twins, and some of your favorite characters from the Borderlands universe.
Sanctuary 3 Snap Model: construct your very own Sanctuary 3 model ship and display it proudly on its included stand.
Vault Key Keychains (x4): because you never know when you might stumble across an unopened Vault.
Cloth Galaxy Map: discover new worlds beyond Pandora with Typhon DeLeon's map of the Borderlands.
Character Art Lithographs (x5): unique character prints starring the new Vault Hunters and fanatical Calypso Twins.
Steelbook Case: a gorgeous metal case for any collector's shelf.
Borderlands 3 is scheduled to be released on September 13, 2019 for Xbox One, PlayStation 4, and PC. The PC version will remain exclusive to Epic Games Store for six months – until April 2020 – after which it should become available on other digital storefronts as well.
Check out our other upcoming action games and upcoming pc games.