This game was released on November 08, 2011 and is no longer available to pre-order. Any incentives that were offered are listed below.
CoD: MW3 is an upcoming first-person shooter game developed by Infinity Ward with assistance from two other Activision-owned game studios: Sledgehammer Games and Raven Software. The game is set to release in November this year for all three major platforms.
Like its predecessor, Modern Warfare 3 will offer a single-player campaign and a multiplayer, which will have an improved ranking and unlocks system. The game will also feature a new Spec Ops co-op mode where two players will have to fight waves of increasingly stronger enemies. The single-player story will continue right after the events in Modern Warfare 2. MW3 is also going to use the same engine as the previous game.
Call of Duty: Modern Warfare 3 pre-order bonuses
Reserving a copy of Call of Duty: MW3 can get you some nice incentives. The following retailers have announced their Modern Warfare 3 preorder deals so far:
Gamestop is offering an opportunity to win thousands of different prizes in their "Pick Your Perks" promo. Pre-order Call of Duty: Modern Warfare 3 at Gamestop and build your custom "Perk Pack" for a chance to win cash, a trip to E3 2012, a year's worth of pizza, various electronics, DLC, and so on. PowerUp Rewards members have double the chance to win.
Direct2Drive: D2D will give you a copy of Call of Duty 4: Modern Warfare for the PC if you pre-order MW3 and pay the whole price in advance. Same is also true for Activision Store and Steam, so pick whichever digital distribution service you prefer.
Amazon will reward you with an exclusive MW3 wallpaper and a $10 discount on the fancy CoD-themed Turtle Beach Ear Force gaming headset. In addition, those buying the Xbox 360 version will get an American Special Forces avatar. Finally, people who purchase the standard version for either of the consoles will get a $2 credit towards The Greatest Video Game Music album on Amazon MP3.
Microsoft Store offers a $10 credit for your next purchase and free next-day shipping.
As expected of a highly anticipated Call of Duty game, it does really well in the preorder charts.
Hardened Edition
The game is also available in a Hardened Edition which costs $100 and includes the following: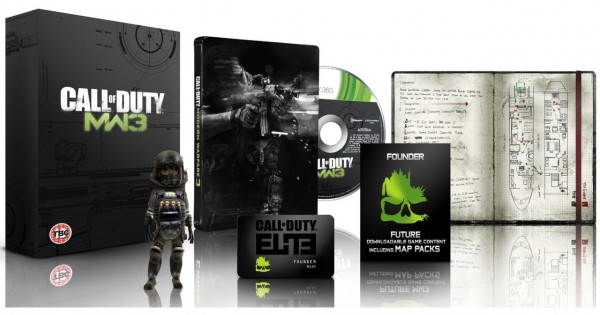 Collectible SteelBook case and game disc with unique art.
One-year Call of Duty: Elite membership with future MW3 downloadable game content (including map packs), as well as various perks and exclusive features.
Special Founder status on CoD: Elite which gives you exclusive in-game emblem, playercard, weapon camouflage, clan XP boost, and other exclusive benefits.
Special Ops Juggernaut Xbox Live outfit.
Collectible field journal chronicling the entire saga with 100+ pages of authentic military sketches, diagrams and written entries.
Hardened Edition is available for preorder in the US, UK, Germany, and other regions.
Console bundle
Gamers looking to buy a new Xbox 360 might want to take a look at this MW3-themed console bundle. It includes a custom shell with sound effects from the game, two wireless Modern Warfare 3 branded controllers, a wired headset, 1 month of Xbox Live Gold, Live avatar items, and a copy of the game itself. The console also features a bigger 320 GB hard drive.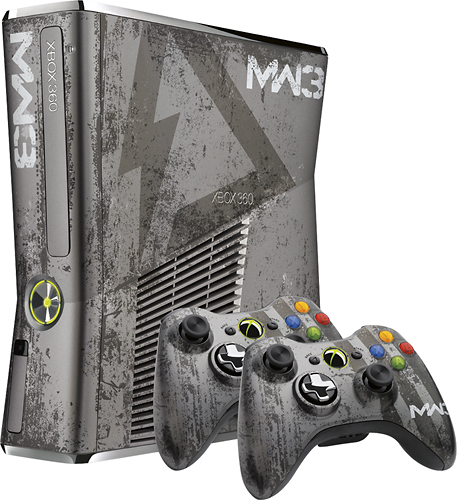 Modern Warfare 3 console bundle carries a price tag of $399 and can be found on Amazon, Gamestop, and other retailers.
Spec Ops gameplay trailer
This MW3 trailer previews the aforementioned Spec Ops survival mode:
As you probably remember, Infinity Ward was dealt a big blow back in 2010, when many veteran employees left the studio following the dismissal of Jason West and Vince Zampella (president and CEO of IW, respectively). However, Activision's Eric Hirshberg assured the fans of the franchise that "a lot" of people who created the original Modern Warfare are still working on MW3, and that the partnership between IW and Sledgehammer has been going wonderfully (info via IndustryGamers). Was that the truth, or just a PR move by Activision? Call of Duty: MW3 seems promising so far, but we'll find out for sure when it comes out on November 8th.
Check out our other upcoming shooter games and upcoming pc games.