This game was released on November 03, 2017 and is no longer available to pre-order. Any incentives that were offered are listed below.
Developed by Sledgehammer Games and published by Activision, Call of Duty: WWII returns to the series' roots. Starting with the D-Day landing in Normandy, the players will step into the shoes of private Ronald "Red" Daniels of the US 1st Infantry Division, and battle through Europe in faithfully reproduced locations, experiencing the bonds of brotherhood between common men, and the unforgiving nature of the bloodiest war in history.
On top of the single-player campaign, Call of Duty: WW2 offers a standalone co-op featuring Nazi Zombies and adrenaline-filled gameplay. The game also has traditional multiplayer with "visceral, boots-on-the-ground combat", according to the publisher. The virtual lobby from Advanced Warfare has been evolved into Headquarters, a social space which offers new ways to interact and socialize with online friends and the CoD community. Another new addition to the franchise is the narrative-driven War mode, which features asymmetric gameplay with unique objectives for each team.
Pre-order Bonuses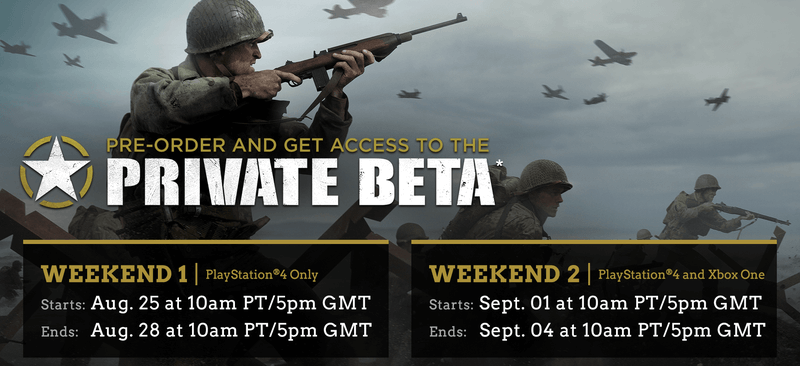 The first bonus for reserving a copy of Call of Duty: WWII was access to the Private Beta multiplayer test (now concluded on both consoles and PC). On release, those who participated in the beta will receive a Private Beta Combat Pack for use in multiplayer, which consists of a unique helmet, calling card, and emblem.
The second bonus, available at all participating retailers as well as digitally, is the animated purple lightning Nazi Zombies Weapon Camo depicted above. Rest assured that this less-than-realistic camo will only be usable in Zombies mode so as not to break immersion.

The third and latest bonus to be announced is the Multiplayer Upgrade, which provides a token for unlocking a single weapon of your choice on day one, plus double multiplayer XP for 4 hours.
Any additional retailer- or system-exclusive bonuses are listed below:
GameStop:
Best Buy: $10 in Reward Certificates.
PlayStation Store: Dynamic Theme.
The Divisions Pack is available with digital pre-orders via Steam, Xbox Store, and PSN as well. Also exclusive to digital pre-orders is 500 COD Points for use in Black Ops III and Infinite Warfare, and 1,100 Points for use in Call of Duty: WWII itself.
Digital Deluxe Edition
The $99.99 Digital Deluxe Edition includes the base game, Season Pass for future content in 2018 ($50 value if purchased separately), and additional bonus content. Among other content, the Carentan multiplayer map is exclusive to Season Pass owners, and will be made available on release.
Pro Edition
The GameStop-exclusive Pro Edition simply adds a collectible steelbook on top of the aforementioned Digital Deluxe content, and is also priced at $99.99.
Valor Collection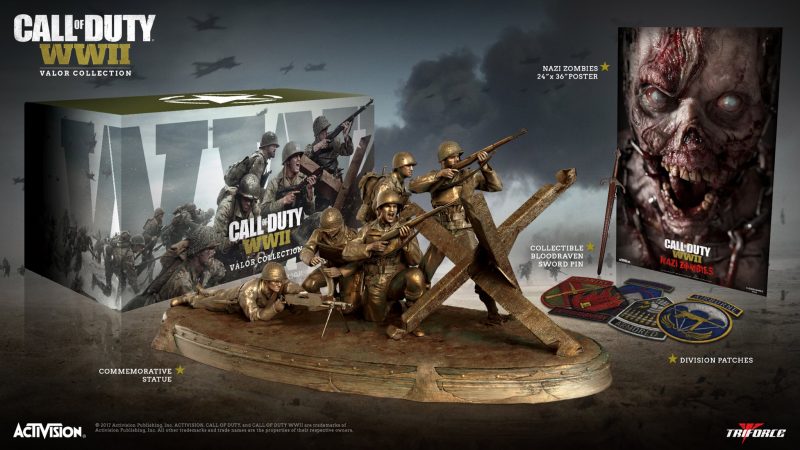 Titled "Valor Collection", this collector's edition comes with the following:
Exclusive Statue from TriForce
Call of Duty: WWII Standard Edition Game
Set of In-Game Division Patches (Infantry, Airborne, Mountain, Armored, and Expeditionary)
Collectible Nazi Zombies Bloodraven Sword Pin
Exclusive Nazi Zombies 24″ x 36″ Poster
At the time of writing, it was listed at GameStop's website carrying the price tag of $159.99.
Boots on the Ground Bundle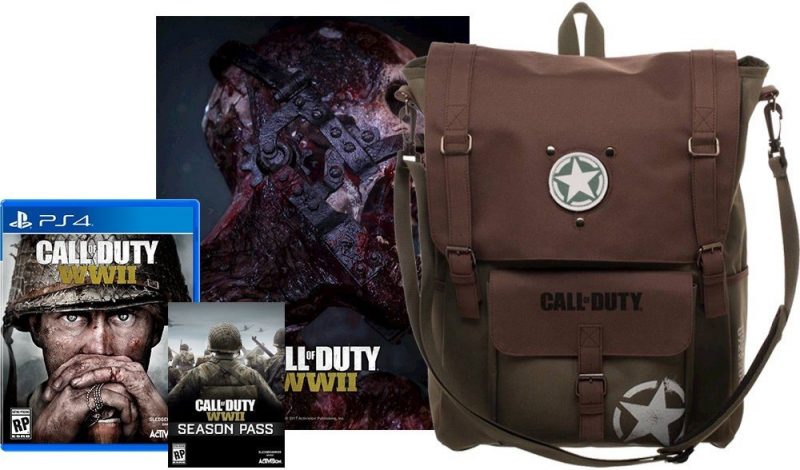 The Boots on the Ground bundle appears to be exclusive to Best Buy, where it is currently listed with the price of $149.99. It includes the following:
Call of Duty: WWII game (PS4 or Xbox One)
Season Pass
Lenticular print with iconic images from the game
Call of Duty themed backpack with removable patches, magnetic closure snaps, and shoulder sling strap for transformation into a messenger bag.
Deployment Kit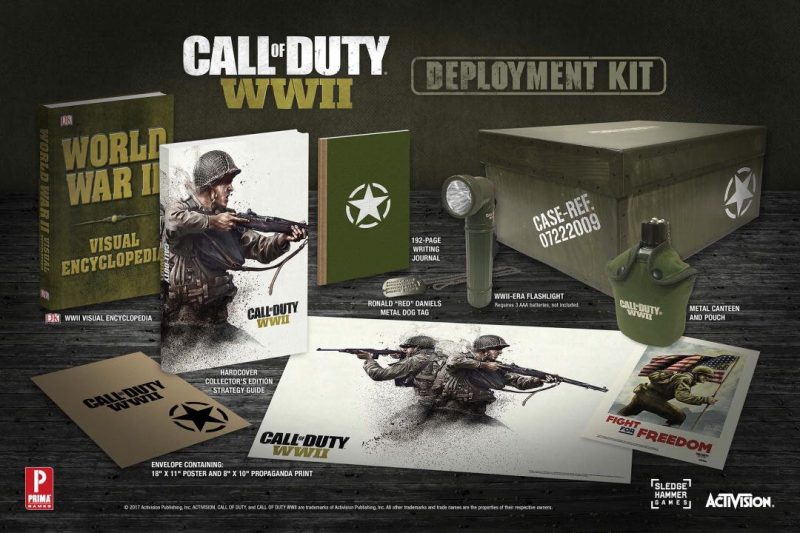 There is also an official Call of Duty: WWII "Deployment Kit" available from Prima Games, which is like a premium version of their usual game guides. The Deployment Kit costs $129.99 and contains the following:
Flashlight: World War II themed flashlight, branded with Call of Duty: WWII logo.
Canteen: Call of Duty: WWII themed metal canteen and pouch.
Dog Tag: in-game character, Ronald "Red" Daniels' dog tag.
Hardcover Collector's Edition Guide: a hardcover version of the complete strategy guide.
Hardcover Journal: a 192-page writing journal with a ribbon bookmark and inside pocket.
Poster: an 11″ x 17″ poster featuring character artwork.
Propaganda Print: an 8″ x 10″ high-quality replica piece of propaganda artwork.
WWII Visual Encyclopedia by DK: step-by-step visual history book covering the major events of WWII.
Do note, as this is a premium edition of the Prima Games guide, the game itself is not included and will have to be purchased separately. Alternatively, Best Buy is offering a massive $249.99 Deployment Edition, which combines the aforementioned Deployment Kit with the Boots on the Ground bundle.
Call of Duty: World War II is scheduled to launch on November 3, 2017 for current-gen consoles and PC.
Check out our other upcoming shooter games and upcoming pc games.