This game was released on May 08, 2018 and is no longer available to pre-order. Any incentives that were offered are listed below.
Conan: Exiles is an open-world survival game set in the universe of Robert E. Howard's Conan the Barbarian. Developed by Funcom, it thrusts the player into a harsh and unforgiving prehistoric wasteland, where the only way for the titular exile to survive is fight and build their way to power.
The game is already available to play via Steam Early Access ($29.99) and Xbox Game Preview ($49.99). The pre-order bonuses listed below apply to the full release version launching May 8, 2018.
Pre-order Bonuses
The full release of Conan Exiles is priced at $39.99 for the PC, and $49.99 for either console. There are different pre-order incentives for digital and retail versions of the game (same for every platform):
Digital pre-orders, as well as existing owners of the Early Access or Game Preview version, will receive an in-game Conan's Royal Armor.
Physical pre-orders will receive an in-game Conan's Atlantean Sword, limited to Day One Edition of the game. The Day One Edition also contains a printed map of the Exiled Lands.
Collector's Edition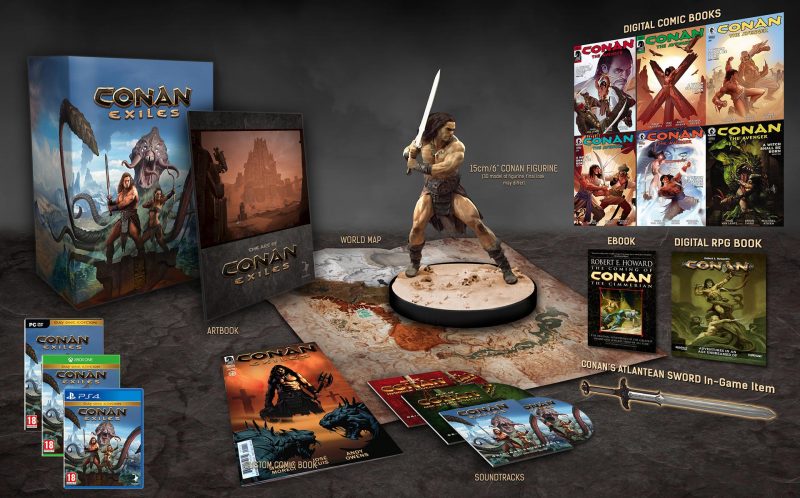 Lastly, there's the hefty Limited Collector's Edition depicted above, which includes the following:
15 cm polyresin figurine of Conan modeled after Conan from the Conan Exiles cinematic trailer
Full-color custom print comic book which tells the story of Conan on one of his adventures in the Exiled Lands
Three Conan soundtrack CDs featuring the music from Conan Exiles as well as Age of Conan: Hyborian Adventures and Rise of the Godslayer
Full-color print artbook with production artworks the developers used to guide their vision for the game
Full-color printed map of the world of Conan Exiles
Six digital Conan comic books from Dark Horse Comics, featuring the entire "A Witch Shall Be Born" story arc
Digital pen-and-paper Conan RPG rulebook from Modiphius
"The Coming of Conan" eBook illustrated by Mark Schultz
In the States, this edition appears to be exclusive to GameStop where it is priced at $79.99.
Conan: Exiles is scheduled for a full release on May 8, 2018. The early versions of the game can be purchased and played on Xbox One via Game Preview and PC via Steam Early Access, whereas PS4 gamers will have to wait until the official launch.
Check out our other upcoming action games and upcoming pc games.