This game was released on June 21, 2019 and is no longer available to pre-order. Any incentives that were offered are listed below.
Crash Team Racing: Nitro-Fueled is a kart racing game developed by Beenox and published by Activision. It is a remaster of the classic PS1 title that was released back in 1999, and stars characters from the Crash Bandicoot series, who race against the alien Nitros Oxide to save their world from destruction.
The HD remaster includes the original game modes, characters, tracks, power-ups, and weapons, and adds new karts and tracks on top of that. There is also online play complete with leader boards and rankings.
Pre-order Bonuses
Pre-order any version of CTR: Nitro-Fueled, whether boxed or digital, and you'll receive bonus Electron Skins for Crash, Coco, and Cortex, each with a unique podium animation. Watch the trailer below:
PlayStation 4 pre-orders will additionally be getting an in-game PlayStation-themed kart sticker pack (yes, cart customization is in), and further bonuses are available with digital versions of the game depending on the platform:
Microsoft Store: "Crash Head" Xbox One Avatar Mask.
PlayStation Store: Crash and Coco Racer Avatars, and a Crash Team Racing PS4 Theme.
Lastly, if you prefer something more tangible, head to GameStop which is offering the Dashboard Bobble depicted below: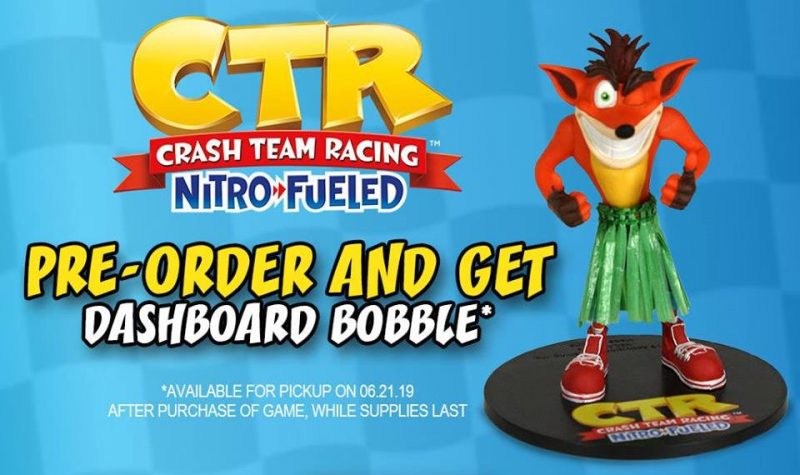 The bobble is available while supplies last, and you can pick it up at launch.
PS4-Exclusive Content
PlayStation 4 version of Crash Team Racing also comes with retro skins for Crash, Coco, and Cortex, as well as retro karts and a retro track: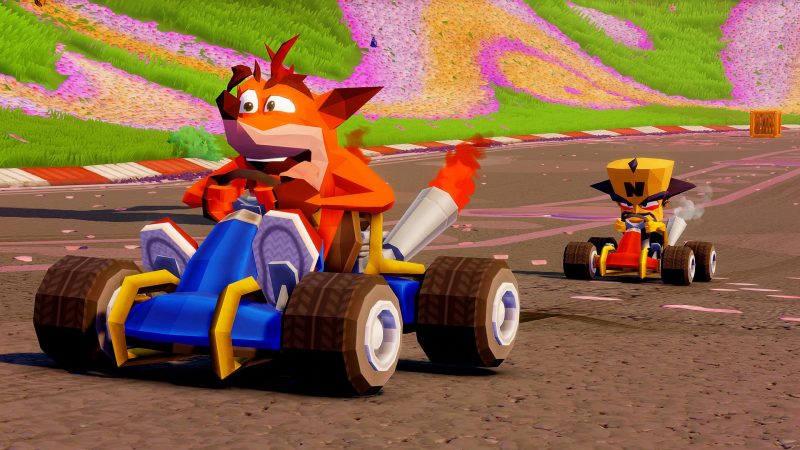 It should be stressed that while these retro skins are platform-exclusive, pre-ordering is not necessary to receive them.
Nitros Oxide Edition ($59.99)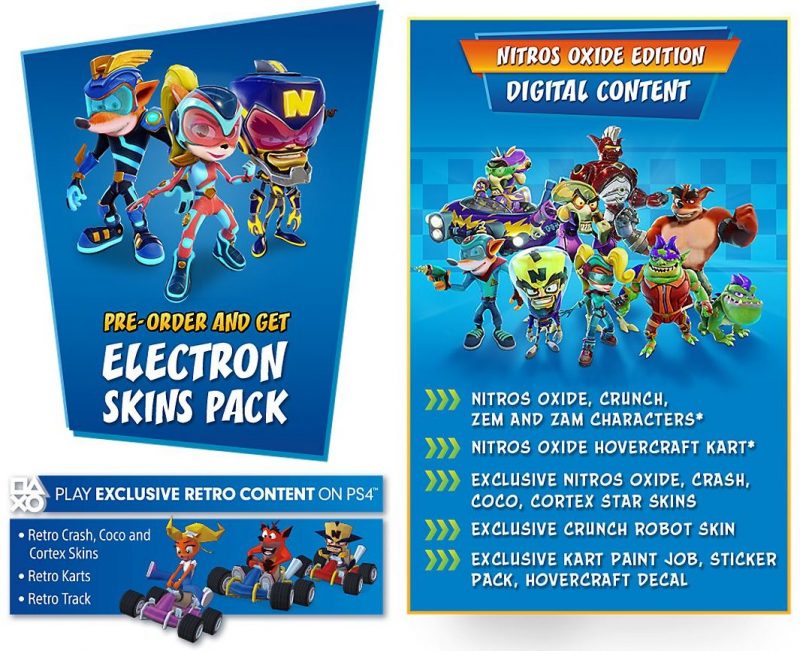 Compared to the standard edition, which costs $39.99, the digital Nitros Oxide Edition bumps up the price by $20 and adds the following content to the game:
Instant unlock of Nitros Oxide, Crunch, Zem, and Zam playable characters, and Oxide's Hovercraft playable kart (normally earned as a reward for finishing the Adventure Mode in the regular edition of the game)
Nitros Oxide, Crash, Coco, and Cortex Star Skins with unique podium animations
Crunch Robot Skin with unique podium animation
Exclusive kart paintjob, kart sticker pack, and Hovercraft kart decal
Nitros Oxide & Pin Bundle ($69.99)
This GameStop-exclusive bundle includes a boxed base version of the game, a download code for the Nitros Oxide Edition Digital Deluxe content, and a set of four collectible polished and enameled pins of CTR characters: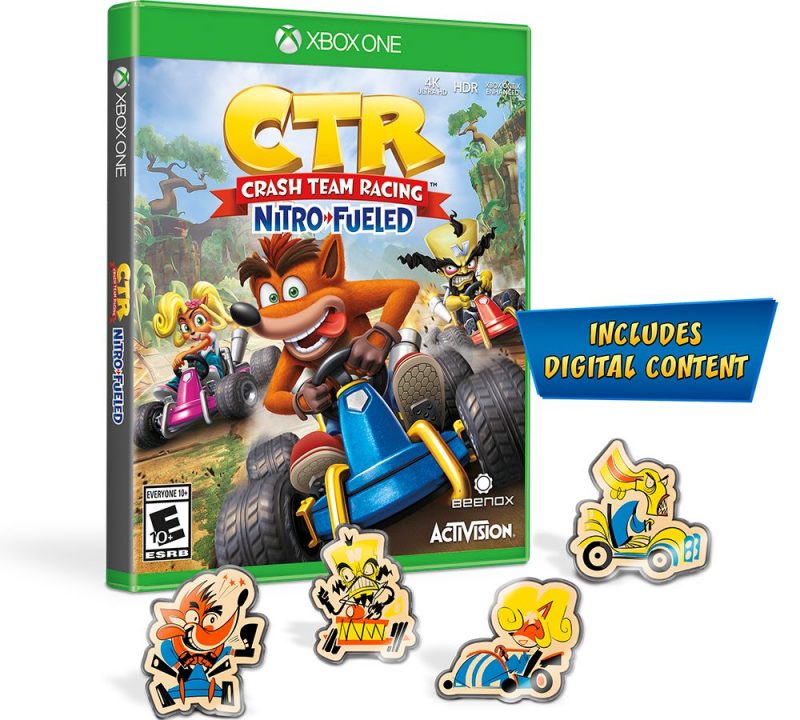 Crash Team Racing Nitro-Fueled will be released on June 21, 2019 for Xbox One, PlayStation 4, and the PC.
Check out our other upcoming racing games and upcoming pc games.