This game was released on February 19, 2013 and is no longer available to pre-order. Any incentives that were offered are listed below.
Crysis 3 is an upcoming first-person shooter which takes place in a future New York City, an urban rainforest enclosed in an enormous Nanodome. The players take control of the Prophet who makes a return from the previous installments of the game. Wielding the series' iconic nanosuit and a wide array of weapons, the protagonist has to fight through the seven distinct areas under the Liberty Dome in an attempt to save humanity from destruction.
Pre-order bonuses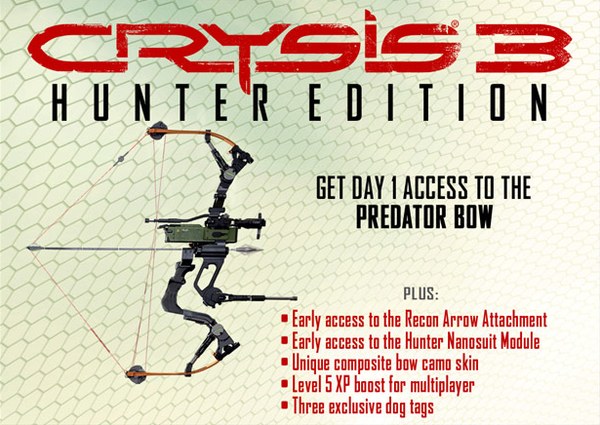 Crysis 3 has some pretty big pre-order bonuses. First off is the Hunter Edition content:
Predator Bow
Recon Arrow
Hunter Nanosuit Module
Three Exclusive Dog Tags
Start at Level 5 in Multiplayer
The second bonus is a free copy of the original Crysis for Xbox 360, PS3 or PC. According to the official website, this offer is available "for a limited time", so if you haven't played the first game yet, you might want to place your pre-order early.
Neither of the aforementioned rewards is retailer-specific. That being said, there are some exclusive DLC packs to be had:
Origin: Overkill Pack with day one access to Typhoon machinegun, a specialized skin for it, and two exclusive dog tags.
Amazon: Brawler Pack which includes day one access to Feline X3 SMG, a custom camouflage skin for it, plus two exclusive dog tags. You also get $20 credit.
GameStop: Stalker Pack which gives you day one access to Alpha Jackal shotgun and a custom skin, a unique silencer attachment, and 2 exclusive dog tags.
Best Buy isn't offering any exclusive content, but Gamers Club Unlocked members can get $20 store credit by preordering Crysis 3 with them.
Gameplay preview
Official single-player preview video titled "The Fields":
This highly anticipated first-person shooter is set to release on February 19th, 2013. Visit the official website for more information about the Crysis series.
Check out our other upcoming shooter games and upcoming pc games.