This game was released on April 12, 2016 and is no longer available to pre-order. Any incentives that were offered are listed below.
Dark Souls III is an action RPG developed by FromSoftware and published by Bandai Namco Entertainment. The game features faster, more fluid combat compared to its predecessors, and offers additional tactical options to the players. These include chargeable attacks and spells which now use a magic meter similarly to the first game of the series, Demon's Souls.
Naturally, Dark Souls III also improves the graphics quality and the amount of details on the screen, while retaining the same visual style that the fans have come to love.
Pre-order bonuses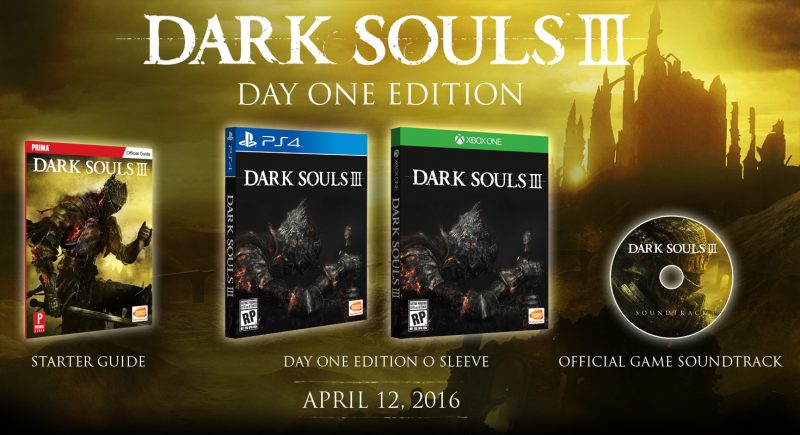 Pre-order the retail version of Dark Souls III anywhere to get a free upgrade to the Day One Edition, which includes the following extras:
Prima Starter Guide
Exclusive O-Sleeve Packaging
Official Game Soundtrack
For additional bonuses, reserve your copy with GameStop and receive a PowerUp Rewards Exclusive Keychain.
There are some incentives available with the digital versions as well:
Steam: game soundtrack and a discount for owners of any previous Dark Souls titles
Xbox Store: the original Dark Souls playable on Xbox 360 or Xbox One via Backward Compatibility
PlayStation Store: "Fire Fades" Dynamic Theme
Deluxe Edition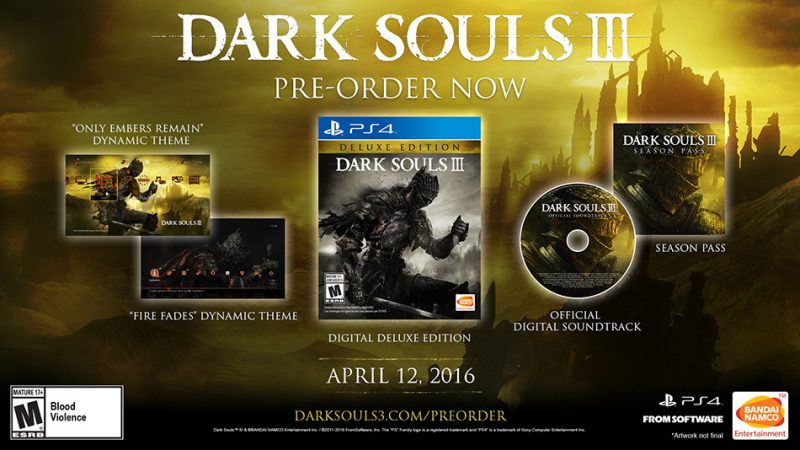 The digital Deluxe Edition of Dark Souls III is priced at $85 and is available for all platforms. It bundles the game with a Season Pass, and the PS4 version also throws in an exclusive "Only Embers Remain" Dynamic Theme. Aforementioned pre-order bonuses for digital versions also apply.
Collector's Edition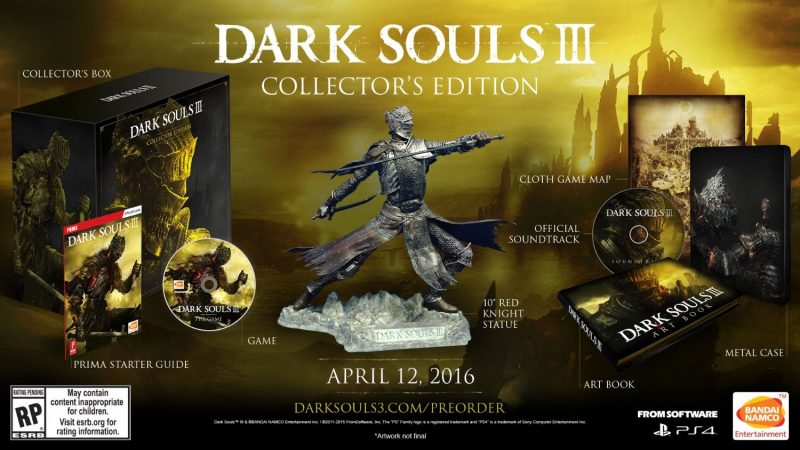 In addition to the game software itself, the $130 Collector's Edition of Dark Souls 3 includes the following:
Prima Starter Guide
Official soundtrack
Official art book
Cloth game map
10″ Red Knight statue
This is the only premium edition available in the States. Other regions had additional ones such as Apocalypse or the rather expensive Prestige Edition of which only 2,000 units were made.
Darkness Has Spread trailer
Dark Souls III will hit the store shelves on April 12, 2016 in North America and Europe.
Check out our other upcoming action games and upcoming pc games.