This game was released on April 23, 2013 and is no longer available to pre-order. Any incentives that were offered are listed below.
Dead Island Riptide is an upcoming action / survival horror game with RPG elements. It is developed by Techland and published by Deep Silver. The game picks up immediately after the events of the original, and allows the players to import their heroes or start off fresh. Dead Island Riptide adds a dynamic weather system, more powerful weapons, new enemies, and numerous improvements and fixes.
Pre-order bonuses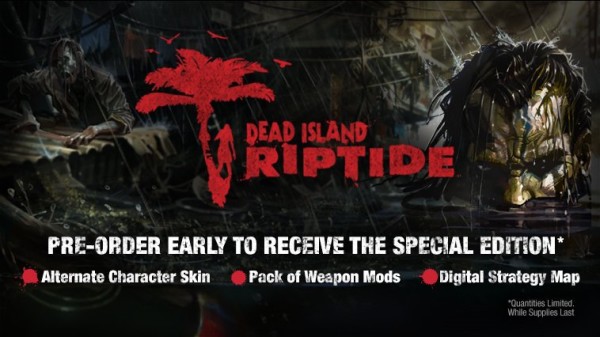 Pre-order the console version of Dead Island Riptide at Amazon, Best Buy, or GameStop, and you will automatically get Special Edition bonuses as well as Limited Edition Steelbook packaging. Special Edition includes the following:
Alternate Character Skins
BBQ Blade Weapon Mod
XP & Stats Booster and Shop Discount
Digital Strategy Map
It's worth noting that preordering on Amazon will also net you $10 Amazon Instant Video Credit, while Best Buy will throw in $20 in Reward Certificates for Gamers Club Unlocked members, not a bad deal considering the game only costs $49.99.
Rigor Mortis edition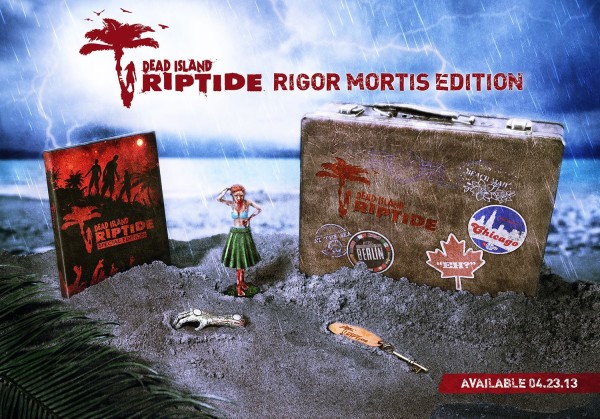 This rather grimly-named Collector's Edition of Dead Island Riptide is available in "extremely limited" quantities at a MSRP of $79.99. It comes with the following extras:
Travel Suitcase Packaging
Zombie Hula Girl Bobble Figurine
Severed Hand Bottle Opener / Fridge Magnet
Bungalow Key with Wooden Tag
CGI trailer
The original Dead Island became famous for its emotional and dramatic trailer. Let's see if Riptide can live up to it:
Dead Island Riptide is going to be released on April 23rd, 2013 in North America. It will run on PC (Windows), Xbox 360, and Playstation 3 systems.
Check out our other upcoming action games and upcoming pc games.